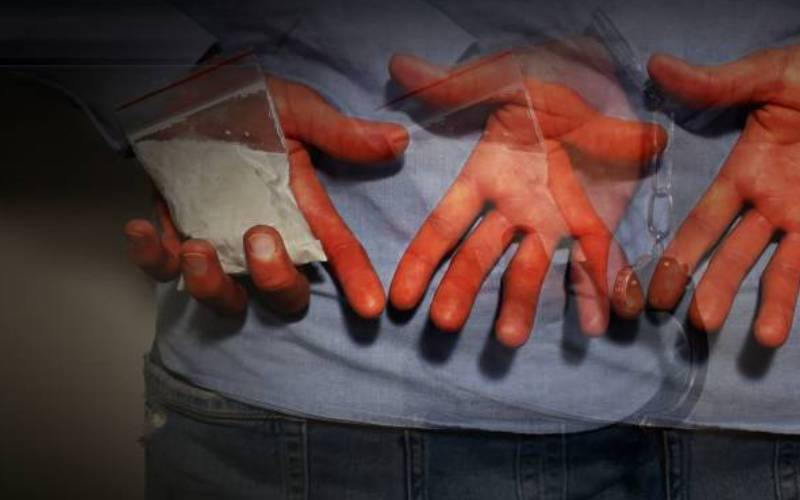 Drug addiction has wreaked havoc on Isiolo County's youth. Many young people are selling drugs to make ends meet, and the vast majority of them have become addicts.
Heroin, bhang, and cocaine are some of the most commonly abused drugs. In the midst of this, a new dangerous drug known as 'Kete' has been introduced to the market and is becoming increasingly popular among young people.
It causes them to go for long periods of time without eating due to a lack of appetite.
The new drug is available in powder form and has flooded all of Isiolo County's markets and urban centres. It is used in the same way that 'Kuber' is abused to stimulate the central nervous system. Some of the young people who are eager for the kick inject themselves with it.
According to some of the young people we spoke with, 'Kete' causes men to bleed from the rectum.
"Kete completely robs you of your appetite for at least six hours save for water and soft drinks. Once the drug enters your bloodstream, you will be high and intoxicated for at least 24 hours. "The youth like it because it 'kills hunger,'" said Abubakar, an ex-addict.
Abubakar, 17, of Isiolo county, said he was introduced to Kete by a local businessman three years ago when he was in Form One.
He said he normally sold it to his fellow students for Sh50-Sh100 per sachet and that the businessman would pay him a commission on his sales.
"We could inject some of the students during game time in the toilets when no one was looking. I also recruited a few students to work in the industry.
"Within six months, we had recruited enough students to work as sales agents in schools throughout Isiolo town and its environs," Abubakar said.
"After a period of use, we started experiencing 'menstruation' like women," he continued.
"We would experience heavy bleeding from our rears for up to three days after injecting the drug, and we were forced to start wearing sanitary pads to avoid missing classes before most of us dropped out."
"The drug causes excessive bleeding, it will lead to anaemia or low haemoglobin levels in the body, which can lead to death," explained Prof Gordon Nguka, a clinical nutritionist and dietetics expert from MasindeMuliro University of Science and Technology.
"These addicts require laboratory checks to determine their haemoglobin levels, and then a decision is made on the appropriate treatment, which will range from supplements to blood transfusions or a combination of both, or be rehabilitated to stop the addiction," Prof Nguka added.
He said because 'Kete' is low-grade cocaine, when used over time, it raises the stress hormone cortisol and can permanently raise blood pressure levels, as well as damage the addicts' cardiovascular system, leading to heart attacks, heart failure, and strokes.
Ahmed Mustafa (not his real name) is 26 years old and from the Nasiroi neighbourhood. He was a university student studying Information Technology. He was recruited into the drug business during the Covid-19 pandemic because he could make quick money. Mustafa estimates that he could earn between Sh700 and Sh1,500 per day peddling drugs in entertainment establishments during the evening hours.
"I used to sell it in powdered form, which could be mistaken for glucose. Sometimes, we could bake it into the size of an average rice seed, roll it into several rolls using old newspapers, smoke it like a regular cigarette, and sell it for Sh20," Mustafa explained.
"Hawking of drugs in Isiolo town is no longer a secret; even the police are aware of it," he added. "You only need to part with Sh100 to secure your freedom for a few days. Some of the officers have become addicted to these drugs as well."
Mustafa, on the other hand, says after a year in the business, he became an addict, and that even after the country was reopened and normalcy was restored, he did not return to university after his health deteriorated.
"I got to the point where I couldn't miss a daily dose. The drug is cruel to an addict; if you miss it, withdrawal symptoms set in immediately. I had a severe headache, nausea, diarrhoea, and sweating.
"When I went for a long call, my stool was mixed with heavy blood."
According to Mustafa, four out of every 10 youth in Isiolo are addicts, and something urgent needs to be done to rectify the situation. "I'm still recovering, but I'm not sure I'll ever use drugs again," he says.
"Kete is low-grade cocaine and is having major psychological effects on young people. It's mostly being smuggled into the country from Ethiopia through porous borders," Isiolo County Commissioner Geoffrey Omoding explained.
"Unscrupulous businessmen have used the porous borders on the Kenya-Ethiopia border to sneak the drugs into the country," he added.
"They avoid the usual routes in order to avoid inspections by the security officers stationed along the Great North Road."
Omoding said they recently arrested a couple who were the main drug barons and who have since been arraigned in court, and that they have used a multi-agency approach to rid Isiolo County of drugs and substance abuse.
"Drugs menace is killing the productivity of our youth but as a government, we have seized the matter and we are acting on it. We have begun using drones for surveillance and are also sensitising parents to take good care of their children," Omoding said.
Isiolo County Director of Education, James Nyaga, said drug and substance abuse has caused many school-age children to drop out of school and enter the business, usually as boda boda operators.
"Drug abuse is rampant in Isiolo town and its environs, and it is a bigger problem than female genital mutilation on children, with local schools being the most affected. Some of these schools also have drug addicts (both girls and boys). "Kete is one of the most commonly abused drugs here," said Nyaga.
"Poverty is so prevalent in the country, and non-governmental organisations only try to help the girls, but the boy child has been forgotten, and only finds solace in drugs and substance abuse," he added.
Nyaga lamented that drugs had caused many students to drop out of school after becoming addicted, that they had sold their parents' household items, and that others had resorted to criminal activities to get money to buy drugs, and that there was a need for collective responsibility from various stakeholders to solve the problem.
Related Topics