Former Mungiki leader Maina Njenga was moved from one place to another as police interrogated him over his role in Azimio protests and association with former presidents Daniel arap Moi, Mwai Kibaki and Uhuru Kenyatta.
Njenga was held incommunicado for six days before being presented to Makadara Law Courts, where he was charged with five counts.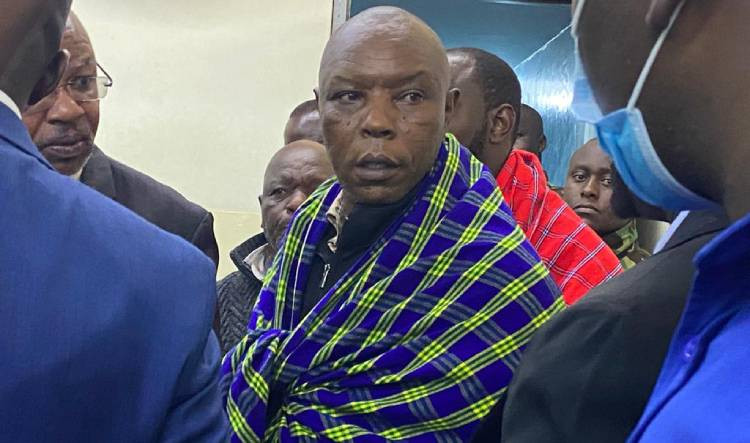 The ex-mungiki boss, who now says he is a pastor, was arrested alongside his elder brother Peter Njoroge Kamunya and aide Felix Lekishe on July 19 at his father's residence in lower Matasia, Kajiado County.
Soon after being set free on July 25, The Nairobian tracked Njenga who shared his ordeal in the hands of police whom he accused of attempting to plant evidence on him.
While being moved around, Njenga and the co-accused were denied access to their family members. They slept while handcuffed and had their cell phones confiscated. "My father Kamunya Njoroge who is elderly is suffering and I had gone to see him. I was arrested by the police as I was basking on a lit bonfire outside his home," said Njenga while recounting the circumstances surrounding his arrest.
This was around 8 pm when the police in a convoy of 10 vehicles stormed into his father's compound. The officers in plain clothes and numbering about 25 gained access into the home as the gate was opened for his brother to drive in.
According to Njenga, when officers masking their faces got in, they pretended to be looking for his aide Lekishe who is also a youth leader in Samburu County.
They conducted a thorough search of the house before handcuffing and bundling Njenga, Njoroge and Lekishe into the boots of their vehicles. "The first stop was at Uhuru Park where they first forced us to sign a document on the inventory they claimed to have found from us," recounted Njenga. They were blindfolded and put into different cars. From there, Njenga did not know where they were headed, only to find himself in a house somewhere within Kiambu.
At the house, Njenga was met with hooded police officers. On the third day in isolation, Njenga was allowed to take a shower before being taken to Wanguru Police Station in Kirinyaga County, where he found his brother and aide.
All this time, the former Mungiki leader survived on a meal of ugali and cabbage. "While at the house, the officers interrogated me on various issues like Azimio protests, my childhood and current life, and association with former Presidents Moi, Kibaki and Uhuru," disclosed Njenga.
Ties to Raila
The interrogators were however more concerned about the protests and Azimio leader Raila Odinga.
Njenga who maintains he is born again and a bishop at the Christian Independent Movement that brings together close to 5,000 church leaders, said the police were further interested in knowing why he is still referred to as chairman yet he abandoned the leadership of the outlawed mungiki sect. He informed the officers that Raila's frustration is partly because the Azimio leader believes he won the elections but his victory was stolen.
About his private life, the officers allegedly inquired about the number of homes Njenga owned across the country and how he acquired his vast wealth, having started from the matatu sub-sector.
"I told the police officers that we ventured into the matatu industry some 40 years ago and now the majority of us who were engaged in that business left to venture into other businesses after hitting old age," said Njenga.
The man has properties in Kitengela, Nakuru, Nyahururu, Ngarua, and Meru among other places where he engages in real estate and farming.
Njenga told the interrogators that a huge chunk of his wealth is by virtue of associating with presidents Moi, Kibaki and Uhuru
On his relationship with President William Ruto, Njenga said he holds no grudges with the current Head of State. Asked whether, if invited to State House, he would honour the appointment, Njenga reaffirmed that he had no problem meeting Dr Ruto to discuss issues affecting Kenyans.
On claims by Deputy President Rigathi Gachagua that he is reviving up Mungiki to destabilise the Kenya Kwanza government, Njenga dismissed the allegations as falsehoods aimed at tainting his name.
"Kenyans are more informed about their rights. Many youths are unemployed and tarmacking; so don't refer to youth looking for jobs as Mungiki. Give them employment, education and food, and all will be well," he stated.
Njenga wondered why while Gachagua and Ruto were campaigning in search of votes, they never loathed the same youth they are now linking to Mungiki.
Empty promises
According to the ex-mungiki boss, youths from central Kenya have started realising that the Kenya Kwanza campaign teams made empty promises amid the rising cost of living the Ruto administration has failed to address.
He expressed disappointment that many learners qualifying for university education have failed to pursue their dreams because Helb (Higher Education Loans Board) does not disburse loans.
Njenga also faulted the halting of the Kazi Kwa Vijana initiative, which he said was a source of livelihood for many youths.
"I have no problem with Deputy President Gachagua; if he thinks there is a problem between us, let him come out and tell the world and Kenyans. I wonder why the DP thinks that I am influential. He has repeated several times that I will be arrested, I don`t consider myself as an influential person but you get views about that perception from other people," said Njenga.
He said he is more than willing to meet the DP. "If I find Gachagua in a hotel or he finds me in a hotel taking tea I won't run away or disappear from him. I will continue with my tea because I have nothing against him," he affirmed.
On his relationship with retired President Uhuru, the former Mungiki leader stated that they used to meet when he was in active politics and as a jubilee leader in political meetings but since he left office after retiring as president, he has not talked to him.
The former Mungiki boss said the application by the prosecution to deny him cash bail made him get worried about his own safety.
Kenya, he said, needs prayers since it is at crossroads. "Let's pray for the country. We need to live peacefully and united like the way bees protect their boundaries or territories," urged Njenga.
He and his two co-accused were charged with being in possession of offensive weapons that were believed to be used against public order.
In the charge sheet, it was stated that they had 14 machetes, 24 Maasai swords, 46 rungus and three jembe sticks in circumstances which raised a reasonable presumption that the weapons were intended to be used to breach the peace.
Related Topics