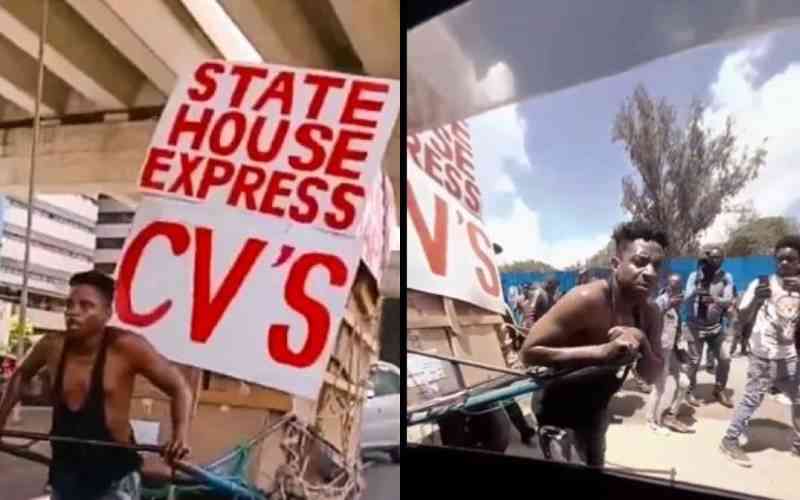 Eric Omondi was arrested by the police while en route to State House with a cart full of boxes bearing the CVs of thousands of jobless Kenyans. Social media was awash with videos and photos of Eric being bundled into a police vehicle while pulling the cart along Uhuru Highway.
The comedian was fulfilling his promise to march to State House and deliver the CVs of jobless Kenyans to President William Ruto and his Deputy Rigathi Gachagua. Omondi had asked Kenyans to send him their CVs, promising to be their voice and advocate for their rights.
He had stated that he was willing to fight for the rights of jobless Kenyans and was ready to die if necessary. He expressed his belief that the President did not fully understand the hardships that Kenyans were facing.
"If my life will be the reason the voice of the voiceless was heard so be it. I am saying this because from now we are not stopping," said Eric.
Eric Omondi arrested while heading to State House with a mkokoteni full of boxes with CV's along Uhuru Highway pic.twitter.com/JZshn5AW41
— Omwamba ?? (@omwambaKE)
March 28, 2023
This was not the first time that Eric had been arrested for fighting for the rights of Kenyans. On March 1st, 2023, he was arrested while preparing to distribute free Unga to Nairobians who were struggling to put food on their tables. Eric had called upon well-wishers to donate Unga for his initiative.
Eric's passion for the plight of jobless Kenyans was palpable, and he had warned that if the government failed to act fast, the people would be forced to take action to free themselves from poverty and slavery. He believed that it was God's will for the people to be free from poverty and suffering.
"It is God's will that we are free from poverty and from any other form of slavery. People are suffering and if the government doesn't act fast...we will act soon. Do the right thing," he wrote.
Despite the challenges, Eric remained committed to his cause. He had just been released from police custody after facing charges related to leading protests. However, he remained undeterred and continued to speak out against the injustices facing jobless Kenyans.
Related Topics