The African Independent Pentecost Church (AIPCA) Nairobi diocese has a new Bishop.
Bishop Benjamin Njomo Ndiritu was ordained last Sunday in a colourful ceremony attended by thousands of faithful and several bishops.
Njomo will now replace ArchBishop Fredrick Wangombe who will now serve in his capacity as the Head of the entire church in Kenya.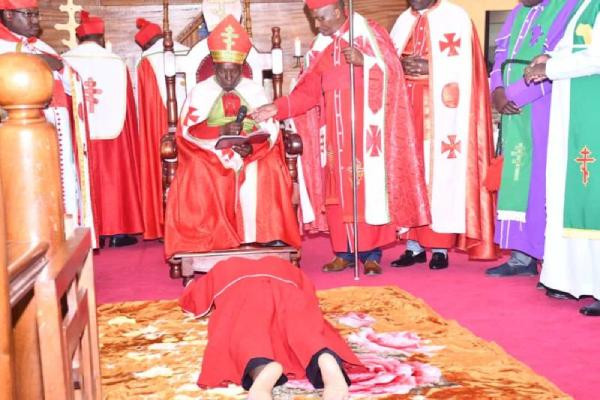 Addressing the congregation in his acceptance speech, Bishop Njomo appealed to the church leadership to continue with their efforts of bringing the church together.
''Let us pray for the whole AIPCA Church, that there may be a great sense of unity of purpose. For the larger church, let this be a fresh start for us as a church, to resolve our differences,'' said Bishop Njomo.
At one time, AIPCA was the most respected and admired church, with the best schools producing the best students and church members who stood out in their communities and emulated good leadership.
Njomo promised to commit himself to working together with everyone in different capacities, to grow and strengthen the leadership of the church at all levels.
''I urge all of us to reflect on why we are members in this church, why we are serving in this church,'' added Njomo.
Bishop Njomo, just like Samuel, the prophet and priest of Israel, was called to serve at God's Altar at a very tender age. He began his ministry as an acolyte at AIPCA Githakwa, Nyeri, when he was only seven years old.
For decades, AIPCA Church has been in the limelight following endless leadership wrangles.
Following the wrangles, the Church has three Arch Bishops. Former President Uhuru Kenyatta is on record trying to mediate and unite the church.
Two years ago, a supreme board was formed comprising members of the three groups and a deal that settled the feuds in the church was arrived at.
During the mediation talks, it was agreed that the three leaders should each serve for a duration of one year.
Archbishop Amos Njoroge was the first to serve for the first year, followed by Archbishop Muthuri and later Fredrick Wang'ombe, in a deal that was arbitrated by Uhuru Kenyatta.
Bishop Njoroge immediately took the reins and later handed over the rotational leadership to Muthuri who handed over to Wang'ombe currently serving.
Related Topics