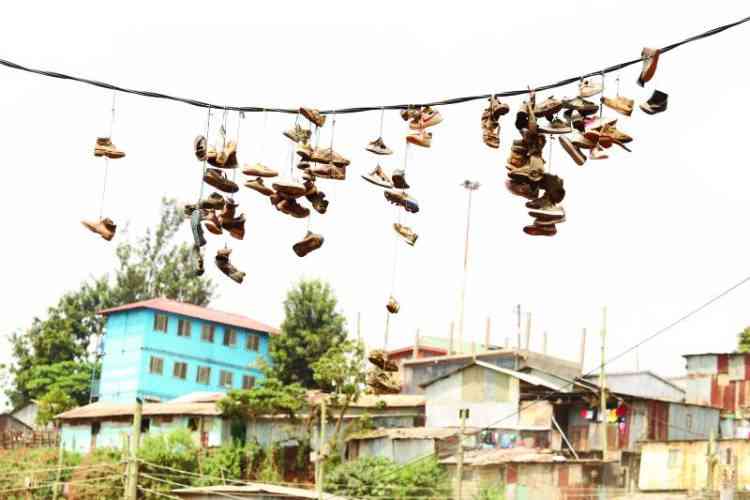 It is not strange to walk in a Nairobi slum and come across shoes hung on electricity lines or telephone cables. This is how reformed criminals mourn and remember their dark past.
While this might appear to a first-time visitor as primitive ghetto culture, the decades-old phenomenon tracing its roots to the United States has deep meaning to those who understand it in Kibra and Kamukunji where it is conspicuous.
It is a peculiar way hardcore gangsters mourn their departed partners in crime. In parts of the city, the shoe is a symbol of commemorating life in gangland.
"This is a tradition spanning decades and is practiced in slums to symbolize a fallen member of the gang. In many cities and towns if a gang member dies, the remaining gang members take and loop one of his old shoes over the power line," says James Munene, a reformed criminal.
In the US, shoe dangling is associated with gangs marking their territories as well as signifying an informal memorial of dead gang members. Still, among some militaries, hanging boots in a similar manner is a sign of a soldier or soldiers about to retire.
Munene is lucky to be alive. During his heydays, Munene was a lethal criminal. Reformed criminal was in crime for decades. Now 65, Munene while reminiscing about his dark past, says shoe hanging has different meanings, depending on where one lived and operated from.
"A particular shoe might be a marker of drug sales, like a calling card or uniform. It basically demonstrates the victim or gang member who they took the shoes from," says Munene.
Mundane as it appears, the phenomenon serves as a constant reminder to reformed criminals about life in crime. It is through the shoe symbol that criminals are able to shake off their dark past.
"Hanging of boots is a sign of victory. I have personal experience. Many use it to announce the end of an era in criminal activities after reforming. I hung mine in Kirinyaga almost 10 years ago and whenever I pass there, it reminds me how I lived a dreaded life before," explains Munene.
When circumstances allow, shoes worn by a dead criminal are taken by accomplices and preserved.
"When one of us died, it was a must we pick one of his pair of shoes as a reminder of his life. If he had young children, with time they
were reminded of their father's boots when they get of age," says Munene.
In Kibra, Big Brother Youth Group members are a living testimony that it is possible to quit crime and be accepted back into society.
Members now operate a car wash business in Soweto village where hanging boots is a sight to marvel to a visitor in the area.
Electricity wires are lined with sneakers, leather shoes, or boots all with coded meanings only known as the Big Brother Youth Group, which was formed in 2014.
A pair of shoes is knotted with lace before being tossed up onto the electricity wires. Should the target be missed, the exercise is repeated until when the pair is trapped on the electricity poles or wires.
Big Brother Youth Group has 24 members who all have succeeded in performing this "ritual". The shoes one used to wear while in crime dangle above their heads as they go about the business of washing cars for a decent living away from the risk life of daggers and knives.
"I started getting involved in crime while in Standard Eight and got deeply involved after completing high school," says John Ochieng, a member of the group.
He quit crime after his friend died under a hail of bullets in a botched raid. The incident marked a turning point in Ochieng's life. He realized there was life beyond crime.
"Each pair of the shoes you see up there has a story behind it. And the stories can only be retold by those who took part in crime; some are alive while others are long dead," says the 26-year-old.
Another member Bildad Odhiambo got into crime in 2016. Two years later, a mob lynched his partner in crime who had snatched a mobile phone from a pedestrian. Odhiambo knew he would be the next victim - he turned his back on crime and has never looked back.
The 24-year-old buried several of his friends who refused to abandon the gun. They were either shot dead or subjected to mob justice.
Not all residents find any meaningful messages in the art of dangling shoes. They think it rekindles bad memories while casting a neighborhood in a negative light.
Were she to have the courage and support, Lilian Muthoni would advocate against shoes dangling in Ziwani where they are a danger especially when it rains.
"Besides blurring visibility due to the loose hanging, the shoes are actually a ticking time bomb waiting to explode when the electrical wires come into contact with each other," says Muthoni while urging authorities to take action against the practice.
Related Topics