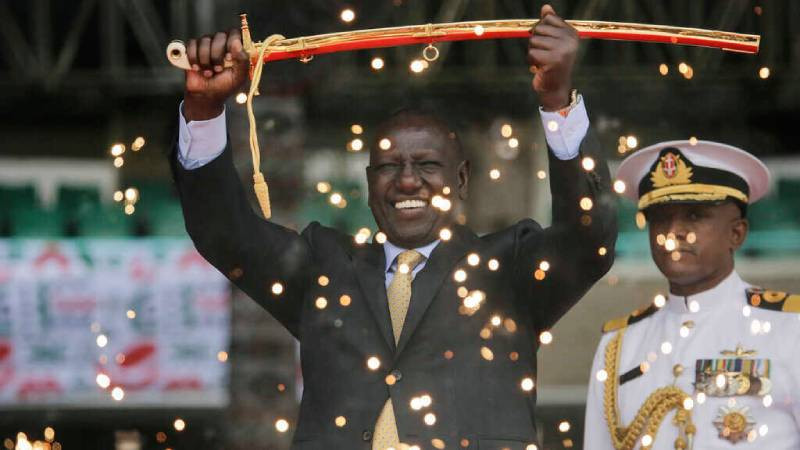 A story is told in the corridors of power about how Health CS, Mutahi Kagwe, transferred a number of public servants from his ministry during the COVID-19 pandemic.
The civil servants in question never left their workstations. The story goes on to explain that Kagwe believed the people he was transferring were incompetent, corrupt and used to cooking numbers to attract foreign aid, and that they were working for powerful external masters.
He wanted competent people to take up strategic positions during the Covid-19 pandemic to enhance service delivery in the Ministry of Health.
But the junior staff told Kagwe, who was barely a few months in the health ministry: "Ulitupata hapa na utatuacha hapa (You found us here and you will leave us here."
It is common knowledge that experienced civil servants feel entitled and bully newcomers who try to inject a new sense of purpose and direction in public service. The juniors who have institutionalised corruption either sabotage these newcomers or recruit them onto the gravy train.
Kagwe's experience, which has met many new comers in public service, is just a sneak peek into the people that President William Ruto will have to confront if he carries out his promise: "Leave me the cartels. I will deal with them. Allow me to take an oath first."
The President will discover that some junior officials are not as harmless as they look. On the contrary, they wield enormous power delegated to them by powerful people — within or outside government — who strategically plant them in different offices.
Such people are employed in government and protected by these powerful individuals to serve their interests.
Ndung'u Wainaina, the executive director at International Centre for Policy and Conflict, calls this "state capture".
"The solution to corruption is to safeguard the legal, institutional, structural, operational, and financial independence of institutions and criminalise conflicts of interest in public service," Ndung'u said.
Not long after Kagwe failed to transfer people he thought unfit to serve in the ministry of Health, scandals rocked the Kenya Medical Supplies Authority (Kemsa) and the audit trail on who walked away with what and for what purpose ran cold.
Kagwe understands that the cartels are too well hidden to be found and that corruption fights back.
"Because when you hear of corruption and you hear of the mafia, they are not Italians. They do not come from Sicily. They come from your midst. And mine. And they are in MoH and Nation and the other media houses," Kagwe said in a press interview.
Economic and public policy expert Robert Shaw says Kenyans must heavily stand against corruption if the country can move forward.
"Any country which has heavily fought corruption is moving forward," Shaw said. Outgoing President Uhuru Kenyatta is on record lamenting that Sh2 billion is stolen in the country every day.
During an accountability summit at State House, Nairobi in October 2016, he expressed his frustrations in the war on graft, making the viral "Sasa mnataka nifanye nini? remarks.
"Corruption is frustrating me. The pressure is on me to do something about corruption but my hands are tied. Tell me... Which administration has dealt with the issue of corruption like my administration since independence?" he quipped.
It will be interesting to watch how Ruto takes on the cartels whose fangs are spread around City Hall and whose tentacles spread into the Land, Transport, Security, Education, Health and other sectors of the economy.
And then there are counties. Devolution sent resources to the counties, and like ticks appear out of the blue, cartels quickly followed.
County governments is a home with thriving cartels in every sector. From the procurement to floating of tenders to hiring of ghost workers, every sector is 'cartelised' with 'middlemen' who are majorly corridor employees calling the shots.
The procurement department in counties is a favourite target of cartels because there is so much money involved. Their unscrupulous actions rob honest businesses of opportunities to make fair profits by winning tenders fair and square. This is another way in which cartels undermine the free market system.
County chiefs also invest in huge projects which in essence are a conduit for looting public resources by inflating the costs as contained in the bills of quantities.
For example, Kisii Governor Simba Arati after taking over the reins of power two weeks ago, cracked the whip in the Transport, Finance and Human Resource departments after discovering that the county had ghost drivers on the payroll.
"It defeats logic to have 82 county vehicles with 256 drivers who are on payroll. The ghost workers have been drawing money which is meant for development," said Arati
Arati also demanded answers from the County Executive Committee (CEC) member for Finance for procuring comprehensive insurance cover and yet the vehicles had been insured for third party insurance cover.
"I need elaborate answers from these departments. Someone must go to jail and DCI should take action. You have been joking with the drivers lives by eating insurance money," said Arati
He added: "Its saddening that the drivers don't receive their per diems and who pockets it? I know some people have kept county vehicles at home, they should return them or face arrest,"
Ethics and Anti-Corruption Commission (EACC) CEO Twalib Mbarak said they have launched investigations into the Kisii drivers scandal but asked county governors to strengthen accountability systems and seal loopholes of pilferage of public funds, saying counties are high corruption risk areas.
In May 2020, the County Government of Bungoma was on the spot for procuring hand washing 600 20-litre jerricans at a cost of Sh10,000 each.
The jerricans were to be installed in strategic market centres across the county to ensure locals wash hands in line with health guidelines in controlling COVID-19 spread.
At least Sh6.9milion was withdrawn from a local bank account on a single day and handed over to a county staff who is alleged to have paid the shadowy supplier in cash.
After the scandal, the County Assembly of Bungoma impeached two CEC members but were shielded by the court through an injunction. On March 18 2020, nine cheques worth Sh776, 223 each were cashed and withdrawn the same day, according to investigations by EACC.
Former Governor Wycliffe Wangamati had called for the investigations but later on made an about turn and said that no money had been lost. The governor called on individuals who had evidence about the loss of funds to the EACC for interrogation. One of the CECs who was impeached was also accused of awarding a tender to his sister-in-law to supply medical equipment to Bumula sub county hospital.
In the same county, during Governor Ken Lusaka's first term in office, an audit report revealed that 10 wheelbarrows were bought at Sh109,320 each. This means the administration spent a whopping Sh1,093,200 to acquire the wheelbarrows. Meanwhile, officers at the veterinary department had inflated the price of metal hooks to Sh32,500.
On June 2018, the seven former county officials involved in the wheelbarrow saga were found guilty and ordered to pay fines or serve jail terms.
"The county governments are a breeding ground of corruption. Suppliers will always give kickbacks to get tenders and even before their payments are made, they also give out money to finance officers.
"Some are forced to inflate tenders and the excess money when payments are done, county governors are given the money in cash to escape the full arm of the law," said Philip Wekesa, a Bungoma-based activist.
He added: "Governors also invest in capital intensive projects like roads, hospitals, bridges, classrooms and starting projects that don't make any economic sense.
The end product is to siphon money through such projects so as to escape the huge arm of the law."
Related Topics