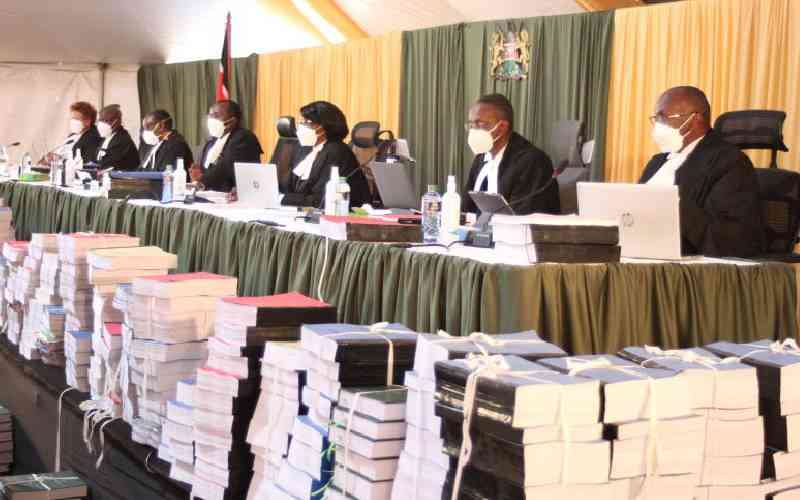 The Court of Appeal has freed a Kenyan wanted by the United States (US) over Sh128 million fraud on Sh2 million bail.
Justices Asike Makhandia, Sankale Ole Kantai, and Mwaniki Gachoka allowed Imraan Juma to argue his appeal away from police cells on condition that he surrenders his passport to the court's deputy registrar.
The bench headed by Justice Makhandia also directed that Imraan be reporting to the Gigiri Police Station once every month.
Imraan was held at Gigiri Police Station, last year awaiting extradition to the US, where he is wanted for allegedly laundering Sh128 million.
At the High Court, Justice Daniel Ogembo allowed the State to hand him to US authorities. However, he appealed, arguing that the lower courts erred by applying an unknown procedure to settle the case.
In the meantime, Imraan asked the Court of Appeal to be granted bail as he was sickly and there were no proper medical facilities at the police station to attend to him.
Imraan said he had been granted bail at the High Court and at the magistrate's court and he never absconded any hearing. The Director of Public Prosecutions (DPP) opposed the application, arguing that Imraan could be treated at the police cells.
However, Justices Makhandia, Kantai, and Gachoka disagreed with the DPP. They found he had not proved that Imraan would escape if released.
"The situation where the applicant, who is not a convict is held at the police station for an indefinite period pending hearing and determination of his appeal certainly falls within the "exceptional and unusual circumstances," the three-judge bench ruled.
"The applicant says he is ailing and there are no proper facilities to attend to him at the police station. It is not enough for the respondent to respond by saying that appropriate arrangements can be made for him to attend. It has not been demonstrated that he is a flight risk. There is no reason to deny him bail."
In court papers, Imraan argues that he would not get a fair hearing if extradited. He claimed that even in Kenya, the magistrate's court has adopted an unknown procedure to settle the extradition request filed by former DPP Noordin Haji (now National Intelligence Services boss).
At the same, Imraan denied links to Nigeria's Instagram influencer turned-con Roman Abbas. Abbas (Ray Hushpuppi or the Billionaire Gucci Master) was last year jailed for 11 years.
Additionally, Abbas was ordered to pay $1.7 million (Sh252 million) as compensation to two fraud victims.
In the proposed charges at the US District Court, Imraan is facing 61 counts of money laundering, conspiracy to commit wire fraud, and aggravated identity theft.
Related Topics