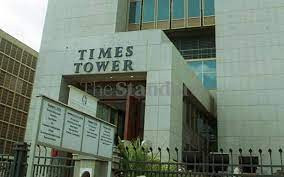 A company has sued the Kenya Revenue Authority for imposing illegal taxes on cargo importers who refuse to use the Eldoret International Airport.
Eye Link Cargo Limited in a suit filed at the High Court through lawyer Bwogo Manoti claims that it was forced to incur losses of over Sh50 million after KRA failed to clear its cargo of assorted goods at the Jomo Kenyatta International Airport and imposed unjustified taxes.
"KRA has colluded with some officials of Kenya Association of International Cargo Consolidators to frustrate cargo importers who refuse to be blackmailed into using Eldoret International Airport by withholding the cargo, stealing their goods and charging illegal taxes," said Manoti.
The company wants the court to declare that a directive by KRA's Commissioner of Customs and Border Control purporting to fully inspect all imported cargo arriving via JKIA but exempting cargo arriving via Eldoret International Airport from the inspection is illegal, unfair and discriminatory.
They also want a declaration that KRA's requirement for the company to pay illegal taxes was in bad faith, conflict of interest and promotes unfair business competition among cargo importers.
"We also want the court to find that KRA's demand of a total of Sh15,547,175 in taxes based on the misleading and falsified laptops verification report which showed 2,226 pieces instead of 1,080 laptops is illegal," said Manoti.
The company is also seeking a refund of Sh8,004,077 being overcharged taxes for importing laptops, a refund of Sh13,260,000 it paid for as extra storage charges for the duration its cargo was detained and Sh4 million as cost of goods stolen from its cargo while in the store.
Manoti told the court that the company chartered a cargo plane on June 27 to import assorted goods from Dubai weighing 20,830kgs.
The assorted goods included clothes, spare parts, solar lights, shoes, wood glass light, laptops, grill, watches, speakers, printers, glass light, laptops, mobile phones, laser jet, gym, headlights, tyres, dry food, body cream, computer accessories, TVs, memory cards, ipads, socks and handbags.
He said that upon landing at JKIA, the consignment was required to be subjected to the normal process of cargo clearance in accordance to the relevant provisions of the law.
"However, this did not happen as KRA officials introduced new criteria of inspecting the entire cargo and imposing taxes even for goods which were not on board," said Manori.
He accused KRA of directing that all cargo arriving via Jomo Kenyatta International Airport to be subjected to 100% verification but at the same time waiving the same requirement for all cargo arriving via Eldoret International Airport.
He further accused the tax body of refusing to transfer the company's consignment to a customs warehouse thus exposing the Plaintiff to incur huge warehouse storage charges of Sh29.5 million and theft of its cargo at the transit shed.
"They also engaged in illegalities by subjecting the company to unfair business environment with the aim of intimidating it to stop shipping cargo via Jomo Kenyatta International Airport thereby giving its competitors undue business advantage," he said.
Related Topics