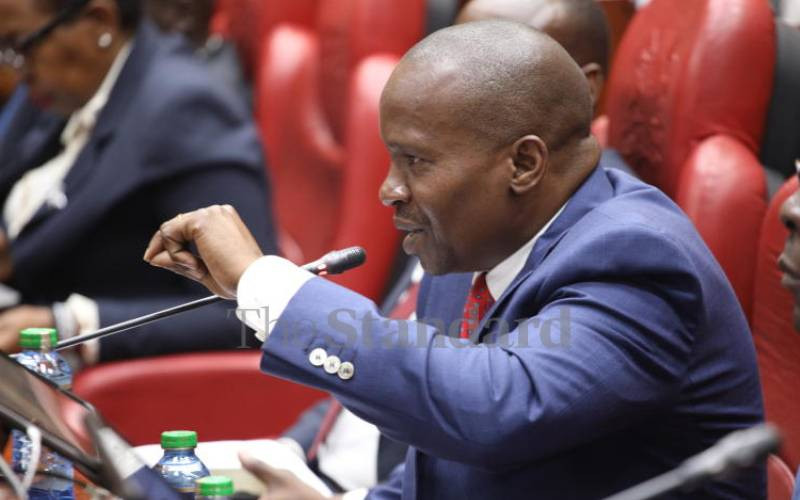 The government is committed to resolving the longstanding border dispute between Meru and Tharaka Nithi counties that has led to the loss of lives and property over the years, according to Interior Cabinet Secretary Kithure Kindiki.
Prof Kindiki, who appeared before the Senate National Cohesion and Integration Committee on Thursday, noted that the situation between Meru and Tharaka Nithi is not unique, with more than half of the counties having boundary disputes which the government is working to resolve.
The Interior CS claimed some powerful individuals from the previous administration were behind the escalating tension between Meru and Tharaka Nithi.
"The current administration is doing everything necessary to bring to an end the unnecessary conflict between Ameru people," Kindiki said.
"Let me declare to this committee that I was born in this region. The region has experienced conflict which has brought a lot of shame with all the deaths and destruction. This will not be tolerated under my watch," said Kindiki.
He said those from the previous regime who used their influence to steal land which has led to conflict in the region will be forced to return it. "They will have to give the land back because it is the main cause of disagreements between residents of these neighbouring counties."
He told the committee that a Presidential Commission of Inquiry that was led by former Eastern Provincial Commissioner, the late Zachary Ogongo, came up with a fair report on how to resolve the boundary dispute between the two counties and that it was high time the report was revisited, even as he urged leaders in the region supported peace efforts.
Kindiki blamed part of the problem on local politicians he said have, over the years, contributed to the escalation of tension by inciting their people to be aggressive towards their neighbours, especially during election campaigns.
"This should not be encouraged at all. I would like to inform this committee that I will not allow monkey business in the border area of Meru and Tharaka Nithi counties. I promise to table a report before this committee in six months showing the measures we will have put in place to end the conflict between the two counties," said Kindiki.
The Cabinet Secretary said the government will reconstruct the nine primary schools that were destroyed on the Meru – Tharaka Nithi border and that the government will offer any other necessary support to the residents living in the border areas to restore normalcy.
Related Topics