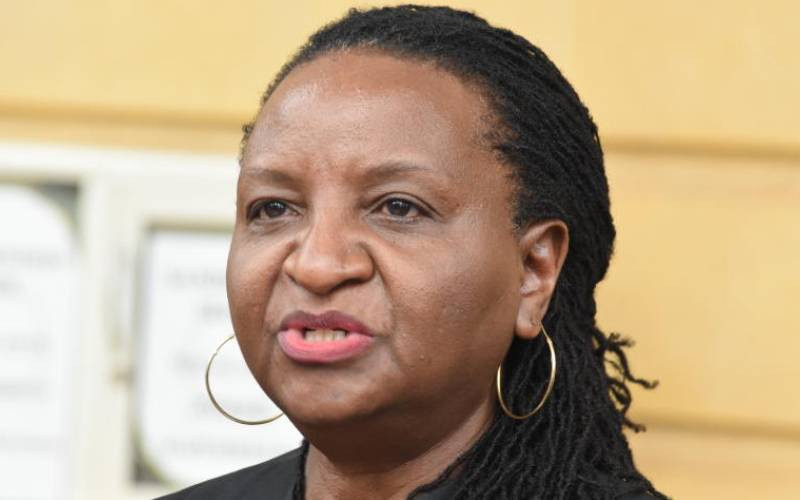 Chief Registrar of the Judiciary Anne Amadi has pleaded with the court to lift orders that froze her accounts over a Sh102 million fake gold scam.
Amadi, through lawyer Ochieng Oduol, told the court that there is no evidence to show she received part of the alleged gold fraud money in her personal accounts or whether she dealt with the complainant.
"There is nothing to show the money was paid through her personal accounts, the order freezing her accounts was meant to disguise the case and create an impression that she trades in gold, which is a lie," said Oduol.
Justice David Majanja on May 17 froze Amadi's accounts following a suit by Briton Demetrios Bradshaw and his company Bruton Gold Trading LLC claiming that she colluded with others through her law firm Amadi and Associates Advocates to defraud him $742,206 (Sh102,090,435).
The judge also froze the accounts of the law firm at ABC Bank, Amadi's son Brian Ochieng, lawyers Andrew Kiarie and Adrian Topoti, businessman Daniel Kangara and Liberian national Edward Taylor.
Mr Oduol argued that the Briton misled the court that Amadi was a proprietor of the law firm and had a hand in the transaction when she stopped private practice in 2014 and left her son to manage the law firm.
"The fact that her law firm exists does not mean she is engaged in the private practice of representing clients. There is no evidence that she dealt with the complainant and the fact that she helped her son in opening the firm's account does not justify dragging her name into the issue," said Oduol.
According to Oduol, Bradshaw misled the court to issue the orders using unverified documents whose origin cannot be established.
He added that the alleged transaction took place in 2021 and if the businessman had genuine claims about his money being stolen then he should have not waited until 2023 to file the suit.
Her application to lift the orders was supported by her son through lawyer Sam Nyaberi who argued that there was no justification to freeze the law firm's account because they only transacted the money on behalf of the client.
"The dispute should have been referred to arbitration if the complainant had genuine reasons against the law firm. The law firm only wired the money to the client as per the complainant's instructions, they do not have the money in their accounts," said Nyaberi.
He added that Bradshaw's case was defective since he filed his affidavit even before the suit was filed which shows his ill motive to raise unsubstantiated claims against them.
The British businessman through his lawyer Joe Murage however insisted that the orders should not be lifted to preserve his money pending determination of the dispute.
Related Topics