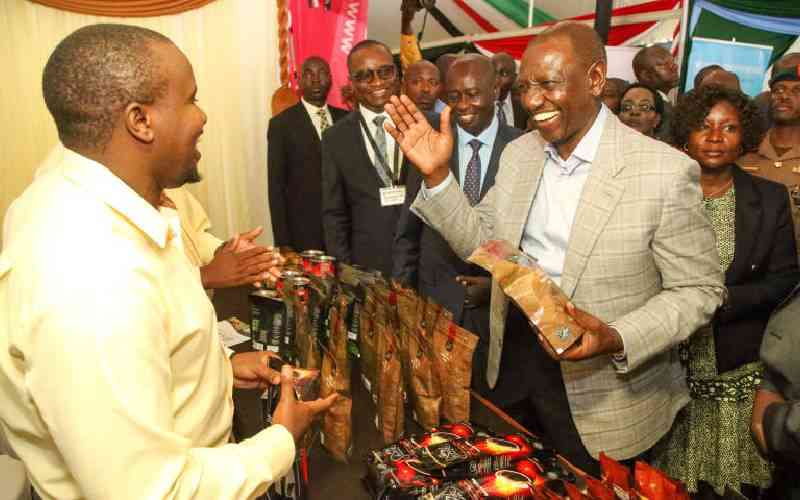 President William Ruto has announced plans to impose a 30 per cent tax on all imported building and construction materials in an effort to boost local manufacturing.
Speaking during the opening of a small and micro enterprise trade fare in Embu Countyy, President Ruto also defended the government's housing programme as way to create employment.
"The housing programme will help enhance local manufacturing. We cannot import things like cement, furniture and other construction materials while we have skilled youths in the country from our TVET institutions," he said.
He stated the housing programme will propel growth of local manufacturers who contribute largely to the country's economy.
The President, who also lauched various development projects ahead of next week's Madaraka celebrations in Embu, said the programme will decongest over 6.5 million Kenyans living in slums and move them to upgraded houses.
"In Kenya, we have over 1,411 slums which are unhygienic. In our manifesto, we promised to ensure that all Kenyans live in dignified houses," he said.
The Head of State said that the housing programme will free up expansive tracts of land that will be used for farming putting to an end food insecurity.
"Kenya is among the fastest urbanising countries in the world and 4.4 per cent of all our people will be living in urban towns by 2060. This means that there are many counties that are degenerating into rural slums. Kenyans will either live in slums or the affordable housing which we are initiating right now," he said.
Ruto urged Kenyans to contribute fully to the affordable housing programme to help the government get rid of slums.
"The government shall deduct a 3 per cent to all government employees to finance the affordable housing," he said.
President Ruto was accompanied by his Deputy Rigathi Gachagua said those opposing the housing levy should provide an alternative solution to end slums in the country.
"Those opposing should give us an alternative plan to end slums and create employment for the youth," he said.
Related Topics