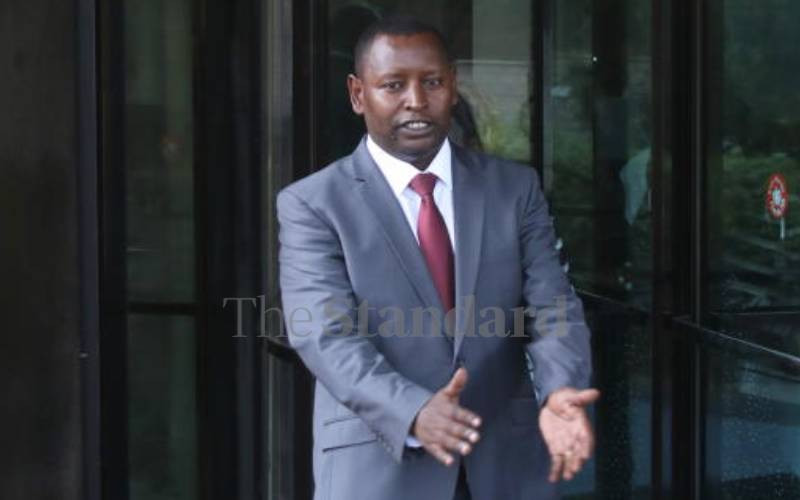 Former Samburu Governor Moses Lenolkulal has failed in his bid to force the Director of Public Prosecution to withdraw an Sh84 million corruption case against him.
Justice Esther Maina dismissed Lenolkulal's application to drop the case, arguing that the High Court has no power to direct the DPP on whether to continue prosecuting or withdraw charges against anyone facing trial.
"There is no right guaranteed to the applicant that the DPP must withdraw the corruption case he is facing. Such withdrawal is discretionary for the DPP and the court cannot interfere unless it is proved that the discretion is being abused," ruled Maina.
Lenolkulal had sued the DPP for making a U-turn after filing an application to withdraw the corruption case and wanted the High Court to order the withdrawal.
Haji had in October last year filed the application before anti-corruption court chief magistrate Thomas Nzyoki to withdraw the case against the ex-governor on account that he had reviewed the file and discovered there was no sufficient evidence to support the charges.
Lenolkulal was charged in 2018 with abuse of office and conspiracy to commit an economic crime by allegedly defrauding Sh84.6 million from the county government of Samburu through his company registered as Oryx Service Station
He was charged alongside Stephen Letinina, Daniel Lenolkirina, Josephine Lenasalia, Reuben Lemunyete, Linus Lenolngenye, Paul Lolmingani and Bernard Lesurmati, Lillian Balanga, Andrew Lanyasunya, David Loosenge and Geoffery Kitewan.
The DPP indicated that he had reviewed the file and was satisfied no money was lost by the county government in the contract with Oryx Service Station for the supply of petroleum products.
According to Haji, his office established that there were no procurement breaches in the stated contract and that no money was lost since the county government got value for money for the services provided.
The DPP stated further that the ex-governor did not engage in a conflict of interest having relinquished his interest in Oryx Service Station which was awarded the Sh84 million contracts to supply fuel to Samburu County Government.
However four days after filing the application to withdraw the case, the DPP changed his mind and told the court he will be pursuing the ex-governor to the end.
The magistrate then ruled that since the DPP had rescinded the application to withdraw the charges, the trial would proceed to a conclusion.
This was what prompted the ex-governor to file the application at the High Court claiming the DPP's change of heart was a violation of his legitimate expectation to have the case terminated.
Justice Maina however dismissed the claims stating the DPP has the power to determine which case to terminate and which case to prosecute.
Related Topics