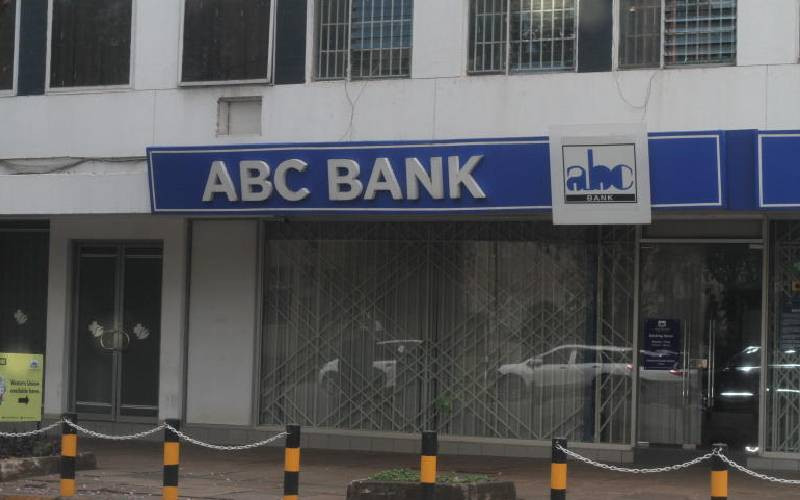 A bank has sued the former Kenya Airports Authority (KAA) Director General George Muhoho, seeking to auction his property over a Sh107 million debt.
African Banking Corporation (ABC Bank) has sued Muhoho and Westminster Ltd over the loan advanced in 2019.
The lender in its case before the commercial court claims that Westminster Ltd borrowed Sh52 million. However, the firm has not honoured its end of the bargain.
"The second defendant (Westminster) has since failed to make the requisite payments to service the loan facility as it is obligated to do so in terms of the letter of offer dated August 7, 2019," claims ABC in its court papers.
According to the bank, the amount owed by the firm has shot to Sh107 million.
"The continued state of default has become unsustainable and the plaintiff seeks to sell the property under informal charge in order to recover the outstanding amounts it is owed by the second defendant," the lender argues adding that the firm has remained silent even after being reminded to honour its obligations.
According to the court document, Westminster allegedly agreed to borrow the money at an interest of 14.25 per cent per annum.
The bank states that the amount continues to attract interest at a 24 per cent default rate yearly. ABC's Legal Manager Kajuju Marete in his supporting affidavit stated that Westminster inked the loan deal on August 7, 2019.
Kajuju explained that ABC agreed to advance the firm money after Muhoho deposited the title as security. He claims that ABC holds the original title.
"The second defendant has defaulted on the loan facility and is currently indebted to the plaintiff to the tune of Sh107 million as of January 31, 2023," claims Kajuju.
Muhoho is also a former Juja Member of Parliament and a diplomat. He is the brother of Mama Ngina Kenyatta and former President Uhuru Kenyatta's uncle.
Court papers read that on August 4, 2022, the lender wrote to Muhoho informing him that Westminster had defaulted on its bargain. The bank allegedly also demanded repayment of the outstanding debt.
Outstanding amounts
Kajuju now says even with a notice that Muhoho's property would be sold, he allegedly never responded. "To date, no response has been made by the first defendant (Muhoho) nor has there been any attempt by both defendants to pay the outstanding amounts owing and due to the plaintiff out of the loan facility," his affidavit reads.
According to the agreement before the court, Muhoho shoulders legal fees incurred by the bank while seeking to recover its money.
"The borrower will reimburse the bank on demand for all expenses incurred on their account as set out above, as well as for all expenses such as repossession charges, valuation charges, storage fees, investigation charges, legal fees... under this letter or the security," the letter reads.
The bank wants the court to allow it to auction the land and have Muhoho and Westminster pay the costs of the case.
Related Topics