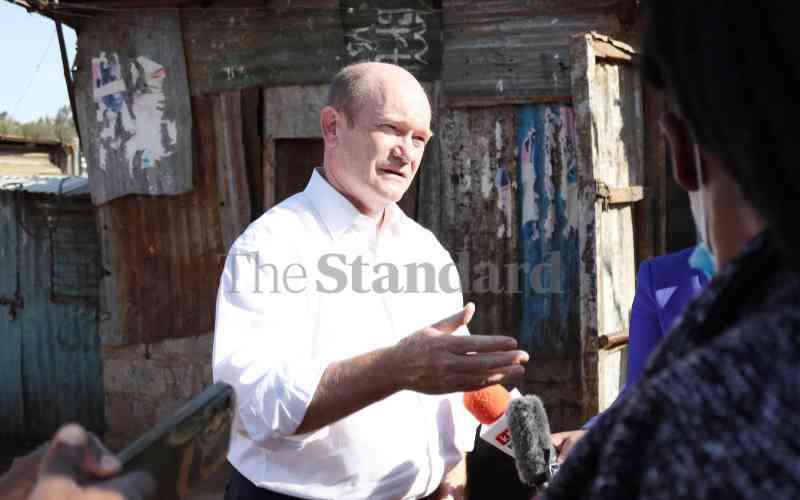 Much of the important work that goes into successful 'difficult conversations', Senator Chris Coons wrote in a 2018 journal, is actually done before the conversation itself.
"They often don't need to be as difficult as they are," he added in a Yale Divinity School's "Reflections" journal.
The man who quietly came to Kenya last week, struck for us a basis for political truce, and left without a word is the quintessential smooth operator. We wouldn't have known of his exploits in Kenya had our politicians- Deputy President Rigathi Gachagua, and Azimio leader Raila Odinga- not shared pictures and videos of the meetings.
"This morning, I hosted a delegation from the US, led by Senator for Delaware Christopher Andrew Coons for consultations in further strengthening ties between the two nations, especially in trade, partnership in security, democracy, among others key issues of mutual interest," Mr Gachagua posted on social media last week.
Raila swiftly followed suit: "Had a great meeting this evening with US Senator Chris Coons and his delegation to discuss political developments in our country. We had a fruitful discussion on the importance of upholding the Constitution and the rule of law in all activities, and agreed to keep the channels of communication open."
In between the meetings with the pair, the senator flew down to Coast and met retired President Uhuru Kenyatta on the same mission. Uhuru ditched social media years ago after netizens got under his skin so there was no tweet or post about his meeting with the American.
Mr Coons, however, never posted about his Kenyan visit.
"I had the honor of traveling with Vice President Harris to Accra this week to reinforce and recommit to our economic and security ties in the region," he posted on his Twitter page on Sunday. This is the closest he came to talking about Kenya.
Former West Pokot Senator Samuel Poghisio has known Coons for years due to their shared passion and roles in the national prayer breakfast 'movement'. He has nothing but admiration for the man he describes as an 'excellent peacemaker'.
"He's a patient guy who tries hard until he succeeds. A well-trained peacemaker, he does not make a big fuss about his stuff but carries himself with grace and great skill," Mr Poghisio, who has chaired the national prayer breakfast for the country and the continent, says.
In 2019, Netflix released a documentary series- The Family- about the origins of the national prayer breakfast in an attempt to expose its spread and power across the world. Poghisio says the documentary missed the point by miles.
"It was an exaggerated thing. They obviously didn't understand. You will know that early Christians were persecuted for nothing other than their claim that they were eating the body of Christ," he says, while pointing to exploits of Coons as evident of the goodness that comes from the prayer breakfasts.
Poghisio confirmed that the senator has been working closely with the Kenyan team in promoting dialogue, including attending the breakfasts in Kenya. Besides participating in the prayer breakfasts, Coons also wields immense political power back in the United States.
"He's President Biden's senator and they are very close. The President tends to send him around often," Poghisio says.
Coons and Biden have come a long way. They both hail from Delaware and Biden previously represented the region in the Senate. During former President Barack Obama's term in office when Biden served as vice president, Coons landed some major assignments.
He served as US representative to the 71st Session of the General Assembly of the UN. When Obama visited Kenya during his second term, Coons was among a team of 10 lawmakers who accompanied him here.
In the run-up to the 2018 'handshake' between Uhuru and Raila, Coons played a background role.
For Uhuru, his star and that of Coons have always aligned. Besides sharing the same class and alma mater at Amherst College, the pair entered public life at the same time. Uhuru's journey began in 2001 when he was nominated into Parliament, and soon thereafter became minister of Local Government.
Coons, on the other hand, became president of the New Castle County Council in 2001 and served up to 2005. Between 2005 and 2010, he served as county executive of Castle County, Delaware, before he was elected to the Senate.
In August last year, at the height of acrimony between Uhuru, Raila and Ruto over the election results, Coons landed in Nairobi for a series of talks with the three. Again, he was not loud in his pronouncements but as soon as he left, the tension between Uhuru and President-elect Ruto thawed.
In the Senate, Coons is known for his bipartisan efforts to resolve national problems.
"If we actively choose to seek out those that we are likely to disagree with, whose backgrounds and profiles are different than our own, we are more likely to see our assumptions about them proven wrong than confirmed. We are more likely to find a person not so dissimilar from ourselves, with their own perspective but a shared humanity,' he once wrote of his philosophy.
He also believes that difficult conversations are more about our ignorance of one another than the divisions between us. On most days, the senator takes the train from Washington to his Wilmington home to spend time with his family. Tuesday nights, he spends in Washington so he can be at the Capitol at 8am for weekly prayers with his breakfast team.
His relationship with the President, he confessed recently, is deep: "I have had the blessing of calling President Biden a friend for many years," he said, when thanking him for re-establishing the White House Office of Faith-Based and Neighborhood Partnerships
The office had been established by President George W. Bush and sustained by President Obama before it took a beating under the tumultuous Trump presidency. "It reflects who Joe Biden is, someone who has leaned on his beliefs in moments both shatteringly terrible and truly joyful. It's the man I know he will continue to be throughout his service as our president," he wrote of Biden.
Related Topics