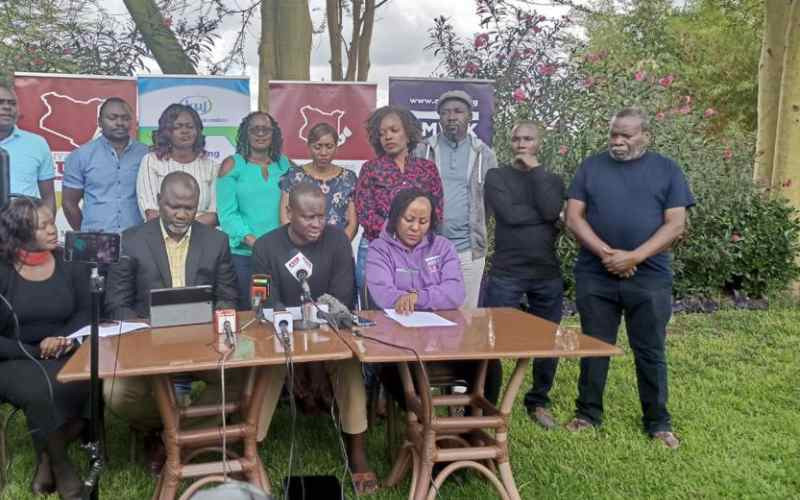 Media stakeholders' working group claims there are plans by the government to shut down the internet and some broadcast media stations.
In a statement by the Kenya Media Sector Working Group, (KMSWG) released on Sunday afternoon, the groups have argued that by so doing, the government will be denying Kenyans a vital Right to the free flow of information to the public.
"We have received reports of plans to shut down the broadcast media and/or the internet and throw the country into information darkness ahead of tomorrow's demonstrations,"
"This would be a most ill-advised and grievous assault on Kenya's democracy. From the media perspective, taking this route will sink as a country."
At the same time, KMSWG has also raised concern over the safety of journalists covering Azimio protests, which are scheduled for every Monday and Thursday.
"Since the demonstrations by the Azimio La Umoja Coalition began on March 20, 2023, we have documented more than 20 cases of attacks and violations against journalists, including harassment, arbitrary arrests, and physical attacks with state actors responsible for or encouraging a significant proportion of these attacks," the group says.
As a result, KMSWG wants all the reported cases investigated by the relevant authorities.
"We demand that the Director of Public Prosecution (DPP), the Inspector General of Police (IG), and the Independent Policing Oversight Authority (IPOA) ensure accountability for all threats and violence against journalists through impartial, prompt, thorough and independent and effective investigations."
"We call upon them to bring to book the perpetrators behind attacks while ensuring access to effective remedies and compensation to the victims."
The media working group also wants the Director of Public Prosecutions (DPP) to update the country on the status of investigations in the next seven days.
"In this regard, we hereby issue to the DPP, a seven-day ultimatum to deliver a statement on the status of the investigations and prosecution of those culpable,".
"We also call upon the Independent Policing Oversight Authority (IPOA) to update the nation on the status of investigation of police brutality against journalists."
In total, six journalists were injured during Thursday's protests in different parts of the country, victims of brutality by police and violent protesters.
This brought to 22 the total number of journalists injured since the start of the demonstrations on Monday, March 20
Related Topics