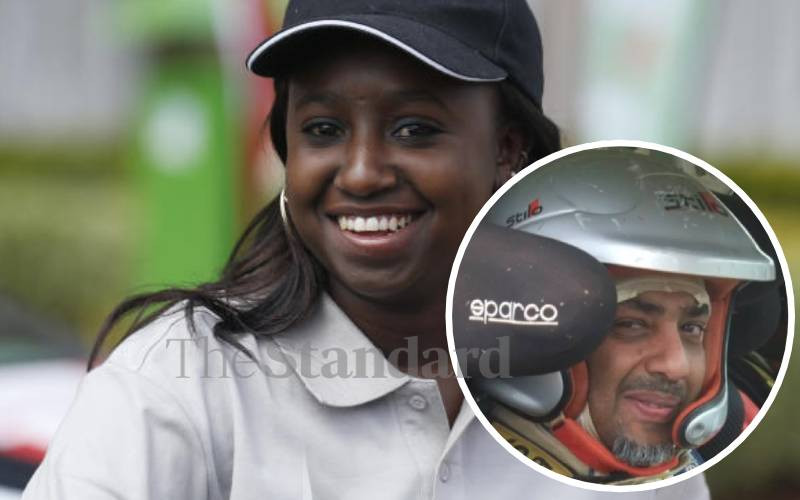 Asad Khan, the rally driver said to have been killed by his girlfriend Maxine Wahome could have died due to excessive bleeding from a self-sustained injury, a court was told on Tuesday, March 21, 2023.
Details of Khan's injury and subsequent death at a Nairobi hospital were revealed during the hearing of an application by Ms Wahome to be released on bail after being charged with his murder.
"The medical report has nothing to show that Maxine murdered the deceased. It is like she is being charged for being insensitive to his injury and death. That is why we are pleading with the court to release her on bail," said lawyer Philip Murgor.
The medical report from Nairobi Hospital presented to the court showed that the late Khan was taken to the hospital on December 12 2022 while bleeding from a cut wound on the right lower limb with an examination showing he was in shock and gasping for breath.
Since Khan had lost a lot of blood, the report indicated he was put on blood transfusion immediately before his relatives asked that he be transferred to Avenue Hospital.
At the Avenue Hospital, he was diagnosed with multiple organ failure after having a cardiac arrest following the loss of blood and right leg laceration as a result of the injury on his leg.
According to the hospital, the deceased had organ dysfunctions following the haemorrhage and cardiac arrest before starting bleeding from the mouth two days after admission.
He is said to have suffered another cardiac arrest on December 18 2022 and efforts to resuscitate him failed. The post-mortem report concluded that Khan died as a result of fungal and bacterial septicaemia.
Murgor argued that the medical report confirmed that there are no compelling reasons to deny Ms Wahome bail.
"She has made it clear that she was the victim of domestic violence and it is the deceased who kicked the door, hurt himself and started bleeding. Even the neighbours have confirmed that she was wailing and calling for help," said Murgor.
Ms Wahome, the budding rally driver was charged on Thursday last week with the murder of Khan on December 12 2022 at Preston Court along Oloitoktok road in Kilimani sub-county within Nairobi County.
She applied for bail arguing that she is presumed innocent until proven guilty, and that she can't interfere with the prosecution's witnesses as alleged.
The prosecution however opposed her application to be released on bail, arguing that she failed to take care of Khan after the injury and refused to visit him in hospital or attend his burial.
"She had something to hide after the incident and that is why she went into hiding. We also fear that she will interfere with the witnesses and the victims who are still aggrieved by the loss of their loved one," said the prosecution.
The prosecution added that the severity of the punishment if found guilty could also make her flee the country if released on bail.
High Court Judge Lillian Mutende directed the probation office to file a pre-bail report before making her ruling on Monday next week.
Related Topics