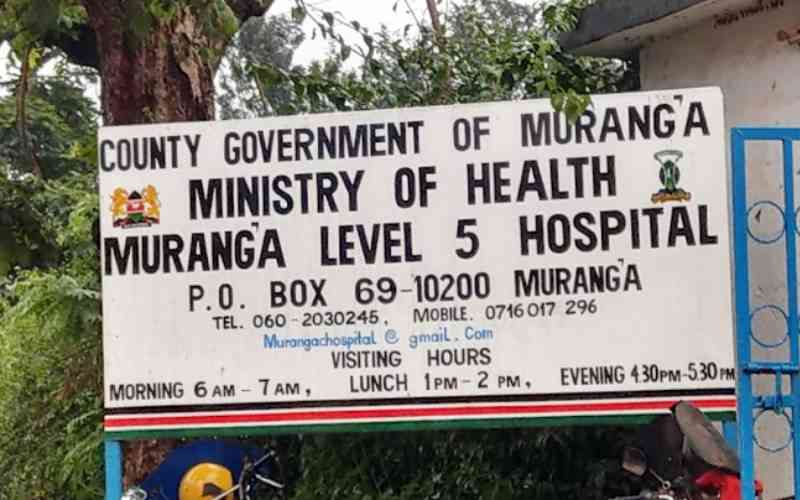 The body of one of the suspects accused of stealing an unknown amount of money from Unaitas Bank in Kigumo, Murang'a County on March 11 had nine bullet wounds, postmortem has indicated.
Autopsy that had initially been conducted on the body of 30-year-old Joseph Kamau Kang'ethe had indicated that he had been shot three times.
Police say Kang'ethe and his co-accused sustained the gunshot injuries during a shoot-out.
The circumstances surrounding their killing is, however, disputed after pictures emerged online showing the two suspects in custody of police officers at the Kinyona Forest.
A section of Kenyans believe the suspects are victims of extra-judicial killing.
Pathologist Kamotho Watenga said Kang'ethe's body had six bullet injuries in the back and three in the chest.
The Independent Policing Oversight Authority (IPOA) and the Independent Medico-Legal Unit (IMLU) disputed the initial postmortem findings, prompting them to ask for fresh autopsy.
An X-Ray examination will be conducted on the body of Kang'ethe's co-accused to establish whether it also has invisible bullet injuries.
"The X-Ray will be done on Thursday, March 16," said Pathologist Kamotho Watenga.
The robbery at the Unaitas Bank, Mununga branch in Kigumo Constituency took place at 9am on Saturday, March 11.
The robbers forcibly accessed the facility upon attacking two administration police officers manning the bank, authorities said.
The officers manning the Unaitas Bank were identified as police constables Martin Munguti and Daniel Mwangi.
"Two men wearing black private security uniform pretended to be hawkers, and approached police officers Munguti and Mwangi, who were on duty," said a police report filed at the Kigumo police station.
"The suspects then started wrestling the two officers. They (suspects) were joined by four other men. Two of the suspected thugs were armed with AK-47 rifles, while the other two had crude weapons."
The police report said one of the thugs shot in the ground where constable Mwangi was standing.
"Mwangi managed to pull out his G3 rifle, which was loaded with 20 rounds of ammunition, and threw it into a nearby bush," said the report.
"The suspected thugs hit Police Constable Munguti in the head, prompting him to surrender his G3 rifle loaded with 20 rounds of ammunition."
Police said, during the melee, two of the suspects forcibly accessed the banking hall and stole an unknown amount of money.
"The suspected thugs managed to escape on two motorcycles that lay in wait outside the banking hall," police said.
Police would later say that they had tracked down two of the suspects, whom they killed in an exchange of gunfire, a claim which is being vehemently disputed by IPOA and IMLU.
Authorities further said that they recovered Sh1.3 million from the suspects.
The money, police said, is believed to have been gotten through the Unaitas robbery incident.
Related Topics