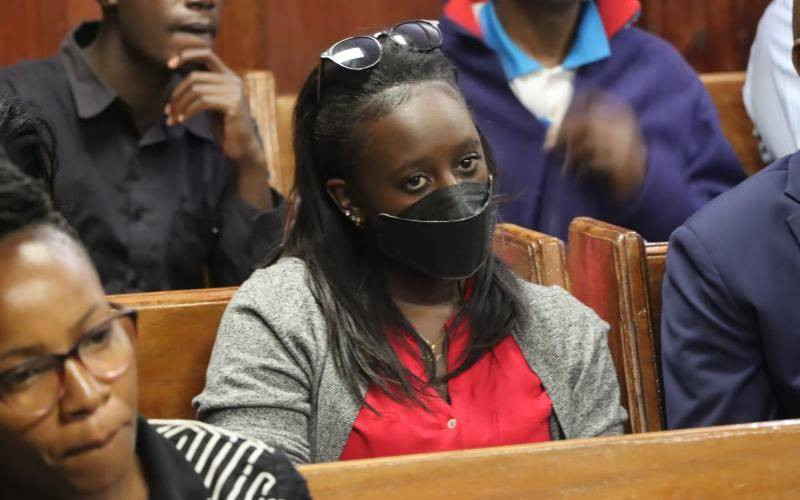 Rally driver Maxine Wahome has finally been charged with the murder of her boyfriend Asad Khan.
The 25-year-old has been under investigation for three months following the incident that led to the death of Khan, also a rally driver, in December last year.
Her career now hangs in the balance after the World Rally Championship dropped her from the Young Rally Stars Programme.
As she begun the fight for her life, which could see her sentenced to death if found guilty, the rally driver pleaded innocence, claiming to have been a victim of domestic violence.
Being the last person seen with Khan, Wahome gave an account of what she claimed to have been a troubled love affair.
"I met him in 2020 where our meeting ended into a relationship and moved into his house in April 2021. We lived peacefully until April 2022 when he begun to be violent, assaulted me on several occasions, but we used to resolve our issues amicably," she stated.
On December 11, last year, Wahome said, she left their house at Preston Court on Oloitoktok Road in Kilimani at around 10pm to meet friends and attend a concert at the Museums of Kenya. When she arrived home at around 3am, she took a shower and went to bed until around 7.30am when she was woken up by Khan.
"He was visibly angry and demanded that I leave his house immediately. He had checked my phone and saw the pictures I took with my friends, which annoyed him since he was shouting that I should go to the people I was partying with."
According to Wahome, she became alarmed when Khan threw a bottle at her, forcing her to run to the balcony where she locked herself.
She claimed that Khan followed her and kicked the balcony door, broke two glasses and injured his leg which started bleeding.
"I was frightened by the turn of events when I saw him leave the house with a trail of blood and immediately called my mother to come to my rescue before locking myself in the room," she stated.
Khan was taken to hospital and admitted in the High Dependency Unit, but he died almost three weeks after his hospitalisation.
The prosecution also filed the witness statement of Samuel Kihanya, who was Khan's neighbour, stating that he witnessed the man bleeding and reported the incident to police.
According to Kihanya, he had known Khan for over 10 years and most of the time he was fighting with his girlfriends.
"I was called on the day that Khan was fighting again with his girlfriend and when I went to their house, I saw him sleeping on the floor with blood so I went to report the incident, but when we came back he had already been taken to hospital," said Kihanya.
Her lawyer Philip Murgor submitted that they had filed an application for her to be released on bail, but the prosecution and the victims asked for more time to respond to the application.
Justice Lillian Mutende of the High Court directed the victims to file their response within two days and the probation officer to file a pre-bail report before the hearing of the application on Tuesday.
Related Topics