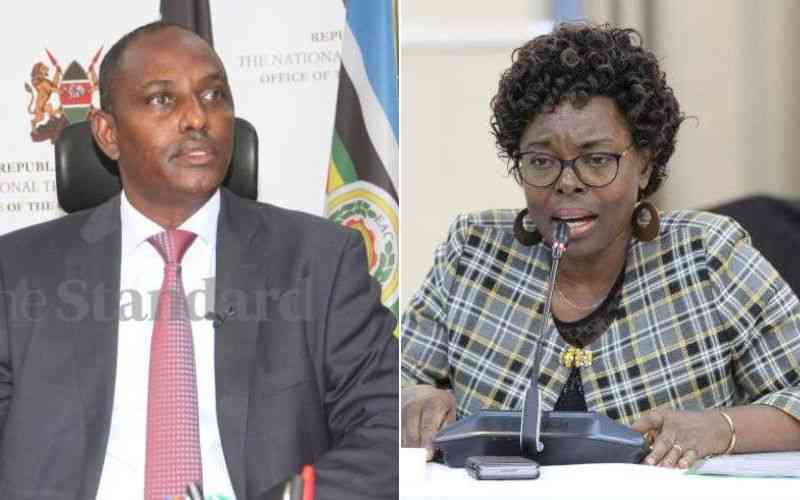 Former Treasury Cabinet Secretary Ukur Yatani has denied claims that he asked the Controller of Budget for Sh15 billion to benefit him and President Uhuru Kenyatta's allies.
Yatani was responding after Dr Margaret Nyakang'o, the Controller of Budget, told the National Assembly Parliamentary Committee on Finance conversations on Tuesday, that she was coerced into making the payment towards the end of Uhuru's tenure.
Nyakang'o said she gave in to pressure and threats.
"From where I sit I have to use a lot of discretion…and I am also a human being. When I am under threat, I also have to self-preserve," she told the committee.
But Yatani, in a press statement on Wednesday, termed Nyakang'o's sentiments as false, malicious and actionable in law.
"Her submissions to parliament depicted my actions as Cabinet Secretary for the National Treasury as designed to facilitate the theft of public funds," said Yatani.
He added; "This depiction is libelous and defamatory to my character and professional service to the public in many capacities. I have instructed my lawyers to study her utterances and advice on a law suit against her."
Yatani further explained that the funds requested were to be used in fuel subsidy, cushioning of Kenyans against the high cost of living and building of roads and hospitals.
"The Controller of Budget insinuated that there was a rush to have these funds approved with the intention of stealing from the public. Yet the truth is that these funds were in respect of Fuel and Maize subsidies. This was to cushion families during the uncertain period of unprecedented high food and fuel prices occasioned by both external and internal environments."
"The funds were also allocated to the construction of Lamu-Garissa and Garissa-Isiolo Roads. The contractors had abandoned work and needed their bills paid. This was a priority of a national security nature. Largely because of the security fragility of the spaces these roads are located and therefore the government had the responsibility to secure these spaces at all times."
"The funds were also allocated to the construction of modern referral hospital facility for the Kenya's Defence forces. This facility was recently opened by H.E President Dr. William Ruto. If indeed the said Ksh15 billion was stolen, how did the President commission this hospital?"
Yatani maintains that due processes were followed before the funds were released.
"These expenditures and projects were exhaustively discussed and necessary approvals granted by the concerned internal organs of government including the Cabinet and the National security council, and appropriate communications made to the National treasury for actions. Approval of these expenditures were therefore not haphazard nor prerogative of the Cabinet secretary for the National Treasury."
Related Topics