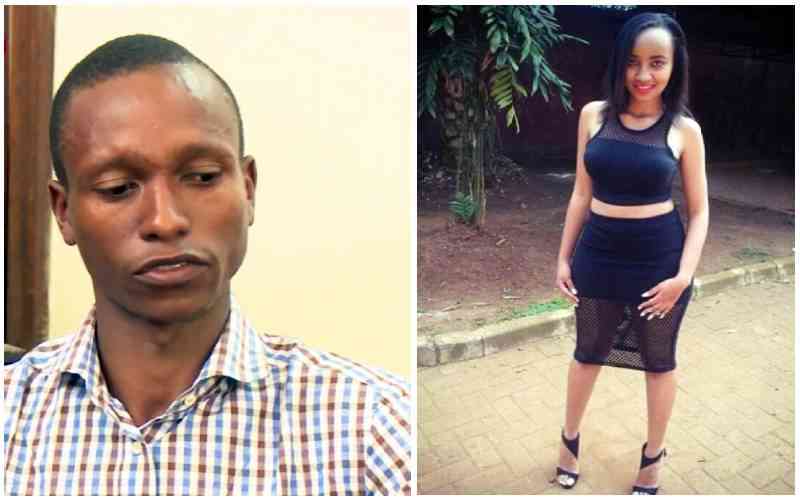 Standing in the dock in a white-and-brown checked shirt, with his deep bass gripping every corner of the Eldoret High Court, Naftali Kinuthia was out to tell the world how sorry he was.
He is accused of killing Final Year Bachelor of Medicine student of Moi University, Ivy Wangeci.
Kinuthia confessed to the court on Friday, March 3 that he killed Wangeci, 25, using an axe after he felt rejected with disdain.
The killing, which not only shook Kenya but also other parts of the world due to its bizarre nature, occurred on April 9, 2019, one day to Ivy Wangeci's 26th birthday.
Armed with an axe in his car, Kinuthia travelled from Thika to Eldoret – a distance of 350 kilometres – and committed the crime at 9am near Ivy Wangeci's workplace, the Moi Teaching and Referral Hospital in Eldoret. She was on internship at the facility.
Almost four years later, a bulk of that period spent behind bars, Kinuthia says he's had self-reflection, and "regrets forever" his April 2019 actions.
"Upon learning that I had killed Ivy, I felt remorseful," Kinuthia told a completely silent courtroom.
Tilting his face up, with a gaze fixed on the roof, the suspect thundered: "This is an incident that I will regret forever."
Kinuthia said unreciprocated love pushed him to kill a woman he had known for 21 years – since 1998, when they were both children.
For him, it's a puppy love that was so one-sided; from him to her.
"I supported her. I did things for her," said Kinuthia, adding: "My mind was constantly occupied with the thoughts of making things better for Wangeci and I every day."
On April 9, 2019, he travelled from Thika, Kiambu County to Eldoret, Uasin Gishu County with the hope that Wangeci would celebrate her 26th birthday with him.
Kinuthia attempted to speak with Wangeci at the Moi Teaching and Referral Hospital, but the Medicine student did not want anything to do with him.
"When she dismissed me, I knew there was no chance for Wangeci and I to continue with the relationship. At first, I was in disbelief that she had ignored me, but when she remained adamant that she wanted nothing to do with me, I knew she was serious," Kinuthia told Justice Stephen Githinji.
The suspect said the rejection left him feeling "like a loser".
"I felt hopeless, having tried to win her over and over again. I felt angry. I felt that the connection that we had established in 1998 was coming to an end," a neat-looking Kinuthia, who had a uniformly shaved head, told the court.
The suspect said after Wangeci told him off, he started walking towards his car.
"I wanted to drive back to Nairobi immediately," he said.
Upon turning his head to look at Wangeci one final time, Kinuthia said he saw her hugging a man, and thought she was doing that on purpose: to spite him.
"I did not know that he was her male friend. It was at that point that I lost control of my anger. My thinking was greatly impaired by that sight. Until today, I can't explain what got over me."
Kinuthia said it was at that juncture that he rushed to his car and picked an axe that he'd bought and hacked Wangeci, killing her on the spot.
"I can't remember what exactly happened in the heat of that moment," he said.
According to the suspect, the axe was for other purposes, and that he had not planned to kill his childhood friend-turned-love interest.
"I never had the intention of killing her. If I had harboured murderous intentions, I'd have probably killed her earlier," he said.
Kinuthia, who was 28 years old at the time, said after committing the act, he remembers being rescued by police from a mob that wanted to lynch him.
The suspect also narrated that he and Wangeci regularly kept in touch. Prior to the fateful day (April 9, 2019), the two spoke on April 3, 2019, Kinuthia said.
The suspect says after introspection, he regrets his actions, which have "cost me dearly".
"I feel secluded from the society because of bearing a murderer tag. During my time in detention, my father fell ill and died. I feel bad that I subjected my family to trauma," said Kinuthia.
Related Topics