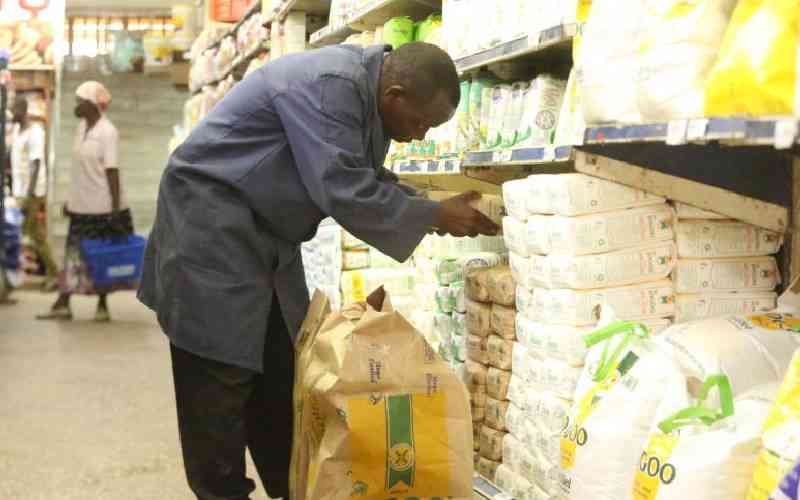 The declaration by President William Ruto that his government has lowered the cost of maize flour from a high of Sh230 to Sh180 does not paint the true picture on the ground.
Kenyans from different walks of life are purchasing the commodity at between Sh190 and Sh220.
President Ruto was responding to Azimio la Umoja leader Raila Odinga's demands that the price of basic commodities, including maize flour, must come down within 14 days, failure to which he will call for mass action.
"In five years, you were in government, the price of unga rose to Sh230. We have been able to reduce it to Sh180. Within no time, the price will come to Sh140. Raila was in the previous government and is responsible for the high cost of living," said Ruto.
Ruto, while launching the Nairobi River Commission in Korogocho on Wednesday, said that the cost of living was gradually reducing, saying since he took over, the price of maize flour had dropped to Sh180.
But a spot check by the Standard in Bungoma, Busia, Vihiga and Kakamega counties established that there was no maize flour that was retailing at Sh180 as per Ruto's assertions.
In leading supermarkets in the region, the price of maize flour was retailing between Sh190- Sh207 depending on the brand, while in retail shops, the price was between Sh210–Sh220.
At Kakamega Khetia's Supermarket, Soko Ugali maize flour was retailing at Sh198, Ajab Sh190 and Pembe at Sh195.
Kakamega Quickmart supermarket sold Dola maize flour at Sh207, Ajab Sh206 and Soko Ugali Sh200.
"The president campaigned on a platform of empowering the poor Kenyans by lowering the cost of living and putting money in our pockets, now he is out telling us how he has lowered the price of maize flour," said Victor Okumu.
"In Kakamega, I have not come across maize flour retailing at Sh180. What was said by the President is pure political gimmicks," he added.
Mr Okumu, a member of Kakamega Bunge la Mwananchi, said that since President Emeritus Uhuru Kenyatta left office, the cost of living, instead of reducing has been rising steadily.
In Busia and Bungoma respectively, most outlets were selling maize flour between Sh200 – Sh210. Dola and Jogoo maize flour were being sold at Sh203 and Sh207 respectively.
"The last time I bought unga was two days ago. I bought Dola maize flour at Sh210 at a local retail shop; therefore its not right to hoodwink Kenyans that the price of maize has been reduced to Sh180 for political expedience," said Ruth Sitati.
She added: "Political leaders should not take advantage of the plight of Kenyans and use it to get cheap political mileage. What we want is not only to lower the cost of unga, but also to lower the cost of living so that even poor Kenyans can put food on the table."
Philip Wanyonyi from Bungoma said the president should sieve his statements before making any pronouncements, adding that he should work on lowering the cost of living and not engaging in a war of words with the opposition.
In Nyeri, Joseph Mwangi, a supermarket attendant said that the prices of maize flour are going higher every day.
Mwangi said a certain brand of 2kg maize flour was earlier costing Sh175 but has since increased to Sh190. Mwangi said the increase of maize flour is worrying.
"The harsh economic times are worrying. The increase of maize flour prices are going high each and every day and the salary remains constant," said Mwangi.
In the supermarket, a 2kg pack is selling at between Sh175 and Sh235 depending on the brand.
A spot check at Samrat supermarket shows the prices are still high where 2kg of maize flour range from Sh175 to Sh 225. Metres away at Mathai supermarket, the prices of maize flour are high ranging from Sh186 to Sh230.
On a visit to a small hotel in downtown, the owner, Catherine Wambui, told The Standard it is difficult to maintain ugali customers as it is expensive to buy the flour and cook for sale.
"Currently I cook less than three packets of maize flour. I have regulated since if I increase the price, the customers refuse to pay more," Wambui said.
"Selling ugali now is not profitable if you serve little. The customer complains so sometimes I opt not to cook," Wambui noted. A hotel owner for more than five years, she said this time businesses are at risk of closure.
Paul Kinyua, a boda boda rider operating downtown stage said that it is tough to manage the little he gets.
"I hardly get enough. With Sh200 I can only buy one packet of Unga which cannot feed my family alone. I need stew and milk for my child," Kinyua said.
He noted that some years back he would make a profit of more than Sh600 per day, but currently making even Sh500 is very hard.
Samuel Kariuki, a driver plying Nyeri-Kangemi route said that the high cost of living has forced him to forgo lunch.
"I don't take lunch since I cannot afford the little amount paid per day. I cannot pay rent, buy food, pay school fees and afford lunch. Life is too expensive; ugali is the cheapest food to be prepared but now it's not affordable," Kariuki said.
In Momasa, maize flour is now selling higher than wheat flour in various shops despite being the staple food for many Kenyans.
Peter Owino, who promoter who sells Umi maize flour brand and Hijab wheat flour, said most of the supermarkets are selling maize flour at Sh205 per 2kg packet following a recent increase of the price by millers.
Owino who spoke to The Standard at Bondeni Supermarket along Digo Road said it was only Umi flour meal which was selling Sh185 per 2kg packet.
"If you look at these shelves in the supermarket you can see Umi maize flour packet is selling at Sh185 while the others like Dola and Taifa are selling at Sh205 per 2kg," said Owino.
He said a 2kg packet of wheat flour sells at Sh170 noting that there was a problem somewhere beyond the control of the millers. A spot check at Naivas Supermarket confirmed there was varied prices of maize flour. Some are being sold at Sh200 while others are being sold at Sh195 for a 2kg packet.
However, in the estates of Likoni, Changamwe, Kisauni, Bamburi, and Kongowea, the price of maize flour was ranging between Sh205 and Sh215.
Retail traders said the price of maize flour went up last week and since then they have been selling a two-kilogram packet from Sh205 to Sh210 depending on the brand the distributor had sold to them.
James Karisa, a retail trader in Kisauni, said locals were worried that the price of maize flour for the 2kg packet will go up in the next few weeks following the revelation that there were only 50,000 bags of maize at the National Cereal and Produce Board.
"We are not happy with what is going on in the country because the food prices are going up and yet what we have in our pockets cannot allow us to purchase what to eat," said Karisa.
A fresh maize hawker selling roasted maize on a wheelbarrow along Digo road said life has become very tough because of the price of maize flour.
"Some of us are so used to ugali and that is why I spend most of my money to buy maize flour because cooking it is very simple, unlike cooking chapati despite the price being lower than maize flour," he said.
Reporting by Nathan Ochunge, Purity Mwangi and Willis Oketch
Related Topics