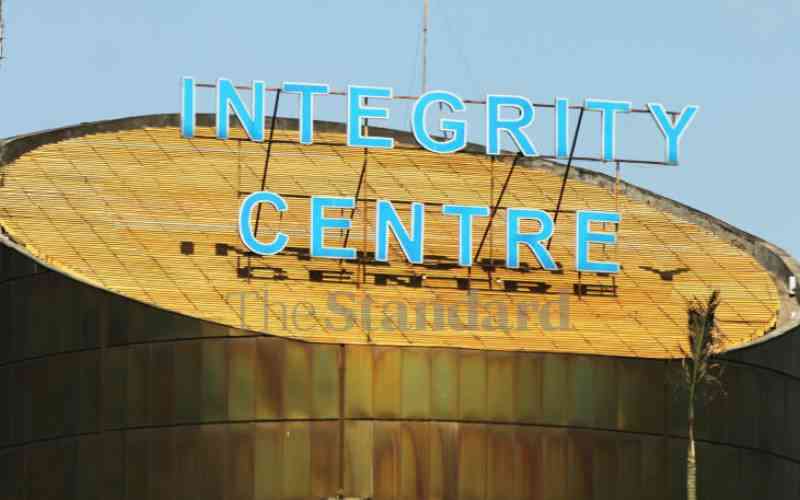 The National Council of Churches of Kenya could lose a Sh50 million piece of land in Nyeri that it bought from an alleged land grabber.
The Ethics and Anti-Corruption Commission has filed a suit to recover the five acres over claims it is public property.
The agency's court papers show NCCK bought land from a company that had grabbed it. EACC said the property is public land that was part of the provincial commissioner's home before it was fraudulently hived off.
"The land was reserved for public use and was the compound of the former provincial commissioner in Nyeri before it was illegally alienated by the commissioner of lands and allocated to a private company that sold it to the NCCK," said EACC.
EACC, through lawyer Moraa Omari, sued Kaitui Enterprises Ltd, former Commissioner of Lands Wilson Gachanja, and NCCK which is the current registered owners of the disputed land.
According to the commission, the suit emanated from investigations they carried out on the grabbing of public land and government houses within Nyeri Town.
"The parcel of land was fraudulently hived off the regional commissioner's residence in 1996 by the then provincial commissioner and occupant of the house, the late Wilson Chepkwony, and registered in the name of Kaitui Enterprises Ltd, but later sold to NCCK," said Omari.
The commission stated that their investigations had revealed that Kaitui Enterprises is owned by the late Chepkwony and his wife Jane Chepkwony. EACC claimed Chepkwony was assisted by Gachanja, who was the commissioner for lands at the time, to have the title registered in his name.
Omari said they have tried to enter an out-of-court settlement with NCCK in an effort to have the land returned to the government but the church organisation declined.
"We are seeking the court to declare that the allocation of the land to a private company was illegal and that the title issued to NCCK be revoked since the land was public property which should not have been subdivided and sold," said Omari.
The commission argued that NCCK ought to have done due diligence when it acquired the land in 2000 to establish it was grabbed public property.
The agency said NCCK is to blame for shutting its eyes instead of making an inquiry over the land's genuine owners.
EACC said the transfer of the land's title was done unlawfully through the collusion of the ministry of land's officials who took advantage of their positions.
"Registration of the land's title to Kaitui Enterprises and the subsequent transfer to NCCK was irregular. The buyers ought to have known that the minister in charge of lands had not consented to the allocation," said Omari.
Related Topics