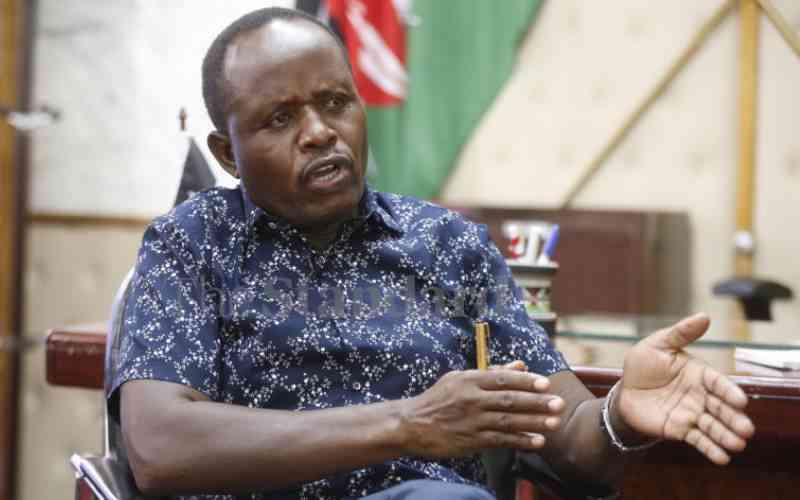 Trans Nzoia Governor George Natembeya on Monday, February 13 revealed shocking details of the dark world of banditry.
The county chief disclosed that some MPs, including "70 per cent of lawmakers who were in a security meeting with President William Ruto in Nakuru County on Monday", finance banditry in the North Rift.
Within the banditry circles, they have a command structure decided upon by the number of police officers that each bandit kills individually, said Natembeya, who served as the Rift Valley Regional Coordinator before venturing into politics in 2022.
"If a bandit kills a sergeant, his rank [within the banditry command] becomes that of a sergeant. If he kills a senior superintendent of police, he is promoted to that rank. When his juniors go on raids, he just stays at home, and gets his share of the loot," Natembeya said on Citizen Television on February 13.
The governor said, based on this mode of operation, senior police officers deployed to the troubled North Rift will be targeted by the bandits, who are eyeing promotions within their circles.
"They (senior cops) will be targeted because, among bandits, there is honour in killing a commander [of police]. The security officers should not think they are going to walk in there, yell and then leave. Let them know they are going in for a fight. Those bandits are not civilians," said Natembeya.
The county chief emphasised "bandits are not cowards".
"They set up traps and ambush police officers; they shoot to kill. Upon killing police officers, they carry the officers' guns and ammunition."
Natembeya said bandits are "worse than" terrorist group Al-Shabaab.
"Al-Shabaab are no match to these people. Bandits are daring. They attack in broad daylight, for instance at 10am. They are too daring to the extent that they go to GSU camps and demand they be given ammunitions. I've witnessed these things, and it's not a joke," he said.
"Nothing will change if the government fails to forcefully disarm these people."
According to the first-term county boss, bandits kill police officers "for fun".
"They know that the police officers cannot defend themselves," he said.
Natembeya further said he was frustrated during his tenure as Rift Valley Regional Coordinator because he'd wake up "to only prepare reports on how many officers had been killed by the bandits".
He said senior officers in the Ministry of Interior neglected his suggestions on how to conclusively contain banditry.
"Every strategy I implemented as regional coordinator, including disarmament, was not allowed to succeed."
Natembeya further said the decision by the former administration to disarm police reservists emboldened the bandits in the North Rift.
"Freshly-recruited [police] officers were forced to fight hard criminals without the community's support."
The governor said he knew the people who were financing banditry in the North Rift. According to him, they included senior officials in the military, police, the Kenya Wildlife Service and politicians.
The county chief further said disorganised operations made it almost impossible for a contingent of law enforcement officers to conclusively deal with banditry.
"I remember how a bungled operation at the Laikipia Conservancy made me decide to quit my job [as regional commissioner]," he said.
"We'd given clear instructions to KDF officers on the location of the bandits, but they ended up attacking a different location," added Natembeya.
"This happened because the individuals they were supposed to deal with were the same ones they (senior KDF officers) were sitting with to make decisions on how to confront bandits," said Natembeya.
President William Ruto on Monday, February 13 ordered a joint operation involving the National Police Service and the military to flush out bandits from the North Rift.
Some of the counties that the operation targets include Baringo, Turkana, West Pokot, Elgeyo Marakwet, Laikipia and Samburu.
Related Topics