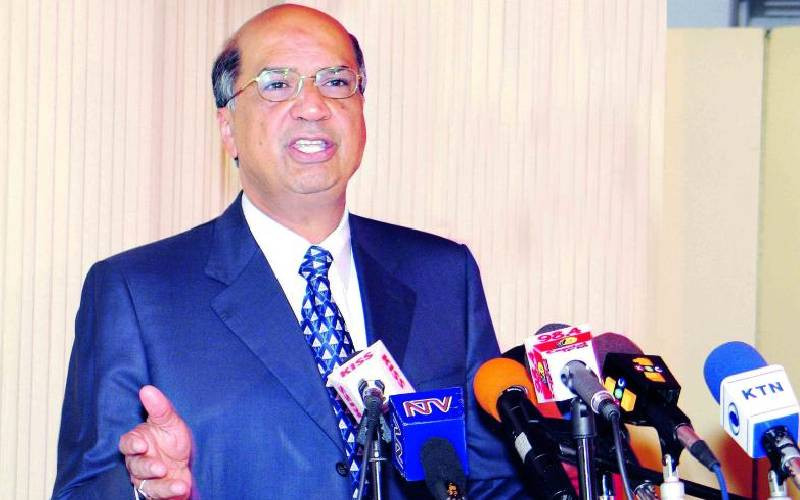 When he was alive, business mogul Naushad Merali's name was imprinted on virtually every sector in the country.
He was among the few Kenyans who made it to the Forbes list of the wealthiest Africans.
It was estimated that in 2015, he was worth around Sh37 billion, and this placed him at number 48 of Africa's wealthiest persons.
The businessman, who once bantered that he started doing buyouts long before the word "buyout" became fashionable, died having engraved his name in diverse sectors - from telecommunications, manufacturing, agriculture, and banking to real estate.
To shield his wealth from the battle spell that befalls wealthy families in the succession processes, the businessman dangled Sh124 of his 500 million wealth to anyone who challenges his wishes in court.
The man, according to documents in our possession, placed a clause in his Will that would see anyone who challenges his wishes walk away with Sh124 but should not get anything else from the entire estate.
"I have intentionally omitted to make provisions for all my heirs who are not specifically mentioned and included herein. I generally and specifically disinherit each, any, and all persons who ever claim to be or who may lawfully be determined to be, my heirs at law, except such as are mentioned in this Will.
If any such persons shall contest in any court any of the provisions of this Will, then each and all such persons shall not be entitled to any devices, legacies, bequests, or benefits under this Will. To each of such person or persons who are successful in claiming under this Will or to a portion or all of my estate, I hereby give United States Dollar (USD 1.00)," he directed.
Merali died at 70 years on July 3, 2021. He was at the time undergoing treatment at the Nairobi Hospital.
Following his death, his wife Zarina Merali, filed for succession before the Family Court in Nairobi.
Documents exclusively obtained by The Sunday Standard reveal that although Merali was said to be a billionaire, his Kenyan estate is estimated to be around Sh500 million.
Although Zarina in the court documents did not particularise the value of the shares her husband held in different companies and vehicles, she gave a global figure.
Court documents, however, indicate that Merali might have another Will addressing how his wealth outside Kenya would be shared upon his death.
According to the court documents filed in 2021, Merali owned shares in 19 companies. In the list are Yana Developers Limited, Sameer Investments Limited, Yana Investments Limited, Legends Investments Limited, East African Batteries Limited, Blue Tree Africa Limited, and Sameer Digital Limited.
At the same time, he had shares in Bahati Properties Limited, Dignified Holdings Limited, Yana Towers Limited, Zarnash Investments Limited, Yana Holdings Limited, Ryce East Africa Limit, and Tutki Leasing Limited.
The documents also reveal that Merali had a close interest in the banking industry. In his death, maybe, he taught teachers the 101s of investments after he sold them to Equatorial Commercial Bank (ECB).
Mwalimu Sacco bought a 51 per cent stake and renamed it Spire Bank. But Merali pulled the plug by withdrawing Sh1.7 billion investment and leaving the teachers-backed bank in a helpless state. They could not salvage the loss-making lender for seven years and ultimately sold it to Equity Bank.
In the succession documents, Merali had interests in other banks other than ECB. He held shares with NCBA Bank Kenya PLC, the Bank of Baroda, and the Middle East Bank Limited.
He also had shares in Africa Tulip Limited. The firm is in the hotel industry.
Merali owned a fleet of top-of-the-range cars. He had four Toyota Land cruisers, two Mercedes Benzes, two Dahaitsu Terios, A Mitsubishi Pajero sport, and an Isuzu SUV.
He had nil liabilities.
Until his demise, Merali chaired Sameer Group, a Kenyan conglomerate active in agriculture, construction, information technology, property, and finance.
He was formerly the chairman and largest individual shareholder of Bharti Airtel's operations in Kenya, but in 2014 he sold his shares and stepped down from the company's board.
From 1980 to 2005, he served as the director of the now-defunct Kenya Tea Company.
In 2004, he managed to purchase 60 per cent ownership of Bharti Airtel Kenya from Vivendi for $230 million (Sh18.2 billion). He would transfer ownership only an hour later to Celtel for a $20 million (Sh1.6 billion) profit while owning 5 per cent of the telecommunications company's wireless phone operations. He would, in 2014, sell all his Airtel shares.
In his lifetime, he was known as the owner of Sasini Limited, battery manufacturer Eveready East Africa, and Sameer Africa.
In his Will, Merali detailed how his earthly wealth would be shared. He first detailed that he is married to Zarina and they have two children- Sameer Merali and Yasmin Merali.
He also cleared out that if any company has interest and shareholding in any company outside Kenya, but within Africa, then his estate in Kenya should include the stakes in those firms.
"All and any shares that I hold in any company in trust for a company, entity, or individual or as a nominee is excluded from the Kenya estate, and this Will. My shareholding in any company includes my direct and indirect interest and shares in that company and its subsidiaries," his Will, written in 2017 reads in part.
In the Will, Merali left his wife the lion's share of his wealth. He directed that his home at the time of his death should pass to his wife as a gift.
"If the said devisee fails to survive me, then this gift shall lapse and become part of the residue of my estate," he wrote adding that he also left her cars, household goods, furnishings, tools, jewelry, and clothing among others.
He also left her all his money held in banks but with a caveat that his debts and funeral expenses would be catered for.
He directed: "Subject to the payment of my just debts, funeral and testamentary expenses, death duties and legacies, I give, devise, and bequeath all the monies and funds held in my various savings and deposit bank accounts together with any undrawn remuneration and interests forming part of my Kenyan estate (bank assets) to my spouse Zarina."
"In his Will, Merali disclosed that he owns 60.53 per cent of Sameer Investments Limited. He split the shares between his wife and two children. Zarina got 30.53 per cent, followed by Sameer (20 per cent ) and Yasmin got 10 per cent.
In Yana Towers, Merali held a 50 percent stake. He bequeathed his wife and son 20 per cent each while he gifted his daughter 10 per cent.
He also gave Zarina and Sameer a stake in Zarnash Investments.
Merali gave his wife 25.25 per cent in Yana Investments and split the remaining shares- 50 per cent- to his son and daughter equally.
In the Will, Zarina was bequeathed 30 per cent of Ryce East Africa while Sameer got 50.25 per cent.
The wife and son also got 46.01 shares that Merali owned in East Africa Batteries and 100 per cent shares in Legend Investments. Zarina was gifted 23.01 per cent in battery firm and 60 per cent in Legend. Their son got 23 per cent and 40 per cent.
Merali left Zarina all the shares he held in Trustworthy Investments. The Will reveals that he had a 50 per cent stake in the firm.
On the other hand, Sameer also got a 15 per cent stake in Yana Holdings, 56.06 per cent Turki and all shares in NCBA, Bank of Baroda, and Middle East Bank.
Further, he was awarded all shares in Bahati properties, Dignified Goldings, Adroit Investments, and Bluetree Africa Limited.
Nevertheless, Merali gifted his grandson the shares he held in Africa Tulip. He directed that the firm should be passed on to him without any debts and taxes. He also ordered that his grandson should have Rivaan Centre.
"All and any shares, assets, or immovable property held in any entity or company in trust for me, for my behalf, at my directions or for my account and benefit by any person I give and bequeath my son Sameer Naushad Merali and shall upon my death be transferred to and taken over by my son provided that my son Sameer Naushad Merali precedes me or does not survive me for a period of 28 days then such shares shall be taken by my spouse Ziran Naushad Merali in substitution," the will continues to read.
He also shielded his wishes from new discoveries by dictating that in the event his family discovered a property or a company that is in his name, then it would not change how he split his wealth.
Related Topics