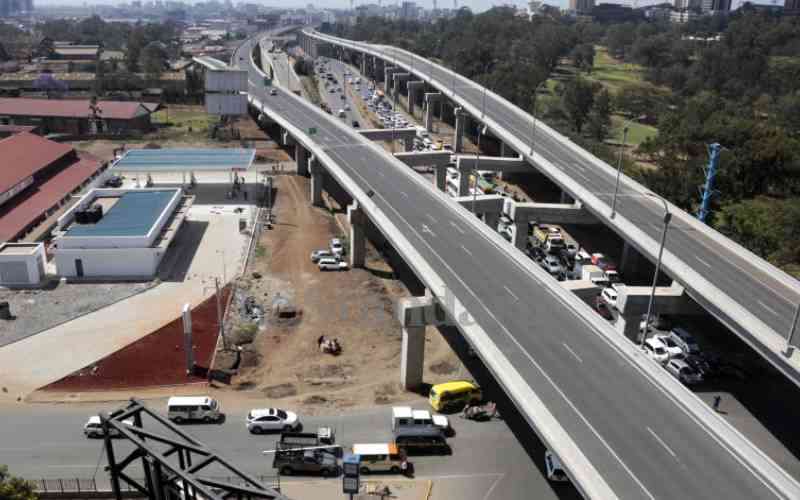 At least 10 million vehicles have used the Nairobi Expressway since it was launched in July last year.
This was revealed on Tuesday when stakeholders and government officials convened at the Westlands toll station where they described the road as a "model project on how public private partnerships can work for the development of the country."
Among those present were officials from the Ministry of Roads and Transport, Kenya National Highways Authority (KeNHA), Moja Expressway Company, and China Road and Bridge Corporation.
Moja Expressway CEO Steve Zhao said the number of vehicles "was a milestone achieved."
Mr Zhao said that, on average, about 50,000 vehicles use the expressway daily, which is five times the number of vehicles since trial operations began on May 14, last year.
Zhao also lauded the role played by the elevated highway in reducing how much carbon is emitted into the atmosphere.
"A recent study highlighted that if a motorist makes 10,000 trips using the ETC (electronic toll collection) option, they save about 314 litres of fuel and reduce about 670 kilogrammes of carbon from the environment.
"ETC not only saves time by granting the motorists passage in just three seconds, but it also helps save fuel which is a direct contributor to environmental conservation. And it also comes with a five per cent discount on toll fees per trip," he said.
In response to safety concerns raised in the past, Zhao said they had put measures in place to reduce risks.
He cited the establishment of the road asset and corridor management unit as one of the measures adopted in response to threats facing motorists. The unit, he noted, provides 24-hour rescue service that comes in handy in fast-moving traffic especially when a vehicle stalls.
"In the event of an incident, the road asset corridor management unit attends to motorists' needs promptly and traffic is not disrupted."
State Department of Roads Principal Secretary Joseph Mbugua said, "The Public Private Partnership Act enables us to hasten development by tapping opportunities within the private sector. This provision, as witnessed in the expressway, may be the way to go with other major developments like the Mombasa-Nairobi highway and the Nyali bridge, among others."
Mr Mbugua urged the company to fast-track the proposed Nairobi central business district toll station.
"The expressway has eased traffic on our roads. It has enabled efficient logistics planning and enhanced supply chain completion," he said.
KeNHA Director General Kungu Ndung'u described the expressway as a "game-changer for the seamless connectivity and decongestion of roads."
"We are celebrating a successful project which we hope will encourage other investors to come in, not only in roads but also other sectors," Mr Kungu said.
Related Topics