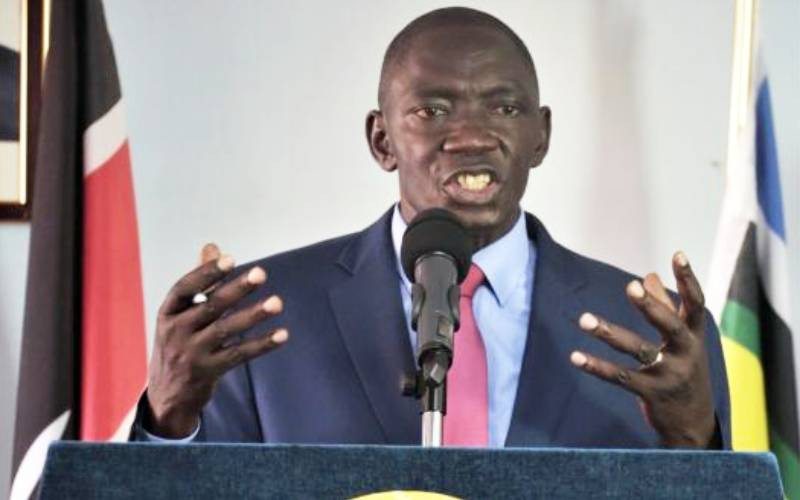 The Public Service Commission (PSC) has advertised a vacancy for the position of the Government Spokesperson of the Republic of Kenya.
Those interested in the position must be citizens of Kenya, have at least 15 years' experience as media or communications practitioners, have a bachelor's degree in communications, journalism or public relations, and have excellent oral and written skills in both English and Kiswahili.
At the same time, interested applicants must be members of a relevant professional body like the Media Council of Kenya and the Public Relations Society of Kenya, and meet requirements of Chapter Six of the Constitution on leadership and integrity.
Renumration terms
The position is classified under Job Group U, which attracts a basic monthly salary of between Sh292,765 to Sh576,120. A monthly house allowance of Sh100,000, entertainment allawance of Sh100,000, extraneous allowance of Sh100,000 and domestic servants allowance of Sh100,000.
On the minimum, the holder of the office will take home a total of Sh692,765 (basic salary and allowances) every month. On the higher side, the holder of the office will take home Sh976,120 in basic pay and allowances monthly.
Other benefits are medical cover and 30 leave days.
Responsibilities
Key roles of the Government Spokesperson will include propagating government policies and initiatives, publicising government programmes, responding to journalists on government actions, and communicating official government statements. Interested Kenyans should make their applications online through the Public Service Commission (PSC) website www.publicservice.go.ke or jobs portal www.pscjobs.go.ke on or before February 27, 2023.
Shortlisted candidates will be required to produce their original national identity card, academic certificates and transcripts during interviews.
The immediate former holder of the office is Cyrus Oguna, who was appointed by retired President Uhuru Kenyatta in May 2019. He served until President Kenyatta vacated office on September 13, 2022. Upon leaving the national government, Oguna was in October 2022 appointed the Chief of Staff at the Siaya County Government under Governor James Orengo.
Prior to Oguna, the holder of the Office of Government Spokesperson was former police spokesperson Eric Kiraithe, who held the post between March 2016 and May 2019. After exiting his role as Government Spokesperson, Kiraithe was moved to the Ministry of ICT as Principal Administrative Secretary.
The current Foreign Affairs Cabinet Secretary (CS) Dr. Alfred Mutua, before successfully venturing into county politics, also held the position during the grand coalition government between 2008 and 2013.
Related Topics