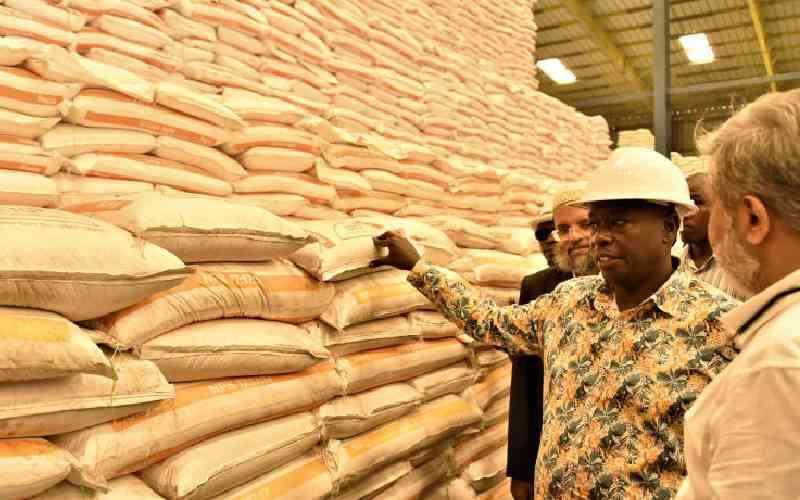 Deputy President Rigathi Gachagua has vowed to flush out cartels in the tea, coffee and dairy industries, saying they are behind the woes farmers have been facing.
Gachagua said he was waiting for a team of MPs he had appointed to investigate the source of the problems farmers in the three sectors.
Addressing MPs during the closing of an induction in Mombasa, Gachagua said cartels in the industries had been having a field day because they were getting the support of top leadership in the country.
"I want you to make good laws, which will protect farmers from exploitation by the middlemen and cartels who have been getting protection from the top leadership in the country for the last five decades," he said.
The DP, who was accompanied by Foreign Affairs Cabinet Secretary Alfred Mutua and Speaker Moses Wetang'ula, asked the MPs to pass tea and coffee bills to be tabled in Parliament to help farmers have money in their pockets.
Gachagua also seized the opportunity to talk about the Sh200 million graft case against him, saying he was taken to court for speaking the truth.
"They took me to court and took my money. But since God had good plans for me, I am the Deputy President," he said.
He announced that the government had set aside Sh2 billion to buy food for residents of drought-stricken areas.
Address problems
Gachagua asked the MPs to work closely with one another to address problems facing Kenyans regardless of their political parties.
He assured elected leaders that the police would not touch them over "trivial matters", urging civil servants to respect elected leaders.
"All elected leaders must be respected by the civil servants. We do not want to see a repeat of what happened to elected leaders in the past regime where government officials had no respect for elected leaders," said Gachagua.
He said the provincial administration had no choice but to serve all Kenyans irrespective of their political affiliations.
Addressing the same gathering, Dr Mutua commended President William Ruto for playing a leading role in promoting peace in the East African region.
Food producetion
Meanwhile, the DP said on Saturday that the government had ordered six million bags of fertiliser to boost food production in the country.
Gachagua said the fertiliser would be ferried to farmers in bread basket counties in the pilot programme meant to increase food production.
Speaking at the Yara Fertilizer Warehouse in Mombasa, the DP urged farmers from maize-growing counties to use subsidised fertiliser to increase their production.
"The fertiliser will be ferried to farmers before March 15 ahead of the planting season. A bag 50kg-bag will go for Sh3,500," he said.
Among the counties that are being targeted in the pilot programme to increase food production are Uasin Gishu, Nakuru, Nandi, Bomet, Kericho, Trans Nzoia and Narok.
Related Topics