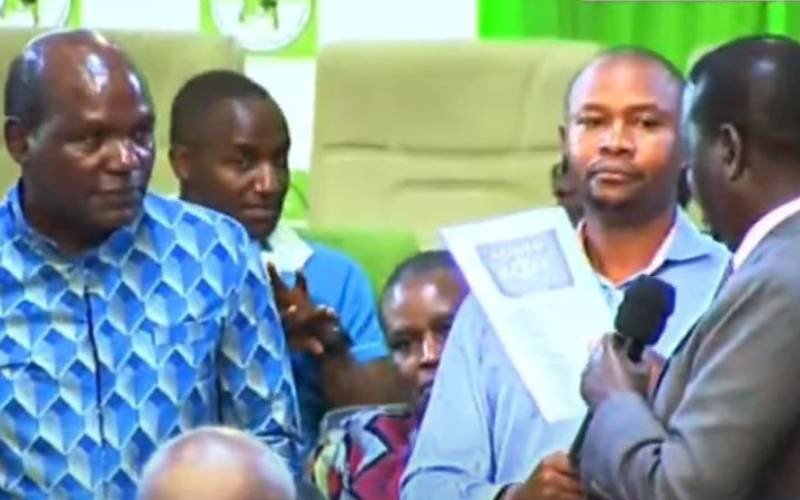 Immediate former Chairman of the Independent Electoral and Boundaries Commission (IEBC) Wafula Chebukati has hit back at Azimio la Umoja leader Raila Odinga over claims that he (Chebukati) visited his house.
In a letter by his lawyer, Steve Ogolla, Wafula Chebukati has requested to be furnished with video footage of his alleged visit to Raila's home, as claimed by Raila during the Azimio rally at Jacaranda Grounds in Nairobi last Sunday.
"During the said-rally, you made adverse and negative remarks about our client in Kiswahili, loosely translated in the paragraph infra, thus: "… Chebukati says that there are some people who wanted to bribe him together with his friends Guliye and Molu. I want to ask you, what did you come to do in my house? What did you ask from me? And I have footage for that, you play with me, I will release it…" said Chebukati.
Chebukati, in his response, says he is aggrieved that the said-allegation is false and that he has suffered serious reputational injury as former Chairman of IEBC.
"In response to your allegations, our client vehemently denies your allegation that he met you during the election last year, let alone the election period, and in particular, at your house as alleged by yourself," said Ogolla.
Chebukati is demanding that Odinga releases the said-video footage to his lawyers.
"In the circumstances of your allegations, and in the context our client's strong rebuttal thereto, our instructions are to demand from you, as of right, which we hereby do, to be furnished with the alleged video footage within seven days from the date hereof," said Ogolla.
Failure to meet this demand, Chebukati says, he will take legal action.
"Kindly take notice that if we do not receive the video footage demanded hereinabove within the demand period, we shall be constrained to institute appropriate adverse but lawful proceedings against you. We trust that you will find it prudent to furnish us with the alleged video footage in order to pre-empt the consequences stated hereinabove," said Ogolla.
Related Topics