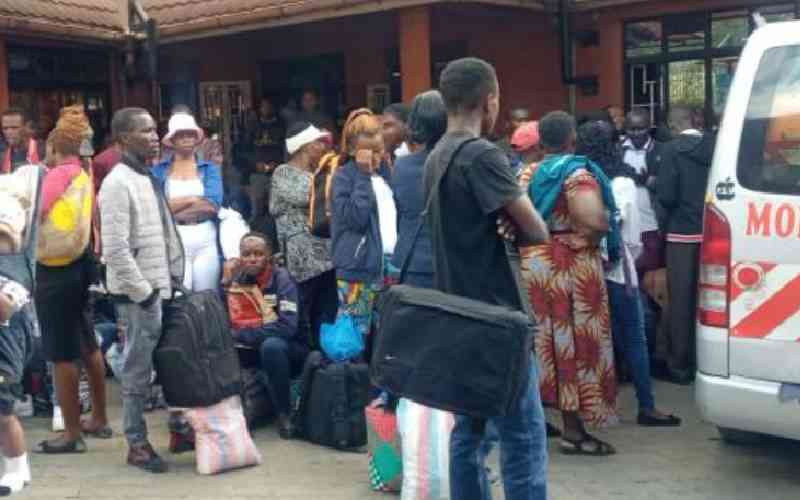 Kenyans who traveled upcountry for Christmas and New Year holidays started returning to cities and towns, causing congestion in various bus stations across the country.
Bus and matatu stations were filled as hundreds got stranded as the available passenger service vehicles could not cope with the high number of travelers.
Many matatus and buses were fully booked, and some of the passengers had to wait for hours for vehicles that had ferried other commuters to return.
Transporters seized the opportunity to hike fares.
In Nakuru, stranded travelers complained of high fares and a shortage of vehicles.
John Kariuki, said he waited for six hours for a vehicle to travel to Nairobi.
"I'm disappointed. I bought a ticket early hoping to travel at 11am but here I'm six hours later, stranded with my family," he said.
Lewis Mwenya, a student at the University of Nairobi, demanded that the management of the matatu sacco source more vehicles to ply the Nairobi-Nakuru route.
High number of travelers
Mwenya had also booked early but was stranded for hours.
The fare to Nairobi had increased to Sh1,000 from Sh500.
Symon Ngige, a manager of Molo-line Service, admitted that they were overwhelmed by the high number of travelers who started arriving at the station at 3am on Monday.
"We have booked passengers since 3.30am. We are urging them to be patient," Ngige said.
"We have sourced for buses and recalled vehicles from Nairobi to ferry the customers."
In Vihiga, several travellers arrived at various bus and matatu stations early yesterday. Some were traveling to Nairobi, Mombasa and Nakuru.
Staton Kasudi, a bus booking officer at Chavakali trading centre said vehicles were few.
"Vehicles are fully booked but they are not many," said Kasudi.
From Chavakali, both buses and vans were charging between Sh1500 and Sh2000 to Nairobi.
The fare is usually Sh1200.
With schools expected to open on January 23, there were no students traveling yesterday as has been the case previously.
Asha Chanzu, who was traveling to Nakuru from Chavakali said she decided to leave her two children behind.
"This year's traveling according to me is easier, the usual rush is not there because students are not traveling," said Chanzu.
"I have to report back to work and the children will come later when there is no congestion."
Passengers traveling to nearer places such as Kakamega or Kisumu also had a difficult time yesterday.
In certain towns in Nyanza, matatu operators decried low turnout of passengers.
At the Kisumu bus terminus, Steven Onyango said vehicles were available but there were no passengers.
Onyango said people who traveled to the rural areas have no fare to return to the various destinations.
"The affected are those traveling to Nairobi and Mombasa. They prefer traveling by train because it is cheaper," he said.
In Kisii, most matatu operators increased fares.
Those plying Kisii-Nairobi had increased their fares to Sh1,800 from Sh1,200.
George Nyariki, the Gusii Matatu Owners Association chair said the matatu industry was doing badly.
"The cost of maintaining a single matatu has doubled," Nyariki said.
"One will rather operate within short distances than do the long Kisii-Nairobi route. The profit margin has gone down."
In Eldoret, hundreds of travelers queued at bus stations waiting for vehicles to various towns as heavy rains pounded the region for the better part of the morning.
They braved the chilly weather as those headed to Nairobi waited for hours to book passenger service vehicles.
A majority of the passengers complained of high fares claiming that it was unfair to increase prices when many people are already struggling due to the high cost of living.
Matulwo Ruto, who was heading to Nairobi said that he had waited for a matatu for three hours.
"What is shocking is that we have to pay Sh 1,800 to Nairobi from Eldoret, which is almost double the normal fare," said Ruto.
Moses Wafula said that there were only a few vehicles going to Nairobi.
"Some people have opted to board buses and others like myself are waiting for vehicles that are still on their way back to Eldoret," said Wafula. "We have no option but to wait."
Nehemiah Kipsang who was heading to Bomet for studies complained that the matatu companies were hiking fares leaving the passengers with no option but to dig deeper into their pockets.
He said that the fare to Bomet had risen to Sh1,000 from Sh700, adding that the companies were taking advantage of the crisis to make more profits.
Transporters took advantage
In Trans Nzoia, commuters from Kitale to Eldoret and Nairobi spent long hours at the bus stations due to a shortage of vehicles.
Operators said they were overwhelmed by the number of passengers. Travelers to Eldoret and Nairobi had to wait for up to three hours to board passenger service vehicles.
Those interviewed complained that the transport hitch had affected their plans.
"I have been here since 6am and still cannot travel to Nairobi because there are no vehicles," lamented Peter Simiyu.
Though fares remained normal, travelers had to spend several hours at the station while waiting for buses.
In Meru, travelers complained over the high fares to Nairobi. Travelers were shocked to find that the fares back to Nairobi had doubled, as transporters took advantage of the high traffic.
Most of the matatu saccos plying the Meru-Nairobi route increased fares from Sh600 to up to Sh1,500.
14-seater Menany sacco matatus were charging Sh1,200 to Nairobi, as were Meru Digital Sacco and Meru Shuttle matatus.
The fare for the 10-seater vans to Nairobi was Sh1,500. But Raha sacco, to the joy of some travelers, was charging Sh1,200 for its 10-seaters.
Despite that, most travelers expressed disappointment, that the transporters had doubled the fares, arguing that they were facing hard economic times.
Rein in matatu operators
"It is regrettable that the transporters have made it a habit to hike fares during the holiday season," said Charity Muthoni, who was traveling to Nakuru via Nairobi.
"To me, it is pure exploitation, taking advantage of our helplessness in the name of demand and supply."
Ms Muthoni said it was high time the government regulated the transporters who were taking advantage of the holiday season to 'rob us in broad daylight.'
"They hike fares during the December holidays and others. As if that is not bad enough, they hike fares when our children are going back to school and it is us, the parents who suffer," said Muthoni, from Kirogine.
"I am certain they are going to double the fares when our children report to school in two weeks' time."
As Daniel Murithi and his wife Clara and their two children struggled with their luggage, he was furious after discovering it was going to cost him Sh4,800 to travel to Nairobi.
"I am going to spend over Sh5,000 on our way back to Nairobi including the transport. I have children and they must eat on our way back.
"We spent a similar amount when we came to our rural home, meaning we have spent over Sh10,000 on fare alone," said Murithi.
He said it was high time the government reined in the matatu operators who were out to make a killing each holiday season and when students were going back to school.
"President William Ruto is a firm president and I think if he issued an order against this type of exploitation the matatu operators will start to behave accordingly," he said. "We are facing hard economic times and we don't need this type of exploitation."
But a booking officer who did not want to be named said the situation left them with no choice but to hike the fares.
"It is the practice world over to respect the law of supply and demand. More travelers mean fewer vehicles. Ours is a competitive industry and we are in a free market," he said.
"It is up to the customers to decide which matatu they want to take, depending on the comfort and cost."
Reporting by Yvonne Chepkwony, Brian Kisanji, Olivia Odhiambo, Eric Abuga, Anne Otieno, Lynn Kolongei, Osinde Obare and Phares Mutembei
Related Topics