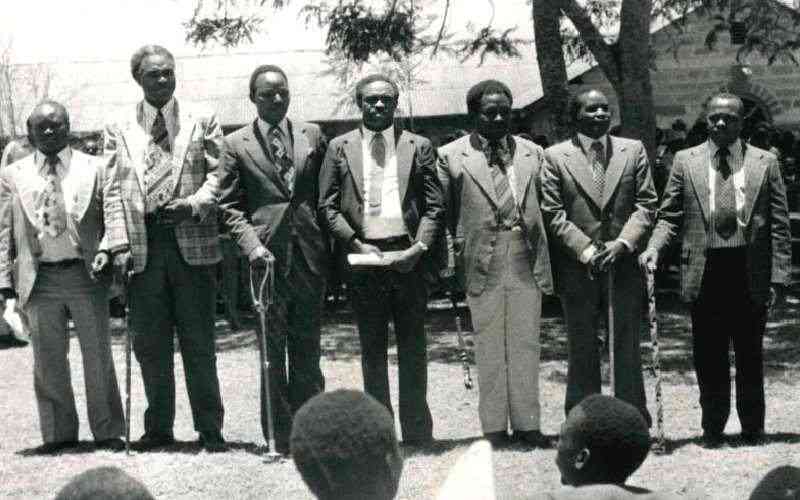 When it was time for a retired colonial District Commissioner to leave Kenya due to uncertainties of how the free country would be governed, he decided to dispose of his piece of heaven in the white highlands.
But DC Igor Gillespie who had served in Embu got more than he had bargained for once word went round that he was selling his land in Riara Ridge, in Limuru.
In this locality where thousands of families had been dispatched to Nakuru as squatters by the colonial government to create an exclusive, whites only territory, Gillespie had acquired 120 acres from His Majesty's Government.
Gillespie divided it into blocks of 20, 40, 60 acres so as to make as much money as possible. At around the same time in 1964, one of Kenya's brightest civil servant Kenneth Matiba, was desperately looking for land.
Matiba's plans to buy 10 acres of land at Garden Estate in Nairobi for Sh10,000 flopped; his salary was Sh3,200 as a Permanent Secretary and his wife, a community development officer was earning Sh1,000. The National and Grindlays bank rejected his application of Sh1,000.
Limuru looked more promising because a sort of barter trade was taking place and some enterprising Africans were making super deals. One of his neighbours had secured 160 acres of land together with 100 jersey cows for Sh63,000.
By the time Matiba was confident of raising Sh60,000 for Gillespie's 40 acres, he was shocked to learn that a higher offer of Sh70,000 had been made. And as he was agonising to secure the additional money to match the offer, his friend, John Michuki invited him to go and tour a piece of land his wife had seen in Limuru.
When the true friends and their families drove to Riara Ridge to Gillespie's home, the colonial administrator was shocked to see them together. This is when he realised that the two knew each other but had been unwittingly pursuing the same piece of land.
And just like that, the former DC lost an opportunity to earn Sh70,000 after Michuki backed down from the deal, giving Matiba an opportunity to own the land which; later catapulted him into orchid and cut flower business.
It's interesting that at the time the pioneer African civil servants were carving out their empires in the white highlands, peasants were being organised into land buying companies.
Almost 60 ears after independence, some shareholders of land buying companies such as Kihiu Mwiri and Mbo I Kamiti are still waiting for their land ownership documents.
Related Topics