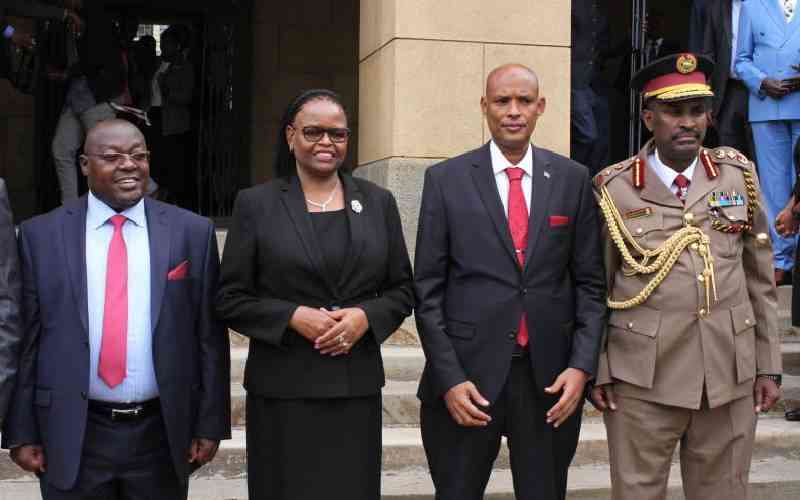 On the day the new Directorate of Criminal Investigations boss Mohamed Ibrahim Amin took office, police leadership announced drastic changes at the Kiambu Road headquarters.
In changes signaling President William Ruto's administration resolve not only to take charge but also insulate the criminal investigations from its past, acting police boss Noor Gabow swept out former DCI boss George Kinoti's allies from powerful positions.
Mr John Gachomo, Senior Assistant Inspector General of Police and director of the all-powerful Investigations Bureau, was transferred to the Internal Affairs Unit as director and his place taken up by Eliud Lagat. The Investigations Bureau is the nerve centre of all DCI operations.
Commissioner of Police and Director of Anti-Terror Police Unit Martin Otieno Omumbo was deployed back to DCI headquarters with no specific role and his duties taken up by Johnstone Kola, also a commissioner of police.
Both Otieno and Gachomo featured prominently in turf wars between Kinoti and Director of Public Prosecutions Noordin Haji (see separate story), and have since recanted previous averments done in respect of the fights.
In the changes, Nicholas Ireri Kamwende, a seasoned administrator and director of planning at DCI was appointed Amin's deputy. Amin previously held the internal affairs docket now taken up by Gachomo.
The Director of Crime Research and Intelligence Bureau Paul Mumo was deployed to the Kenya Police headquarters, Vigilance House Nairobi, to undertake unspecified duties.
In June, Mumo was promoted from a commissioner of police to assistant IG by former President Uhuru Kenyatta.
"These changes are in line with ongoing police reforms and are aimed at streamlining services, enhancing effectiveness, efficiency and professionalism in service delivery by the National Police Service," Gabow said.
Lagat, the man at the nerve centre of DCI operations, recently lost his bid to replace Kinoti. The explosives and post-blast expert headed the directorate of reforms at DCI.
Earlier in the day, Amin was sworn into office by Chief Justice Martha Koome, promising a brand new era at the directorate. He said he will deploy his 33 year experience to serve all Kenyans within the confines of the law.
"Until my last appointment as the Director of Internal Affairs Unit at the National Police Service, I had served most of my time in the DCI. I promise not to let Kenyans down as I will work for all of them, including foreigners," he said.
Amin said he will cooperate and work with all investigating agencies in the country to ensure that security is improved and maintained.
He pledged to work hard to ensure that corruption, money laundering, terrorism and human trafficking, among other serious crimes, are dealt with.
"I promise everyone that Kenya will be secure and peaceful as I take over the leadership of the Directorate of Criminal Investigations, and the discharge of my duties will be professional and within the law."
Mr Amin also took the unprecedented step of sharing his mobile number (0722415419) and said he would engage with the public directly. He, however, urged citizens not to break the law.
Deputy Registrar of the Judiciary Paul Maina conducted the swearing-in ceremony. Also present was Chief Justice Martha Koome who said she was confident that Mr Amin would deliver on his responsibilities.
"One of the mandates of the DCI is to maintain law and order. It is also involved in carrying out investigations. I urge the new DCI boss to execute his duties impartially and within the law," said Justice Koome.
Also in attendance were National Police Service Commission chairman Eliud Kinuthia, acting IG Noor Gabow, Deputy Inspector General of Police Edward Mbugua, and Deputy Director of Public Prosecution Dorcas Oduor, among others.
Related Topics