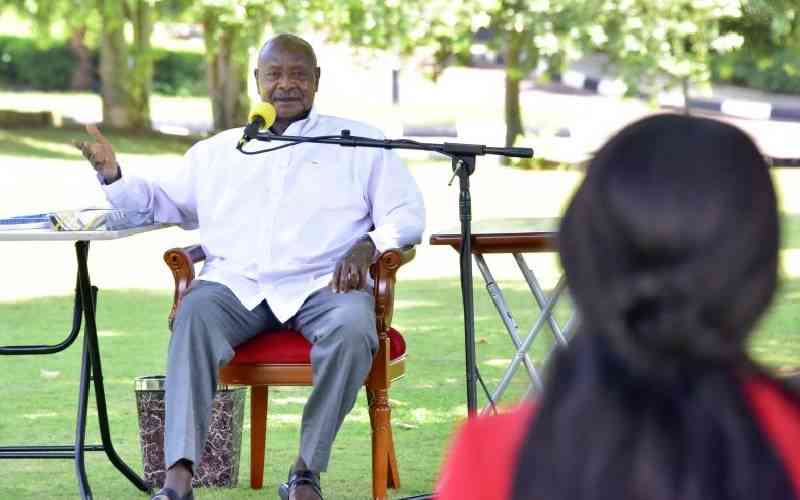 It is a Sunday, October 9. We land at the Entebbe International Airport, Uganda at 8:30pm. It is on the shores of Lake Victoria. We are received by our driver, Conrad, who was assigned to us by the Ugandan Press Secretary, Mr Sandor Walusimbi. He takes us to our hotel.
The next day, we were taken to a hospital in Entebbe to do a Covid test. It is here that we learn that to access State House Uganda and meet the President, one must do a Covid test.
We did a quick swab in the mouth and waited for the results that came out in the evening - it was negative so we were ready to go.
The next day, Tuesday, October 11, is the interview day. We leave our hotel at 9am for State House Entebbe -situated on a hill overlooking Lake Victoria. As expected, the security check was thorough. At the security desk, they had the information we were the team from KTN News that was going to interview the Head of State.
We then proceeded to the State House entrance. The security team checked our passport details as they cross-checked our names in their list.
As we walked in, all our phones were taken away for security purposes. But, I had an idea of using my phone to record a digital version of the interview. I had requested the press team to allow me to have access to my phone but this wasn't their call. I'll come back to that in a minute.
Interview setup
So now, we head to the room where we are to decide our interview set-up and start making preparation.
A few minutes later, I was called by one of the security officers, to go get my phone. I gave him the phone, and he scanned it thoroughly. And voila! I thought I'll have my phone for the interview. But my excitement was cut short after I was called in by one of the top security officers who was kind enough to explain the security protocols in place when it comes to State House.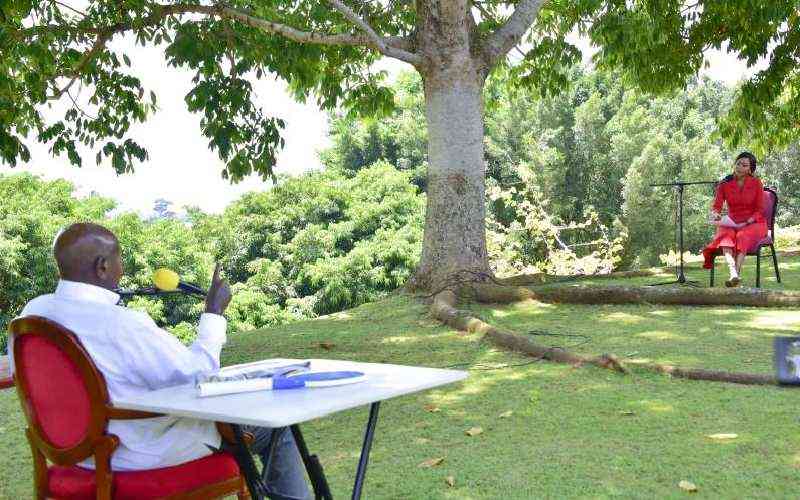 With all the security measures in place, we were guided to where the interview is to be set up. First things first, the architecture of the Ugandan State House, Entebbe is similar to Kenya's State House in Nairobi but massive in terms of size.
Before shifting to State House, Entebbe, president Museveni used to reside at Nakasero State House, in Kampala. This made traffic in the city centre a nightmare.
We get to an area that has two tents. One of the tents has one seat, which looked like a presidential seat while the other one has many seats. It is here then that we are made to understand that President Yoweri Museveni maintains social distance even with his cabinet and the discussion happens with speakers around the tents.
This was also supposed to be our setup but a few minutes later, we are informed that the setup has to be changed. So we are taken to a very open area, under a tree and the team tells us that President Museveni loves nature and likes to be in natural settings or open spaces.
As a Covid-19 precaution, the president also seats far from the journalist doing the interview. It definitely seemed a bit odd to me but again it is his State House.
So we set up to meet the presidential team, including his Private Secretary Dr Kenneth Omona, who granted my interview request before coming to Uganda.
It was lovely. After 1pm, as we are patiently waiting for the president to arrive, I see him and a few of his security detail walking from a distance with his signature white shirt and grey trousers and open shoes.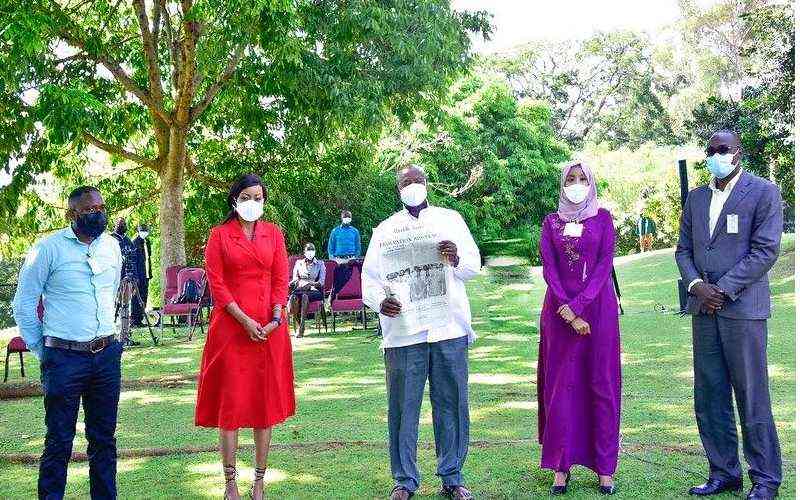 He approaches the set and we all stand up in a form of respect. Interestingly, he moved his seat from where it was set up by a few metres and so, we quickly needed to adjust our cameras.
Before the interview, we were individually introduced to the president. The interview lasted one and a half hours. Then came the photo session. As we went to take the photos, he asked us to wear our masks! Yes, he is cautious and of course, we maintained social distance.
There was a bit of banter with the president, he asked if this was the first time we were visiting Uganda. I replied, yes and he asked, "wewe ni mwenyeji wa wapi", (where are you from) and I responded saying, mimi ni msomali wa Kenya (I'm a Kenyan somali).
He then says, Karibu Uganda and welcomes us for lunch. It was a great experience to be in the presence of an African wise man with a hat, and one of the continent's longest-serving presidents.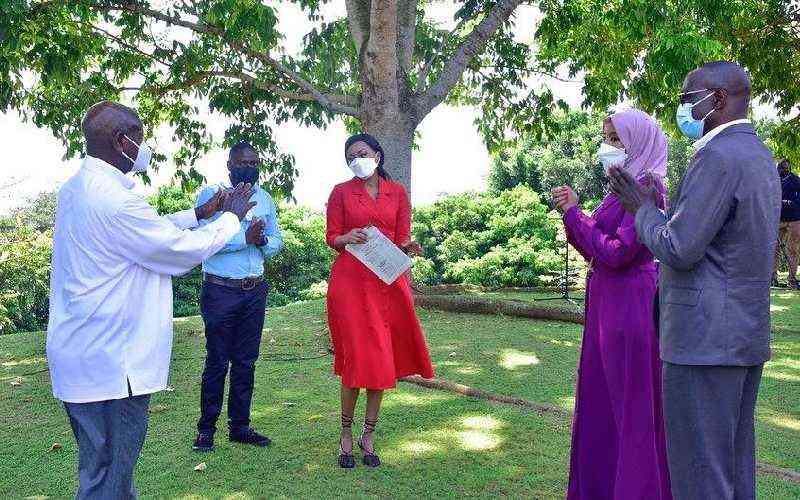 Related Topics