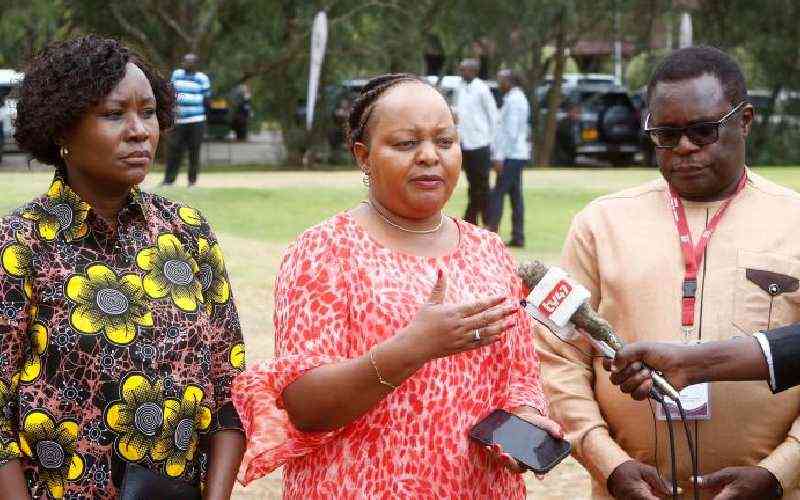 A bloated wage bill and poor performance in county revenue collection are the key challenges that have proved a headache to most county bosses.
During a two-day retreat in Naivasha for governors and their deputies, the county bosses opened up on uphill tasks they will have to deal with as they steer their various counties.
They prioritised pushing for the termination of leased medical equipment supplied to counties with Embu Governor Cecily Mbarire saying the matter should be renegotiated.
"We must sit down and have a candid conversation around the medical scheme," she said.
Health Committee Chairperson and Tharaka Nithi Governor Muthomi Njuki said they have prioritised a review of the lease agreement to stop payment to five companies.
"We definitely need to push for a review by all means and one of the pertinent issues is that the equipment came in 2014. If we renew the contract for them to be available again up to 2025 that is a total of 11 years," he said.
Njuki said they did their work plan and had prioritised the discussion of the leased medical equipment.
Mombasa Governor Abdulswamad Nassir reiterated the need to relook into the issue.
Bungoma Governor Ken Lusaka, who is also in charge of the Agriculture committee, said they should be engaged even in the purchase of fertiliser. He said they couldn't just distribute.
"We would need to know the basis used to supply fertilizer to the counties since we are the ones in touch with the people," he said.
On Wednesday, the governors noted that payment of pending bills will take some time. The county bosses said counties had more urgent needs like wages and healthcare.
"As much as CS National Treasury talks about pending bills being given priority, the urgent need is to audit them with supporting documentation," said Kakakemega Governor Fernandes Barasa
County Governments Annual Budget Review Report for the Financial Year 2021/2022 reveals counties had accumulated pending bills amounting to Sh153.02b, comprising Sh151.68b by the county Executive and Sh1.34b by the assemblies. Outstanding pending bills by Nairobi County as per the audit accounted for 69.5 per cent of the entire stock of pending bills at Sh99.06b. The audit by the Controller of Budget reveals that counties' spending on development dropped to Sh98.5b in the 2021-2022 Financial Year.
In the 2020-2021 Financial Year, the audit reveals, counties spent Sh116b on development. The expenditure in the 2021-2022 Financial Year on development reflected 50.9 per cent absorption rate of the Sh193b earmarked by counties during the year, which decreased from 62.1 per cent reported in the previous year.
However, while the spending on development dropped marginally, operations and maintenance expenditure increased from Sh105.9b to Sh112.4b in the 2021-22 financial year. The spending on salaries and allowances also rose to Sh190b from Sh176b in the 2020-21 Financial Year.
Seventeen counties recorded a below 50 per cent absorption rate of development expenditure. They are Laikipia, Kisii, Bungoma, Baringo, Murang'a, Nyandarua, Turkana, Mombasa, Kilifi, Busia, Vihiga, Narok, Taita Taveta, Machakos, Kisumu, Nairobi and Garissa.
Council of Governors Chair Ann Waiguru noted that while the transfer of functions started in 2013, to date, some are yet to be devolved fully.
Waiguru said she will ensure the devolved functions are fully devolved and funded.
During the retreat, governors were trained on public procurement, human resource, and investment.
"We have around 30 first-term governors and we chose to convene and train on public financial management so that they may know their responsibilities and those of their employees and how they can evade the risk that comes with our work,' said Waiguru.
Mbarire said they learned about their own source revenue, how it should be collected and the transparency required, adding they were also educated on the need to digitise revenue collection so as to reduce pilferages.
She said they agreed that each county conducts an audit of their staff and ensures ghost employees are dealt with and scrapped from the systems. People, she said, must be paid for jobs they have done and cleaning up of the payroll will be done.
"Wage bill in counties is high, in some counties it has risen to over and above the required 35 per cent. We have agreed as counties that each of us go check on the payroll and conduct an audit to ensure the payroll system is streamlined and make sure we don't have ghost workers," Mbarire said.
Related Topics