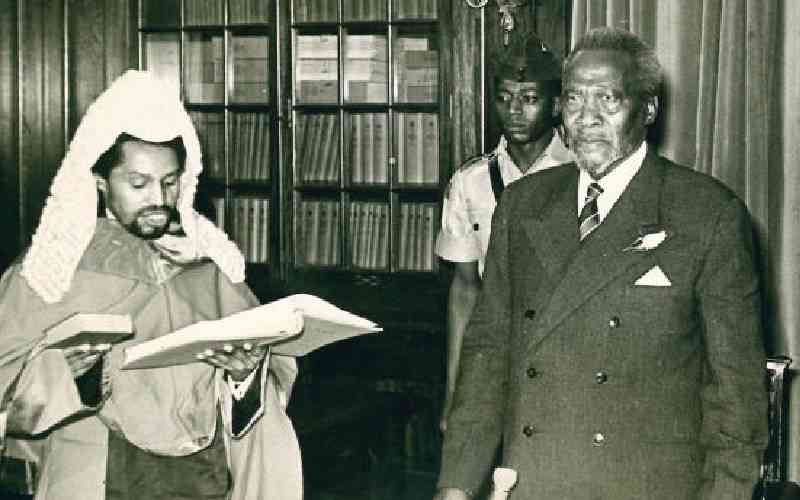 Despite a sound training in law and being propertied, Chief Justice Kitili Mwendwa died intestate- without leaving a will.
The widow- Winfred Nyiva Mwendwa- assumed leadership of the nuclear family and initiated a succession cause for the estate of the husband.
According to court records, letters of administration of his estate were granted to Nyiva and her son Maluki Mwendwa on June 18, 1986 by the High Court.
A certificate of confirmation of grant was issued a few months later on December 9, 1986, again to the pair but designating Nyiva a life interest in the whole of the net intestate estate as the surviving spouse.
However, her daughter Kavinya Mwendwa has produced in court a consent document dated April 8, 1986 and showing that she consented only to her mother being granted the letters of administration:
"I, Mutheu Kavinya Mwendwa, being the daughter of the above named deceased, do hereby consent to letters of administration being granted to my mother Winifred Nyiva Mwendwa," she wrote on oath.
At the time of his death, their father owned vast pieces of land, numerous shares and other properties across the country.
In Laikipia, he owned the Muigie Limited ranch, a 43,985-acre ranch keeping exotic cattle and running an exclusive artificial insemination program which earned him and associates a tidy sum.
In Thika, he owned a 1000 acre Chania Farm where he was headed on the day he died. Of the 1000 acres, 400 was coffee plantation which placed him at the centre of the then booming coffee business.
In Kwale, Shimoni, Kitili owned another 400 acre farm. In Nairobi and Kitui, he owned several pieces of high-value property, including his various homes.
According to his daughter, her father also owned "high-value collectable cars" which were not included in the application for grant. Accounts of the day he died say he drove an Alfa Romeo from his office to his Gigiri home, then switched to a red Lancia with which he met his end.
Former Attorney General Charles Njonjo is also on record describing the late Kitili as "an eccentric man who loved old cars and drove at high speed."
Related Topics