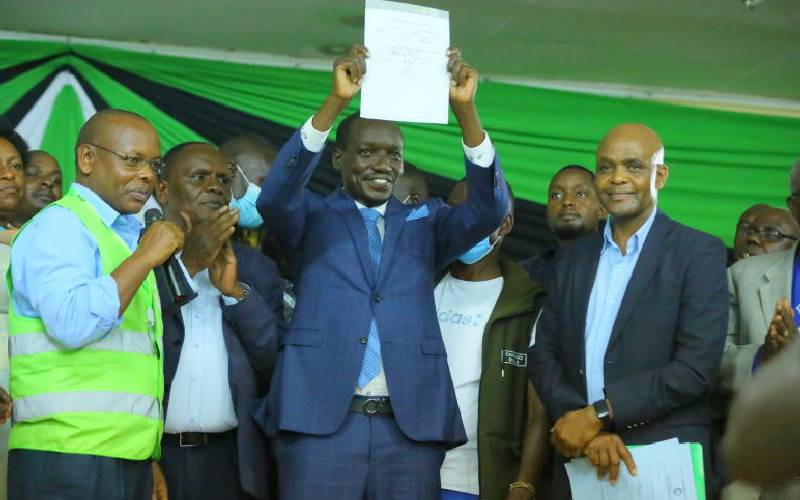 For Simba Arati, the Kisii County governor-elect, his rise was dramatic. On one end, he was seeking to transition from Nairobi to the county while on another end he was facing a stiff challenge from seasoned politicians.
An energetic politician, the former Dagoretti North MP muscled his way to becoming a crowd favorite as he convinced Kisii voters to back his bid.
He considered himself the underdog in a move that observers believe was a political tactic to challenge the status quo.
Throughout his campaign journey, Arati described himself as the son of a 'nobody' who grew up in extreme poverty. "I have struggled to reach where I am. This has been a journey of hope," he would say.
He faced off with outgoing Senator Sam Ongeri and CAS Chris Obure. Ongeri and Obure served in late presidents Daniel Moi and Mwai Kibaki regime as legislators and high-ranking civil servants. Arati also faced UDA's Ezekiel Machogu, another renowned political operative.
Despite the strong lineup keen on clinching the seat, Arati defied all odds to clinch the seat by landslide, garnering 270,928 votes against seven competitors including Ezekiel Machogu of UDA, who finished second with 82,104 votes.
On his victory a week ago, Arati said he is out to grow the county, improve revenue collection and set things right.
Four years ago, many leaders from Gusii region dismissed him as not only an outsider but also one who ranks way below many of them in the community.
Elaborate processes
A section of Gusii Council of Elders too dismissed his efforts to be installed as a clan elder and spokesman, saying there ought to be an elaborate process which will involve all elected leaders.
But Arati insisted on his quest, claiming he enjoys the support of the youth, women and the elderly.
He said his interest in becoming the spokesman was inspired by his aspiration to unite the community so that they could speak in one voice, just like other major communities. "I look at the bigger picture of one day becoming Kenya's president," he said.
"No miracle will happen in Kisii, I am not coming here to do guesswork. We must change the lives of our people. We must give hope to investors. I will give them goodwill," said Arati, who takes over from James Ongwae.
The two-term MP said he fits the bill. "I will bring about discipline in managing public resources. I will bring about order in every sector."
However, Arati will face many challenges that observers argue he will have to deal with in his first 100 days in office.
For instance, he will have to implement the 100 per cent salary increment for ECDE teachers that was put in place a month ago. The county government employed 962 teachers on permanent and pensionable terms.
Beginning at the end of this month, those with certificates will earn Sh23,000 up from Sh12,000, diploma holders will be paid Sh31,700 from their previous salary of Sh14,000, while degree holders will take home Sh39,700 up from Sh12,000 in the new employment scheme. Another priority will be actualising the 350 Mother and Child Hospital dream that was conceptualised under the outgoing regime. The construction of the hospital began three years ago with its opening done a month ago awaiting equipping.
Another compounding challenge that requires immediate attention is the management of solid waste in Kisii.
Efforts to relocate the Kisii town dumping site have always meant resistance. The new governor will also be facing the task of ensuring that there are enough medical drugs across all major hospitals.
The new governor will also be facing the task of ensuring there are enough medical drugs across all major sub county hospitals as well as at the Kisii Teaching and Referral Hospital.
Related Topics