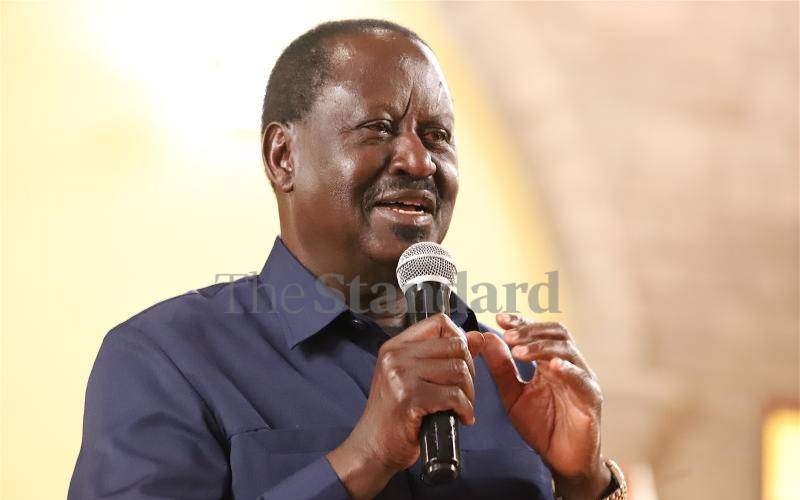 Contrary to the opinion polls that fronted Raila Odinga as the favourite candidate, he suffered a big blow after losing to his main competitor William Ruto.
The Independent Electoral and Boundaries Commission of Kenya (IEBC) on Monday, August 15, declared William Ruto the fifth president of Kenya.
Ruto got 7,176,141 votes beating his closest rival Raila Odinga who got 6,942,930. This translates to 50.49 per cent and 48.85 per cent respectively.
"William Samoei Ruto has been duly elected as the president of the Republic of Kenya," announced IEBC chairman Wafula Chebukati to thunderous applause from Ruto's supporters who have been camping at the national tallying centre at Bomas since vote counting started six days ago.
The other presidential candidates, David Mwaure of Agano Party garnered 31,987 votes representing 0.23 per cent while George Wajackoyah of the Roots Party got 61,969 votes (0.44 per cent).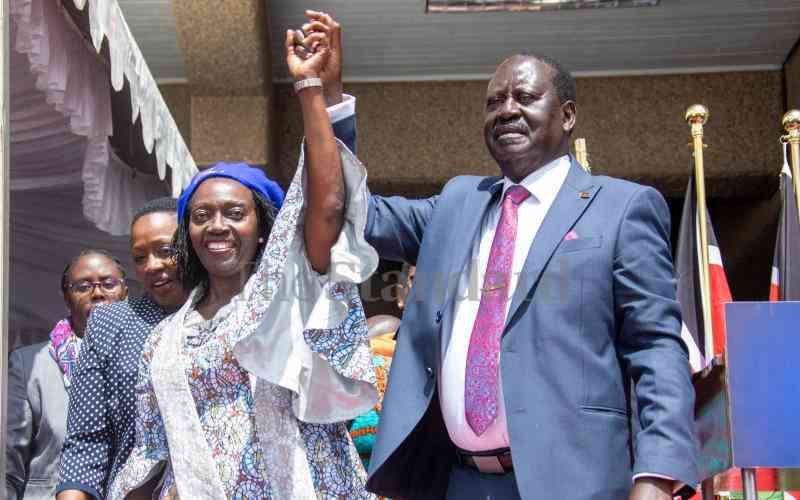 Martha Karua misses out on deputy presidency
The IEBC announcement also dealt a major blow to Raila's running mate, Martha Karua - a veteran of the second liberation of Kenya, a term that refers to the 80's and 90's struggle for the restoration of multiparty.
Raila settled for Karua after vicious and potentially alliance-breaking horse-trading with Kalonzo Musyoka of the Wiper Democratic Movement who initially demanded Raila's support for his presidential bid.
This was on grounds that Kalonzo had twice thrown his weight behind Raila's presidential bids in 2013 and 2018. Kalonzo would climb down from gunning for the presidency on the condition that Raila picked him as his running mate and therefore his deputy in the event he clinched the top seat.
Raila the master of surprises
Very little was known of Raila Odinga before the failed coup of 1982. Only his subsequent arrest made Kenyans curious about this rabble-rouser. Those who knew him say he was a quiet man who rarely talked even during key political meetings.
Raila has a greater-than-life persona with a devoted following that can sacrifice anything for him. And over the years, he has always brought up the unexpected. Popularly known as "Agwambo", Luo for "The Mystery", he is the master of surprises and king of unpredictability.
It wasn't, however, always like this. Political analyst Amukowa Anangwe knew Raila back in 1979 when the ODM leader was working at the Kenya Bureau of Standards.
But that was just the beginning of their relationship. They worked together in Kanu National Executive Committee in the 90s when Raila started cooperating with President Daniel arap Moi.
"When I first met Raila in the late 1970s, he was generally a quiet person," recalls Prof Anangwe. "Even in meetings we were engaging in, Raila never uttered a word. He was a quiet person who looked pensive; he is there physically but mentally he was not there. That was the impression I got of him."
In 1978, Raila must have been 33, and living under the domineering political shadow of his father, former Vice-President Jaramogi Oginga Odinga. He was dedicated to work and business.
The stage of political titans in the late 80s was run by formidable forces among them Jaramogi, Koigi wa Wamwere, George Anyona among others.
In the early 90s Kenneth Matiba, Charles Rubia, Masinde Muliro, Gitobu Imanyara, Paul Muite, Prof Kivutha Kibwana, Raila Odinga, Martha Karua, Prof Peter Anyang' Nyong'o among other young Turks burst into the scene pushing for multiparty democracy.
However, like a wave violently crashing the shore, Raila's persona had come to the national stage after he was arrested after the 1982 attempted coup.
Isolated troublemaker
At the time of his arrest and detention, the only details about him were that he was Jaramogi's son. The public lacked the image or voice of a man paraded as an enemy of the people. "When I looked at the Raila I knew in the late 70s and the Raila linked to the coup attempt, I couldn't believe it," says Anangwe.
"Raila was one of the less conspicuous people at the time. When they mentioned him in 1982, he came out as an isolated troublemaker and not someone with a clear cause," says political analyst Barrack Muluka.
By the end of the decade, little was heard about Raila. While he served six years in detention his friction with the government reverberated across the country, especially in Luo Nyanza.
Released in February 1988, Raila was again arrested in September for pro-democracy and human rights campaigns in a period when Kenyans were silenced by the government's iron fist. "We didn't seem to hear much about him after he was released. The focus was still on his father," recalls Dr Muluka.
His brush with the government and the little information that leaked to the public on who he really was were created a sense of mystery around him.
Still, Raila was not making headlines, neither was he the talk in town. At the time, other political players like Dr Willie Mutunga were trying to reshape the system and pushing for political reforms.
Raila would flee to Norway after, he writes, learning of a plot to assassinate him. It was just four months after he was released from his third and last detention from 1990 to 1991.
Multi-party in Kenya
A year before his return, Section 2 (a) of the constitution had been repealed making Kenya a multiparty state by law. The Forum for the Restoration of Democracy (FORD) was the first opposition party, headed by his father Jaramogi Oginga Odinga.
In August 1992, internal power struggles led to the split of the party into two FORD-Asili (led by Kenneth Matiba) and FORD-Kenya (led by Oginga Odinga).
At the age of 47, Raila ran for the Lang'ata parliamentary seat on a FORD-Kenya ticket in 1992- the victory was his start button in active politics a decade after his name greeted the ears of the masses.
Following the death of Jaramogi in 1994, a power struggle began for almost two years between Raila and the then FORD Kenya Chairman Kijana Wamalwa. Wamalwa would become a vice president in 2002 and die in August 2003 in London undergoing medical treatment. "When Jaramogi died, he wanted to grab power unprocedurally. So, they are having a delegates' meeting in Thika and a confrontation ensues on who should succeed his father," remembers Anangwe.
"Raila felt he was the right person to take over the party," says Muluka.
Wamalwa beat Odinga in the contentious party elections marred with violence, precipitating a devastating tribal split within the party seeing Raila leave the party with a sizeable number of members of parliaments (mostly from Luo Nyanza) and joining the National Development Party of Kenya (NDP).
Raila resigns as Lang'ata MP
Raila took another bold move which Muluka argues defined Raila as "a bold person who knew what he wanted and was willing to pay the price for what he believed was right."
Says Muluka: "Raila left the party and resigned from his position as Langata MP to run again in a by-election. That one act is what defined him. He was the first person to do that and not even a handful of politicians have done that till today."
However, battling it out in NDP for the Langata seat was also still the first round of Raila exerting his dominance and cultivating his image as a political "big boy". With his reputation growing across the country, Raila's next task was to ensure he rose to the throne of influence in Nyanza.
"It was not an easy matter for him to become what he is now in Luo Nyanza. At the time he had to dislodge the powerful Kisumu Mayor Akinyi Oile from that position," recalls Muluka.
Once the Nyanza throne was secured and Oile dislodged from his throne, Raila ran for the presidency in 1997 coming third with 665,725 votes behind former Presidents Daniel Arap Moi and Mwai Kibaki. "He was still a junior politician and nobody took his candidature seriously apart from those in Luo Nyanza," says Muluka.
Moi and Raila cooperation
But the former prime minister was serious and his next moves proved that he would do anything to rise above the ranks and get to the top office in government. In 2000, two years ahead of the general elections, Raila's NDP started cooperating with Kanu, a move that saw three NDP MPs join President Moi's cabinet thus inaugurating the first coalition cabinet in the country's history.
"His quest for power has no limits. He wants more of it and he will circumvent constraints to the realisation of the same. When he joined Kanu, his agenda was the same as he is doing it with Uhuru now; to get close to the power so that he can be facilitated to be president," says Prof Anangwe.
In his stint in Kanu, Raila's eyes were fixed on succeeding President Moi and as the party's Secretary-General, his gamble on joining Kanu failed to pay off after the former president chose Uhuru Kenyatta (then a businessman) to succeed him as the party leader and Kanu's presidential flag bearer in the 2002 general elections.
The ODM leader would leave Kanu with a host of influential politicians such as Kalonzo Musyoka, Najib Balala, Moody Awori and the late Prof George Saitoti. They would go to form the Liberal Democratic Party (LDP) which would team up with the Mwai Kibaki-led National Alliance Party to form the National Rainbow Coalition which brought down Kanu's 40-year-old rule.
Government of national unity
In the Kibaki government, Raila would secure a cabinet seat as Minister for Roads. He would later lead a rebellion against the Narc government after President Kibaki failed to honour an MoU that called for a new constitution within 100 days of his government.
This form of partnership and walkout would underscore the coming years of Raila's quest for power as he agreed to take the position of Prime Minister following the violence that followed the 2007 elections and led to a coalition government.
Prof Anangwe offers another glimpse of an enigma of a man who always carries something under his sleeves. "Raila has a split personality. There is the quiet one where he lies low and non-controversial when he is powerless, but he is a different person when he has power. At that time, he is very aggressive, very intolerant, uncompromising and he would use other people to climb but towards the end, he ascribes the power to himself," says Prof Anangwe.
His successive strategies have seen him bringing together powerful coalitions: Coalition for Reforms and Democracy (CORD) in 2013 and National Super Alliance (NASA) in 2017 with the help of his long-time allies; Wiper leader Kalonzo Musyoka, Amani National Congress leader (ANC) Musalia Mudavadi and Ford-Kenya Leader Moses Wetangula.
However, power struggles within NASA would dent the Union finally leading to a falling out in 2021 where Mudavadi and Wetangula moved to team up with Raila's top competitor Deputy President William Ruto ahead of the 2022 general elections.
Kalonzo says Raila betrayed him
Kalonzo accused Raila of betraying him by failing to honour an MoU between him and the ODM chief that would have seen Raila support Kalonzo for the presidency in 2022.
In 2018, Raila came together with his political nemesis President Uhuru in an event that left many of his closest allies bamboozled when he shook hands with President Uhuru Kenyatta on May 9, 2018, in a rapprochement that has come to be known as the "handshake".
"Right now, you are seeing he is very malleable, he is saying he is going to follow Uhuru's footsteps. Don't buy it. Wait until he gets power, that's when Uhuru will know who Raila is," argues Anangwe.
One thing is for sure --- Raila Odinga will keep on popping up surprises.
Even after four decades on the political scene, what cannot be argued is that Raila is a political titan and when you think you have decoded the man, he lives up to his name; Agwambo.
Related Topics