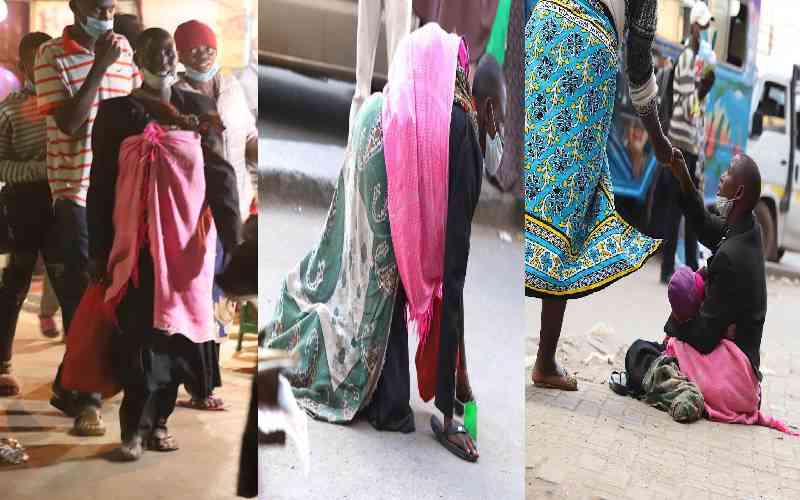 Shocking details on how foreign nationals have been taking advantage of the generosity of Kenyans to make a living on the streets of Nairobi can now be revealed.
An investigation by Saturday Standard has shown that street beggars, most of whom are able-bodied, also use the sympathy of children to rake in money.
And their main operation base, according to the investigation, is Eastleigh market.
The beggars admitted to outsmarting security agencies to penetrate Kenya's porous borders while some claimed they paid as little as Sh250 to gain access into the country.
Investigations show that they live in common rented rooms to cut costs. Hundreds of them stay in a four-storey building in Kariobangi while others are scattered in the sprawling slums of Korogocho, Mathare, Kiamaiko and Majengo.
They are a common sight on the capital city's streets and walkways, some holding small cups. Women beggars often drag with them innocent babies as they seek "spare change" from well wishers who are oblivious of the tricks they employ.
What is, however, shocking is the clandestine manner in which the beggars appeal to the emotions of gullible city dwellers during their daily operations.
Wearing torn clothes and appearing needy to appeal to emotions, it emerged that some even rent children for as low as Sh300 depending on age to oil their illicit trade.
At Fedha stage in Embakasi, Emma, a Tanzanian national who has been crawling for the past one year and receiving overwhelming favours from the public, gives an account of her disability.
She claims to have been born 'disabled' and has never walked normally.
From a distance, the middle-aged lady seems to suffer multiple disabilities that make her almost immobile.
Carrying a child on her back, crawling on her knees and supporting her frame with both hands on the ground, she easily passes for a case in dire need of help.
Occasionally making stops in the estate to shake a green plastic mug with a few coins in it, Emma seems to seek genuine monetary donations to also help her support the child strapped on her back.
After the day's work, Emma crawls into a Kariobangi bound bus. Saturday Standard trailed her from Fedha estate, boarding the same bus with her.
When she alighted from the bus at Kariobangi, Emma unstrapped the baby, and "miraculously" walked normally before boarding a waiting boda boda to her apartment.
From a distance, Emma is seen pacing freely on the balcony of the apartment, that Saturday Standard investigation revealed hosts a number of them.
In another case, a woman carrying a baby on her back, in a similar fashion, crawls on the streets of Eastleigh.
Two children aged between seven and 15 years also crawl behind her back as they make stops to prey on their next victim.
After they were done, they crawled into an awaiting Kariobangi bound bus. Saturday Standard trailed them, boarding the same bus with the three. As they alighted at Kariobangi stage, all of them walked upright showing no sign of physical disability.
In fact, the two children are seen buying fruits from a street vendor and running home with their mother walking behind them.
Martin Mutua, a new matatu tout plying the Kariobangi-Eastleigh route, said that one morning, he was surprised when nearly all the passengers in the bus alighted in Eastleigh and began crawling.
"I was shocked to see that all the passengers who had boarded the vehicle walking normally began crawling as soon as they alighted," said Mutua.
Mutua said that as days went by, he noticed that this had become the norm in the area.
"The business of faking a condition to appeal to emotions of the public is common. But for us, as long as they pay bus fare, we do not interfere with their trade," said Mutua.
National Council for Persons with Disabilities says it is wrong to fake disability.
Chief Public Relations Officer at the agency, Francis Anyenda, said: "It is a sad affair if normal people masquerade. There's no celebration in being disabled. Police and immigration officers should take immediate action against these people."
Anyenda said an impression is created that our organisation and by extension Kenya has neglected its citizens yet the beggars actually come from Tanzania.
"All our members are registered and get required support from us as a Council," he said.
Lawyer Wangeci Kiragu said the intention of the beggars is to defraud.
"The intention is what matters… they have committed a crime."
She says that Section 3 of the Penal Code makes it illegal for someone to obtain by false pretence, which is what the fake beggars are doing.
She says that for the police to take action and charge them with obtaining money by false pretence, there has to be a complainant.
"You need to be able to prove that a crime has been committed and someone has been defrauded," she says.
On use of children, Kiragu said: "We have the child protection officers and the probation officers should be more vigilant because these are children on the streets yet they should be in school. That parent or guardian should be charged in a court of law," she says.
Patrick Gikuche, a trader in Eastleigh market, said that the estate has become the aliens' playground where they prey on the emotions and finances of unsuspecting good Samaritans.
"Weak immigration systems, corruption and rogue cartels along our borders are the cause of this eyesore. They are the conduits and partners that aid the beggars across the border," Gikuche added.
He said that 70 per cent of those seeking sympathy from the public by dragging themselves on the pavements and along the streets are a common scene.
Esther Chara, one of the beggars at gate B in Tassia estate, who spoke to Saturday Standard, said that the trade has enabled her fend for her family and also saved enough to facilitate the construction a house back in Tanzania.
Chara admitted to feigning her condition to eke a living in order to educate her children back in her motherland.
"My four children are in secondary schools and I am in Kenya to beg so that I can be able to pay their school fees," she said.
She added: "I beg and whatever I get I send home. I have been in Kenya for three years and I have managed to do a lot back home."
Interviews with some of the beggars revealed that on a good day, they rake in up to Sh2,000 each.
This means that in a month, a beggar can collect about Sh60,000, which translates to an estimated Sh720,000 annually.
In Eastleigh, another beggar who identified herself as Chausiku gives an account of how she arrived in Kenya with her son.
"It is easier to pass through Sirare border even without documents. We came as a group and were sneaked in on a boda boda after paying Sh250," Chausiku said.
She added that since she came to Kenya, she has managed to collect enough to purchase a piece of land.
Chausiku said that she has also bought and cattle back home and hopes to start a new life when she goes back to Tanzania.
A deeper interview with Chausiku revealed how Kenyans cover up for the trade, saying they have managed to compromise landlords, caretakers and security officers.
"Cooperating with the landlord and caretaker is important so that they cover (up) for you during police raids. Defiant ones are always arrested making them lose hope and go back to Tanzania," said Chausiku.
Police spokesman Bruno Shioso says the menace of street beggars is getting out of hand, adding they will liaise with their immigration counterparts to see how to curtail the menace.
"Many who have been arrested in the past have been deported and that's exactly what will happen to those still in Kenya.''
Shioso said that the spirit of East Africa Community allows free movement of people in the region, but this does not include those out to exploit nationals of other countries for financial gain.
Landlords, who spoke to Saturday Standard, admitted that they prefer Tanzanians as they pay higher rent.
In Kariobangi, an average rental house goes for Sh4,000 but with the beggars living in groups, it means landlords get more income depending on the number of units they own.
It is always a hive of activities around these residential houses with boda boda operators picking and dropping the aliens to their various begging points.
Others are wheeled away by male youth who are also from the neighbouring country.
Lawyer Paul Wanga said the practice must be tamed.
"What they are doing is criminal in nature and they should be prosecuted for exhibiting false presentation to get financial favours from Kenyans and they should be prosecuted for obtaining money by false pretences," said Wanga.
Related Topics