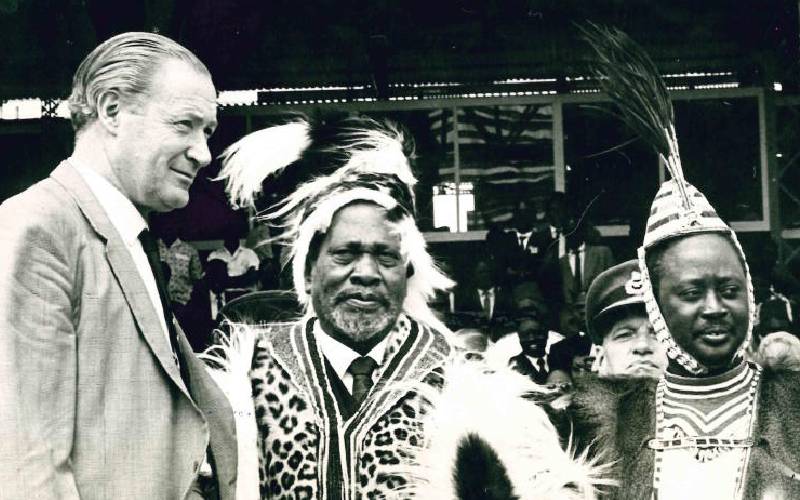 In politics, betrayals are part of the game. Politicians backstab each other without giving a damn.
It is not unusual for sworn enemies to close ranks and, in the same breadth, known allies break ties and move on as witnessed between Kenya African National Union (Kanu) President Jomo Kenyatta and the party's Vice-President Jaramogi Oginga Odinga.
When the two supremos could no longer see eye-to-eye, they parted ways in an acrimonious fall-out that forever damaged Jaramongi's presidential ambitions.
On March 13, 1966, Jaramongi was thrown out of Kanu at a highly charged Limuru Conference where delegates dethroned him as the party's vice president. Kenyatta's supporters went ahead to create eight positions of vice presidents to clip the influence of Jaramongi.
Lawrence Sagini was elected vice president for Nyanza, Jeremiah Nyaga (Eastern), James Gichuru (Central), Ronald Ngala (Coast), Erick Khasakhalia (Western), Mohamed Jumbat (North Eastern), Mwa Kibaki (Nairobi) while Home Affairs Minister Daniel arap Moi represented Rift Valley.
"If need be, he would be removed from Kanu leadership altogether as he did not abide by party policies," wrote GG Kariuki in his book Illusion of Power. At the Limuru Conference, Jaramongi and his supporters objected to the meeting, contending that it had been convened unconstitutionally. But the meeting went on.
And by show of hands, Kenyatta, who chaired the meeting had the final laugh as the majority endorsed it. Moi rose up and proposed Kenyatta as the president of the party while Tom Mboya was elected secretary-general.
After the Limuru Conference came the inevitable war of words, marked by accusations and counter-accusations, forcing Moi to reduce Jaramogi's police escort, according to Kariuki. Hitherto, Jaramongi enjoyed enhanced security since he was Kenya's vice president.
Later, there were accusations that Jaramogi had acquired arms from overseas. A raid was conducted at his ministerial office where a large 'cache' of ammunition was found in the basement. Curiously, no action was taken against Jaramongi. Onward, he became frustrated since the party and government machinery had rendered him ineffectual.
"He apparently had misjudged his political might and relied, perhaps too much, on his friends and well-wishers. With this support, he had delved into deep political waters with a strong conviction that he was going to bring the government down and open the way for a general election. This was a definite miscalculation," says Kariuki.
On April 22, Odinga with 30 allied MPs resigned from Kanu to form Kenya People's Union, which served as the opposition party.
Related Topics