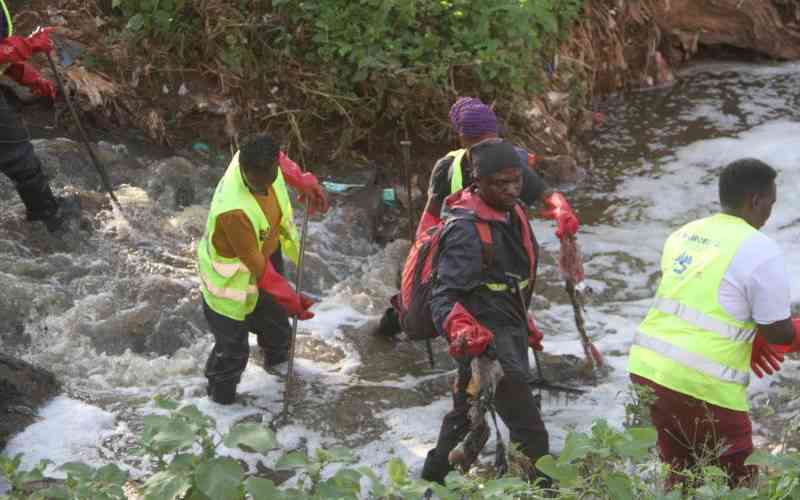 The government has initiated a project for the rehabilitation of rivers in Nairobi. This action follows the development and adoption of an action plan that encompasses various aspects of regeneration.
The multi-billion project will be overseen by the Nairobi Rivers Commission (NRC). However, the actual cleaning will be carried out by the Water Resources Authority (WRA), which is responsible for regulating water management and the use of water resources in the country.
Mohamed Shurie, the CEO of WRA, said the authority has collected over 200 tonnes of solid waste and planted 3,500 bamboo trees along a 20km stretch of the Nairobi River within the past five weeks.
In a broader context, the clean-up exercise will include mapping and restoration, drainage and hydrology reclamation, as well as the protection of riparian land.
The exercise will also address waste management related to rivers, industrial and institutional waste, sewerage, and solid waste.
Teresia Mbaika, the Devolution Principal Secretary, said the exercise signifies a rekindling of hope to put an end to river pollution.
She said: "This exercise will contribute to a better urban environment, leading to an improved quality of life for all, and will enhance Nairobi's urban resilience." She went on to describe Nairobi's rivers as the backbone of the city's blue and green infrastructure.
Pamela Oret, the chairperson of NRC, said the climate-smart actions initiated to restore Nairobi, Mbagathi, Mathare, and Ngong rivers will mitigate the effects of El Niño and subsequent rainy seasons.
"The activities will mitigate climate change and allow the water to flow downstream," said Oret.
The Nairobi Rivers Commission and the Water Resources Authority, state agencies tasked with supervising the reclamation of the rivers, officially initiated the exercise.
They said the goal of the exercise is to clear the rivers, which have been obstructed by various forms of material and organic waste.
WRA was established under the Water Act of 2016, with its primary mandate being the regulation of water resource management and the implementation of pollution control measures for water resources. President William Ruto launched the NRC in February.
Related Topics