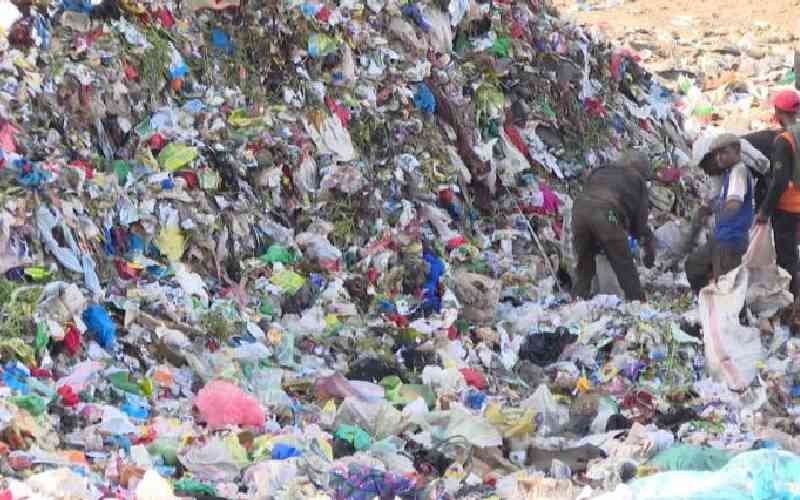 Dagoretti North constituency in Nairobi is currently experiencing a severe crisis that poses significant risks to public health and safety due to the presence of illegal dumpsites on the estate roads.
Residents have voiced their concerns over the area becoming a target for illegal dumping, with untouchable garbage cartels transforming two major roads into dumping sites.
The residents have highlighted that the rampant illegal dumping of solid waste in the Riruta area of Kawangware has set the stage for a potential public health disaster.
They have stated that the accumulation of garbage not only emits foul odours but also creates a breeding ground for disease-carrying flies, placing thousands of residents at risk of disease outbreaks.
The dumping sites have become safe havens for gangs, resulting in an increase in mugging cases. Jane Wangechi, a resident, said, "They use the dumping sites as safe havens." She further added, "The dire situation has been worsened by the infiltration of criminal gangs."
These illegal dumping sites, located in densely populated residential areas, have transformed into breeding grounds for diseases. The overflow of waste has encroached upon private lands and residential properties.
Residents criticised the authorities for their inaction in addressing the matter. They allege that both the police and officials from the National Environment Management Authority have neglected their responsibilities, leaving the community feeling abandoned and unheard.
"It's hard to believe that those in power, who are supposed to assist us, are the ones neglecting us. We have been facing this problem for years," said Waithera, who requested to be identified by one name.
She further stated that the repercussions of this crisis reach beyond immediate health risks, as criminal gangs exploit the chaotic environment to instill fear among the local population.
In the midst of escalating turmoil, the resilient residents are calling for prompt intervention, directing their plea for assistance to Nairobi Governor Johnson Sakaja. They urge him to prioritise the health, safety, and overall welfare of the community.
"Our struggle encompasses dignity, security, and a brighter future," said an anonymous resident.
Highlighting the urgent need for action, another resident emphasised the importance of accountability, saying the people of Dagoretti North deserve a clean and safe environment.
The residents called for an end to illegal dumping and to mitigate public health risks.
Related Topics