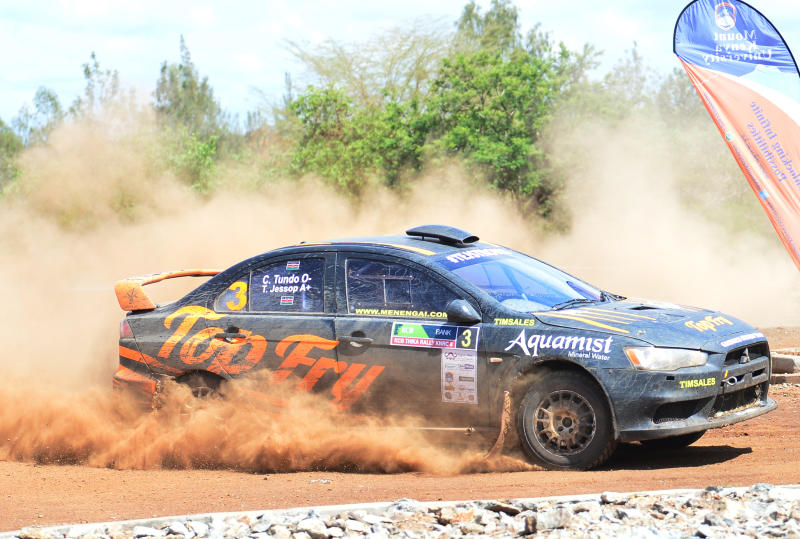 Reigning African Rally Champion Carl 'Flash' Tundo is targeting a podium finish in the tenth edition of the East African Safari Classic Rally (EASCR) slated for February 10-18 in Kenya.
At the same time, Tundo's rally sponsors Safaricom have injected a Sh6 million sponsorship, in the 5000km event that will begin with a shakedown at Kedong ranch in Naivasha with finish line at Ocean Sports in Watamu, Kilifi.
Tundo and his long term navigator Tim Jessop have indicated they will bag on their 21-year experience in rallying together to win the title.
"I'm tipping a Kenyan driver to win the classic rally, Jessop and I are focused to bring the cup home," said Tundo during yesterday's press conference.
Despite being very optimistic, the reigning Kenya National Rally Championships champion also believes that any of the top 20 drivers can win the contest that will involve 50 participants from 17 countries.
The drivers will compete in very tough terrains, covering a whooping 5000km from Nakuru to Kilifi counties.
"We are already excited about this rally, it's the greatest classic event in the world. This year's competition is going to be tough because the field is star-studded, but I strongly believe our experience in motorsport will give us an edge over the rest," Tundo said.
"I also believe it's all about luck, it's about endurance, any of the top seeded drivers has an equal chance of winning."
The 48-year-old will be racing against his father Frank who introduced him to rallying way back in 1995.
Tundo is among the top seeds who are looped in the first batch of world beaters comprising of defending champion Kris Rosenberger of Austria and four-time Kenya National Rally Championships winner Baldev Chager.
Others in the group are former world youth champion Patrick Sandell, two-time EASCR winner Ian Duncan, rally YouTube guru Ken Block, Eugenio Amos, Lee Rose and Raaj Bharij.
The 2017 EASCR winner will compete in a Triumph TR7, a machine he believes he has moulded over the years to be strong and reliable.
"We are confident the car will help us survive the tough Kenyan terrains. We will also ensure we cover all the routes to increase our chances of winning," Tundo said.
Jessop reiterated Tundo's sentiments saying their experience will be key in the contest.
"It will not be about speed but getting our car, that is in great shape now, to the finish line in one piece," Jessop said.
While handing over the sponsorship cheque to the event, Peter Ndegwa, CEO Safaricom, said: "Safaricom has been a key supporter of the EASCR for the last two editions. Our involvement in this event underlines our commitment to nurture talent in sports." "By featuring local and international drivers, the rally provides an opportunity to empower and inspire more local drivers."
The EASCR has been running every two years since 2003 and is open to two-wheel drive, naturally aspirated rally cars built before 1985.
The race aims to showcase the beauty of the East African landscape with vehicles racing through world-famous game parks, with overnight stops at the region's finest lodges and hotels.
Related Topics