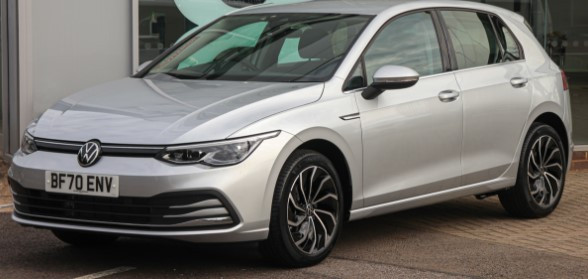 The Volkswagen Golf continues to gain popularity among car buyers in Kenya, thanks to several generations, the latest being the Golf Mk8.
The Golf has been on sale since 1974 and is ranked among the best-selling family hatchbacks locally.
In Kenya, the most common generations include Mk5, Mk6, Mk7, and Mk8. The German machine is held in high esteem and in this article, we find out why motorists are willing to pay more for the MK8 as compared to its rival hatchbacks.
The Mk8 Golf is made in Wolfsburg, Germany, and is famed for its refinement, attention to detail comfort, reliability, cutting-edge safety tech, and class. However, the VW Golf is not as forgiving of poor maintenance as some of its Japanese rivals.
The Mk8 has several competitors including the Honda Civic Type R, Chevrolet Cobalt SS, BMW 128ti, 4 Skoda Octavia vRS, Ford Fiesta ST, Mini Cooper JCW GP, and the Hyundai i30 N among others.
This writer did a test drive on a 2019 Gold on Nairobi's Southern bypass and wrote home of its smooth ride and composed handling.
The front seats are not only compact but comfortable, giving the vehicle a good balance between sportiness and comfort. The steering is well-weighted giving the driver good control. The headlights are sharp and modern with daylight running lights on the higher grades.
The Golf comes with a variety of engines including turbocharged petrol and diesel engines that range from a 1.0 litre three-cylinder to a 2.0 litre four-cylinder.
However, in the United States, the Golf MK8 is only available with a 1.4 litre turbocharged petrol engine that produces 147 horsepower and 184 lb-ft of torque which provides adequate acceleration and good fuel economy.
Inside, the Golf's cabin is spacious and the dashboard layout is intuitive, with a digital instrument cluster and a large touchscreen infotainment system that supports both Apple Car Play and Android Auto.
Despite looking petite from the outside, it has plenty of room for passengers in both the front and rear seats, and the trunk is a decent size for a hatchback.
The transmissions are linked to either an automatic DSG transmission or a manual transmission and available in both 2WD and 4WD (Grade R only).
It has a ground clearance of 5 inches and all grades come with alloy rims ranging from 15-Inch to 18-Inch. The Mk8 has a kerb weight of 1,255–1,465kgs (when empty).
With restrained driving, the Golf could give you some 10 km per litre in urban driving and 13 km per litre on the highway.
With the current petrol prices retailing at Sh179. 30 in Nairobi, you will need Sh8,965 to fill the vehicle's 50-liter fuel tank.
The German vehicle's service parts have flooded the Kenyan market and are fairly priced. Most owners are also pleased with the fact that the parts are shared with other VWs.
Service parts are fairly priced and shared with other VWs so availability is good. Body parts on the other hand are expensive and mostly available from specialist shops in Nairobi.
Though, the Golf's downsides include some units having touchscreen multimedia systems that refuse to pair with phones and sometimes don't read all the MP3 players.
"The body parts are quite expensive and mostly only stocked by specialist shops in Kenya. This can be a major downsize especially when a car needs major service or is involved in an accident," Halima Jahawi, the owner of a wine red Mk8 told The Standard.
"Most of the VWs brought to my garage for repairs are mostly about negligence in the maintenance routines. For example, the DSG gearbox has an elaborate maintenance procedure and requires an expensive transmission fluid with dedicated additives. Very few mechanics around have the expertise to handle the gearbox of a VW," Charles Okoth, a mechanic based in South B said.
Related Topics