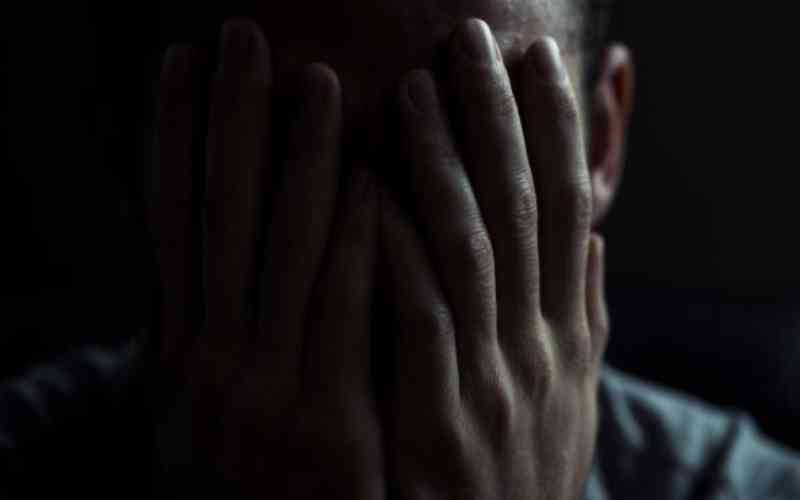 "I went on Facebook and wrote my eulogy." Chilling words, from a man who was ready to end it all. Kimani Mbugua, once a Citizen TV host, appeared to be living the dream as a rising star in the media industry but beneath the surface, he grappled with a darkness that threatened to consume him.
In a previous interview with the Sunday Magazine, Kimani shared his harrowing experience with psychosis and mental illness. Despite getting into the top media houses in the country at only 19, he said that he faced severe depression and suicidal thoughts.
"A lot of my problems had to do with being broke," he said. His family had been seriously struggling with finances before he went to university and the problems continued even when he finally managed to join.
His early exposure to fame only exacerbated his troubles. By the time he was in second year, he had already decided to end his life, as he detailed in another interview with Pulse Live.
"I wanted to end my life in three ways… Moi (University) has a huge farm and Hostel B is very close to a place where there is a field, and when you go down, there is a huge waterfall. And I said to myself, 'One of these days, I am going to walk down there because I do not feel like this life thing is working for me anymore," he said.
He also tried starving himself to death and it was in that state that he went on Facebook to write the eulogy, of which he said, "It was like the beginning of an end."
And he is not alone. In fact, for a country that continues to trivialise the gravity of suicide, it sure has many other people in prominent positions who have contemplated and attempted to take their own lives. Gospel singer Grace Ekirapa is another one of them, something she revealed in a series of Instagram posts in 2018.
"… a lot of people do not know this, but when I was in Class Eight, I attempted suicide. I took 18 pills, I was on some antibiotics, I was unwell and at one time I got to a point and said you know what I am going to take all the medicine that I have. 18 pills," she wrote.
"Form Three again I decided I am going to do the same and I took 35 pills this time because 18 did not kill me so 35 will. People did not understand why a 17-year-old would be committing suicide, a 14-year-old would commit suicide."
Even Mejja, who some people might think has it all, contemplated it when his ex left with their child. In an interview with Radio Jambo, he said, "Suicide is a thought that crosses your mind, I cannot deny that. You feel suicidal because you look at other people's happy lives and you feel that there is something wrong with your life. It crossed my mind but there was a friend of mine who would come and we would hang out and when the suicidal thoughts crossed my mind we would start talking about stuff like football so he kept me busy and away from my thoughts. But the problem was at night because the negative thoughts would creep in when I was alone. I rarely slept at night."
Annitah Raey says she has attempted suicide five times, Chito Ndlovu said on social media that he has tried it three times and Robert Burale says he has also tried it three times.
It is not just in Kenya where the issue plagues society. Despite his outwardly cheerful persona, American comedian Robin Williams battled with deep-seated depression and addiction issues for much of his life.
In August 2014, the world was shocked and saddened when Robin Williams died by suicide at the age of 63.
Chester Bennington, the lead vocalist of the popular rock band Linkin Park, tragically took his own life on July 20, 2017. His suicide sent shockwaves throughout the music industry and deeply affected his fans worldwide.
Their deaths were tragic reminders of the silent pain that many individuals with mental health issues endure. These grim stories show the importance of addressing mental health issues, as suicide is a deeply complex issue that can affect anyone, regardless of age, gender, or background.
A question that people often ask once someone commits suicide is, "Why?" It often arises from a combination of factors, making it challenging to pinpoint a single cause, according to Dennis Maina, the lead psychologist at Chozek.
"Depression and intense feelings of anger, despair, hopelessness, or panic can lead people to contemplate ending their lives as a means of escaping the emotional pain," he said.
He highlights the overwhelming nature of these emotions, which can leave individuals feeling as though they have no control over their minds.
This is what Kimani says he experienced. "I could not see a way out. People see people commit suicide and they are like, 'How dare you?' What people fail to understand is the torture. And the torture happens in your mind," he says.
Maina however says that it is not just mental issues that cause suicide. Various life challenges and circumstances can contribute to suicidal thoughts, including experiences of significant losses (such as the death of a loved one or job loss), like what Mejja experienced when his ex left.
Abuse, isolation and loneliness, physical illness, financial hardship, substance abuse, relationship challenges, identity struggles, bullying and stigma; cultural pressures, and exposure to the suicidal behaviours of others.
Ekirapa says it was because of the continuous negativity that was around her. "I grew up sickly and people around me thought I was always faking sickness to get out of school. My parent did not believe me so I thought you know what, I am a burden so how about I just take my own life," she wrote.
So how can you help such a loved one? "Listen to them when they express the desire to commit suicide instead of mocking them or dismissing them," says Jane Gacheru, a counselling psychologist at Clarity Counseling and Training Centre.
She adds that you should encourage them to seek help, to talk about what is hurting them, and also encourage and model appropriate self-care such as staying away from alcohol and drugs, refraining from overuse of social media or TV and sleeping well.
"Be present and available. Sometimes, even sitting with them in silence helps," she says. This is what saved Kimani.
"My cousin saved my life. He came to my hostel and he was checking up on me because I had not shown up in class, nobody had seen me for a very long time. And he said, let us go out. Let us take a walk'," he said.
"I felt so relieved. I felt that someone cared about me. I did not tell him what I was thinking about and I was so ashamed of even thinking about it but I appreciated the fact that somebody was looking out for me."
Gacheru however says that the most important thing is to get them professional help, which can make a profound difference in guiding them toward recovery and healing. It can also help with issues you are not in a position to handle.
On the other side of the coin, especially when it comes to relationships, Gacheru also highlights something not often talked about, known as the 'fallacy of change', which she says is one of the things that is causing a great deal of unhappiness for married couples.
"Fallacy of change is believing that people must change and be who you want them to be so that you can be happy. It causes one to start pressuring the other person to change by using manipulative strategies," she says. This can be seen when a partner is always threatening suicide while refusing any form of help.
"In other words, the unhappy person never sees themselves as responsible for their happiness. They get obsessed with what their partner is or is not doing as the reason for their happiness," she says.
Gacheru says that this creates emotional dependency because it gives a lot of power to the other party, such that whatever they do or say affects the person who suffers from this unhealthy way of thinking and it also puts them in some form of psychological prison that eventually frustrates the person.
"Because the more they push and demand for change, the more the other person resists and distances themselves. A vicious cycle so to speak, which leaves both partners miserable, while the person who has this fallacy has learnt helplessness. They will resist working on themselves because they have focused their frustrations on the other person," says Gacheru.
If you find yourself in such a position, professional help will help you overcome this and learn how to find happiness within yourself, as it can be very difficult to overcome. Being honest with yourself about whether you have unrealistic expectations of others and whether you tend to place the responsibility for your happiness on them is the first step towards overcoming it and finding peace of mind.
Professional help will help you explore the underlying issues and develop healthier relationship patterns.
Related Topics