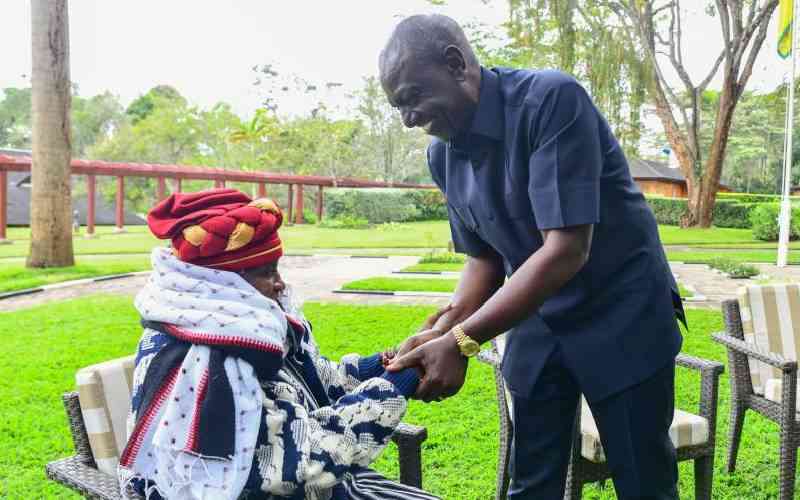 Two stories, both tragic, about the plight of the aged and ageing caught my attention this week.
The first was a BBC expose on the ill treatment of old people in one of the old people's homes in the outskirts of Nairobi.
Through an undercover reporter, the BBC discovered and recorded extensive cases of neglect of ageing residents some of whom were reported to have died through failing to eat or lacking medical attention.
More tragically, cases of physical beatings of old people were common and the BBC team even recorded one active case of an old lady being physically "disciplined" for going out of the gate without permission. You have to be cold-hearted to watch the episode without tears.
The sad part about this story was that it related to a home sponsored by one of the more progressive churches in Kenya.
It raises fundamental questions about the supervisory role of the home's sponsors and how neglect and mistreatment of such vulnerable persons could go on for so long without it being discovered. Who dropped the ball?
While the government promised to carry out spot checks to prevent the abuse noted in this home, one wondered why it took a media expose to point out these concerns and what the relevant department of government considers its responsibility towards such homes.
It also raised questions about the legal framework for care homes. What happened to the Care and Protection of the Older Members of Society Bill sponsored by current Majority Leader Aaron Cheruiyot in the Senate in 2020?
But putting the sponsors, the government and the law aside, the question still lingers; where were the children of these elderly so that their parents could be mistreated for so long without anyone discovering and dealing with their plight?
The other incident was a similar tearjerker. It related to an elderly lady whose decomposed body was found at her home in Thika.
Investigations disclosed that she had been dead for about 9 months and that she may have been killed.
Her domestic animals were also dead and decomposed, with her loyal dog's body decomposed lying next to her body.
Shockingly, it was reported that she had several children, one of whom was a pilot who even sent her money every month and another who lived only 300 metres from her home.
In the 9 months that she had been dead, not one of them had gone to check on her. I still haven't wrapped it around my head how a parent in their 90s, however cantankerous, as some argue she was, could be left unchecked on for months.
Where was the local chief? Where was the local nyumba kumi? Where were grandchildren, nieces, nephews as this tragedy unfolded? What message do children who neglect their parents send to their own children? Is that not an investment into your own coming neglect?
These two stories are extreme, and I believe unrepresentative of the state of neglect of our elderly. But while that extremity of abandonment is the exception, lower levels of neglect are common in this country.
I have indicated before that in my regular visits to the village, I have discovered to my dismay that cases of neglect of old people are legion.
I know of many families who take months before ever paying a visit to their aged parents and many who survive courtesy of the generosity of neighbours.
I am aware of old people sleeping hungry in the village as their children are busy with life in the city. These issues point to a societal malaise that demands severe introspection.
In what kind of society do people casually show off about beating 90-year-olds? In what kind of society does an 82-year-old die and decompose over a period of nine months without a single relative or neighbour popping in?
One hopes that Grandmother Leah Njeri Githuka's story will lead to a renewed commitment to be a kinder gentler society that looks out for its elderly population.
It is said that a society is judged by the manner in which it treats its vulnerable. On this score we are failing when it comes to the elderly.
The writer is an advocate of the High Court of Kenya.
Related Topics