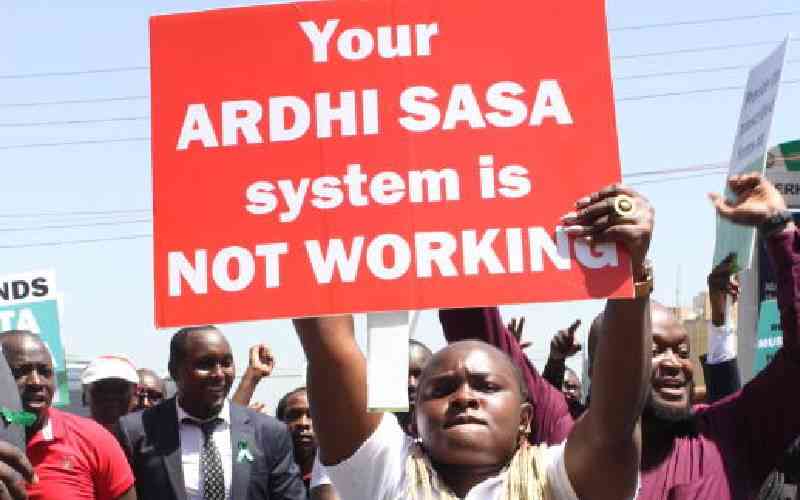 There is no doubt that the invasion of "Northlands Farm" last Monday marked one of the lowest moments of the ongoing demonstrations and its natural partners, thuggery and civil unrest.
On that "machozi Monday", what appeared to be organised gangs, complete with power saws and boundary establishing implements invaded the farm, which is associated with former President Uhuru Kenyatta and started to cut trees and "subdivide" the land.
Videos later appeared of scores of sheep being ferried from the farm by members of the gang. As a respecter of the rule of law I wholeheartedly condemn these acts which have no place in present day Kenya.
Our land law system is robust and even includes a regime to resolve historical injustices over land, assuming that was the foundation of these actions. What disturbed me about this incident however is the sudden hysteria from many Kenyans that accompanied this invasion.
Kenyans, especially the myriad social media warriors, appeared to have been living in a rule of law, "title respecting nirvana" where acts of "squatter invasions" and "squatter takeovers" of private land had never been heard of.
Many acted like we had finally crossed the Rubicon and investors would now run away from Kenya since title was no longer sacrosanct. I found this attitude ahistorical, ill-informed, disingenuous, and plain lazy thinking. Since independence and more so in the last 20 years, numerous cases of people's private land being taken away on the basis that it is "former community land" are legend. In much of Kajiado, people who bought land for value have been evicted on the basis that the initial sellers were "taken advantage of".
Never mind that these sales involved land control board consents issued by land boards that were comprised exclusively of locals. At the Coast, "watu wa bara" owners have lost their land to people based on "historical injustices" with the government not lifting a hand, even to help people enforce court orders for eviction of illegal occupiers. In parts of Machakos, cases of private land being occupied by strangers are reported in the papers every day. About five years ago, hundreds of people were transported into the Lukenya plains where East African Portland Cement, a government entity funded through public money, owns about 2,000 acres of land.
The transportees occupied the land and have built homes, high-rise buildings, schools, churches, and numerous entertainment joints. When the Portland land was exhausted, the invaders moved to the neighbouring private lands many of them owned by workers' cooperative societies including CHUNA, the university staff cooperative union.
They occupied the land, ignoring myriad court orders and peoples' legitimate titles, and have created a thriving property market over peoples' land.
Land hungry Kenyans continue to eagerly buy plots for a song, their only evidence of title being a "share certificate" of some "land settlement" cooperative. I could go on and on as these situations are replicated in much of Kenya. And all these incidents occurred as the government, which is the protector of title watched. I give these examples to disabuse us of the notion that titles have become "suddenly" insecure.
Titles stopped being secure for the poor, weak and powerless long ago. When the cries of victim landowners were splashed in our newspapers and social media, there was collective nonchalance, the communal shock displayed on Monday was absent.
So, while I am no doubt dismayed by the invasion of Northlands, and happy that there appears to be some police action to deter further invasions, I ask that we also focus our attention and express similar dismay on the millions of helpless Kenyans who have suffered from land invasions.
Government must be called out for failing to look out for the weak when their hard-earned wealth was stolen in broad daylight by persons who are not even hiding.
Kenyans must also be called out for only getting agitated when the rich and powerful are visited by the challenges that face the millions of fellow human beings daily.
This approach legitimises the existing system that applies different laws for different cadre of society based purely on the power and wealth they or their associates possess. Let us build a Kenya where everyone's pain matters.
The writer is an advocate of the High Court of Kenya
Related Topics