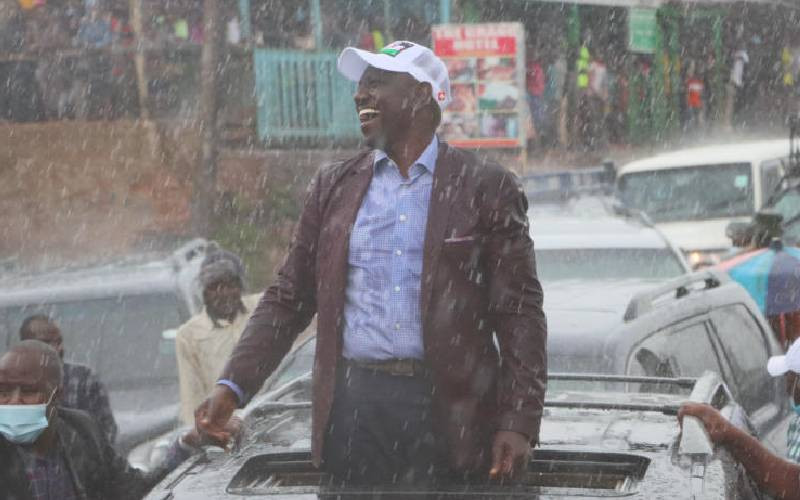 Youthful exuberance is the best description of William Ruto.
He started his campaign early and had his eyes on the ultimate prize, the Kenyan presidency. It was seen as political defiance, but good politicians often go against the grain.
It's not clear why his competitors never realised how far he had sprinted ahead of them. When they did, they simply ganged up against him. They left nothing to chance to stop him, but the voters sympathised with him.
Clearly, without the incumbent helping Azimio Coalition's Raila Odinga, Ruto was winning with a landslide, said Jubilee party secretary general Jeremiah Kioni who lost. Even with so many allied against him, the deputy president still won.
Why did he win? One, he started early and never got exhausted. Strategists talk of first mover advantage. It did not fail Ruto.
Two, President Uhuru openly supported Raila. That was a blessing in disguise. Some voters resented the incumbent and voted for Ruto.
Voters in Uhuru's backyard say they felt belittled to be herded, told who to vote for. They also wanted the promise he made to support Ruto fulfilled. As I heard, "kulipa deni" (to pay a political debt). And they did that, supported by musicians and other cheerleaders.
Major factor
As someone put it, besides getting us a new president, the poll was a referendum on Uhuru.
Three, religion was a major factor in Ruto's success. Though history haunted him, the deeply religious 'mountain' people were willing to forgive. Did you notice both Ruto and Raila ended their campaign on a prayerful note?
Raila's comment on the church and his running mate Martha Karua's comment on 'deputy Jesus' did not make matters any better.
Four, the deep fear of post-election violence as seen in 2007-08 may have convinced the Kikuyu it was better to embrace an 'enemy'.
Five, Ruto's masterstroke was the dynasty-hustler narrative. It cut across the ethnic classes, exciting the downtrodden. It closely mirrored the manifesto written by Marx and Engels more than two centuries ago.
Ruto sold the election as a chance for the hustlers' emancipation. He portrayed himself as the living example of a successful hustler. Through bottom-up economics, the hustlers would rise by their bootstraps to be masters of themselves and their business.
What was the counterweight to this narrative?
The dynasty-hustler narrative had another undertone in Mt Kenya region; the Mau Mau war and the feeling that the 'wrong' people took over power after Independence. Some Wazee feared the consequences of an oath taken decades ago if they voted in a certain way.
Six, "Ndegwa ndîonagio kahiu". You do not show a bull a knife, so the Kikuyu say. Ruto showed his political rivals a knife, in this case the hustlers vote and their economic anger.
They grouped and fought back. They forgot their differences and closed ranks, tied by their closeness to both economic and political power. But it was too late.
Seven, we thought the choice of the running mate would be the killer punch. It wasn't.
Voter turnout
Eight, it all boiled down to voter turnout. Ruto calculated well that by 'climbing the mountain' (getting Mt Kenya vote), he would see the promised land.
The mountain turnout was not that high, they were assured of a deputy president, irrespective of who wins - a much lesser prize than the presidency. But it was enough to give him a victory.
Nine, I argued earlier that the winner would have had to focus on the periphery, away from his strongholds. Ruto tied his strongholds before panning to the rest of the country.
He went hunting and gathering, which paid off.
Ten, the by-elections win in Kiambaa, Juja and Rurii energised the hustler nation.
Eleven, let's accept that Ruto is an experienced politician under four tutors; Daniel arap Moi, Mwai Kibaki, Uhuru Kenyatta and Raila. He seems to have been a good student.
Twelve, his hustler background gave him the tenacity and confidence that polished urbanites miss.
The hustles of growing up in the rural areas become an asset later in life; you can handle any situation and self-reliance is a virtue. He fought the political battle alone.
Cause and effect
Thirteen, his science background made him see the cause and effect relationship, becoming a more realistic politician. Margaret Thatcher was a chemist while Angela Markel was a quantum physicist. Ruto is a botanist.
Fourteen, his main competitor made some strategic mistakes, taking too long to declare his candidature. Raila over-relied on the incumbent and academics.
His handlers failed to come to terms with the reality on the ground, particularly on the mountain. Did he focus on land mass rather than voters? Remember population density?
Ruto also realised in his early political years that you can't go far in Kenyan politics without money. He seems to have made the money first.
And, relieved of his duties by his boss, he now had all the time to campaign! Ruto won against all expectations. His victory will remain a case study of political brinkmanship or, better, realpolitik. Did I leave out any other reason?
What next? Ruto must build bridges with Raila and his supporters. They are Kenyans and exercised their democratic right. It's stately to do so.
Let us admit that Raila changed this country with his unusual personal sacrifice and boldness.
Related Topics