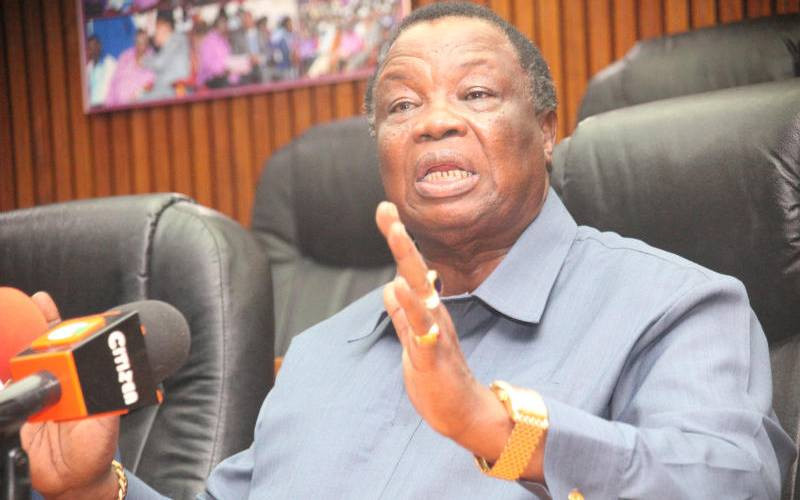 The Central Organisation of Trade Unions (COTU) Secretary General Francis Atwoli has opposed a bill seeking to establish unemployment fund.
Speaking at Khwisero Constituency in Kakamega County, said the Employment Insurance Authority Bill an extreme burden to Kenyan employees. Atwoli argued that employees and employers have nothing left on their payslips due to soaring deductions.
"I want to tell my good friend Ikolomani MP Ben Shinali to drop and leave that Unemployment Bill because people's payslips are full and we do not have anything remaining to be deducted," said Atwoli.
He said the country is not yet economically stable as envisioned by the government. Atwoli termed the proposed Bill as an extra burden that should be dropped and allow workers and the economy to recover.
"If we again start to tax those working to cater for the unemployed, those who lost their jobs or those who quit jobs and we say we want to pay them a salary for six months, it will be unrealistic because we are not yet economically viable as a country. We are not manufacturing, we are not in export business and we cannot grow our economy," said Atwoli.
"The government is trying and planning measures and mechanisms to spur the economy, but before the economy can come to where it is supposed to be, let us not add more burden to our workers," he added.
However, Atwoli urged the Kiharu MP Ndidi Nyoro, who leads the Budget Committee in the National Assembly to reject the Bill.
"People have been taxed, some are going home with half pay, life and the economy are hard because we have Housing levy for the affordable housing programme, NSSF contributions have been increased and we have NHIF besides other levies aimed at creating employment and resuscitating our economy but let us not add more taxes, it should stop where we are," maintained Atwoli.
"I am urging Mr Nyoro, the chairman of the Budget Committee to know that the salary of Kenyan workers cannot be subjected to tax anymore," he said.
The Unemployment Insurance Authority Bill authored by Ikolomani MP Bernard Shinali seeks to provide benefits to employees who become unemployed and their beneficiaries if it sails through.
However, Shinali said that the Bill proposes the establishment of an Unemployment Insurance Fund to which both the employer and employee will contribute.
"The aim of the Fund is to provide benefits to employees who become unemployed or their respective beneficiaries in order to cushion them against harmful socio-economic effects of unemployment," said Shinali while appearing before the floor of the house.
The lawmaker said that sources of monies to the Fund will include contributions from employers and employees, appropriations by Parliament from the National Budget, funds provided by a county government, donations and grants.
The Bill proposes the establishment of the Unemployment Insurance Authority as a corporation with a board containing a chairperson and nine other members.
According to the Bill, functions of the Authority will include administering the Fund and advising the Labour Cabinet Secretary on unemployment insurance policies and legislation.
It adds that the Authority will also be advising both levels of government on policy matters on unemployment and unemployment insurance while facilitating the implementation of such policies relating to unemployment insurance.
The draft Bill also provides for the appointment of staff to the Authority to help it effectively discharge its responsibilities.
It further provides that certain cadres of public officers shall be excluded as may be prescribed in regulations by the Cabinet Secretary taking into consideration the advice of the Salaries and Remuneration Commission (SRC) and Cabinet Secretary responsible for matters relating to finance.
Related Topics