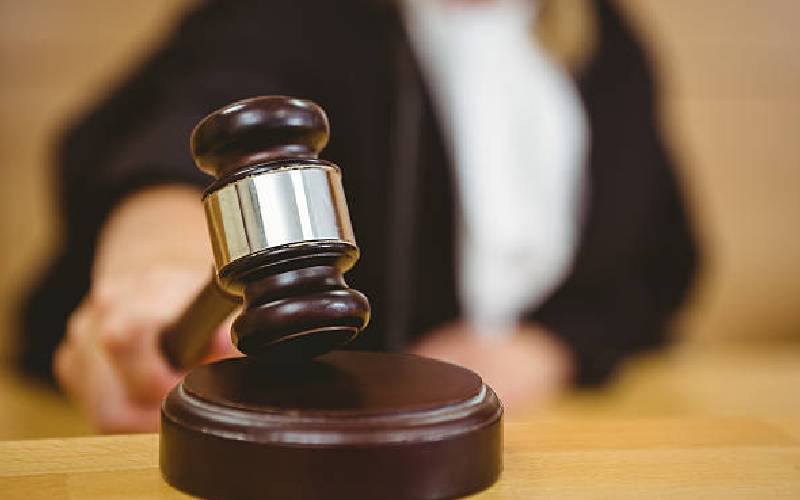 The Court of Appeal has upheld a 30-year sentence handed to a young man who raped an octogenarian.
Three judges, of the Court of Appeal in Kisumu, said the sentence served by a lower court and upheld by the High Court is solid enough not to be shaken by the appeal of James Mirieri Akunga who contested how he was identified by the victim.
"Akunga argues that the sentence of 30 years is harsh, inappropriate and excessive for the offence of rape. Yet in doing so he boxes himself into an intractable position. This is because, by dint of section 361 (1) of the Criminal Procedure Code, we cannot hear a second appeal on a matter of fact and the provision expressly declares that severity of sentence to be a matter of fact," reads the judgment by justices Patrick Omwenga, Francis Tuiyott and Joel Ngungi.
It added: "Still had the law granted us a platform to review the sentence, we would have little hesitation in re-affirming it as appropriate and deserved. The abominable crime committed by Akunga on a helpless octogenarian calls for such a sentence, if not more."
The judges, who sit at the Court of Appeal in Kisumu, reminded in their writings that the elderly wear the majesty of grey hair and after making their contribution to society and as they prepare for their final curtain fall, deserve our reverence, love and protection.
"It is therefore difficult to think of a more depraved violation than a sexual assault of a weak and elderly woman of 80 years," the judgement.
Akunga was charged with raping the 80-year-old grandmother on December 6, 2010, in Kegati, Kisii at 10 am after breaking into her house and overpowering her in sleep.
She testified before the trial court that "the trauma to my body after the incident committed by Akunga, a neighbour, was so great, that I have not been able to walk and see since."
Elijah Onsono Nyantenga, a member of the community policing at Kegati Location who arrested Akunga, explained that he left his home immediately after committing the crime and did not return until four months later when his sister died.
Related Topics