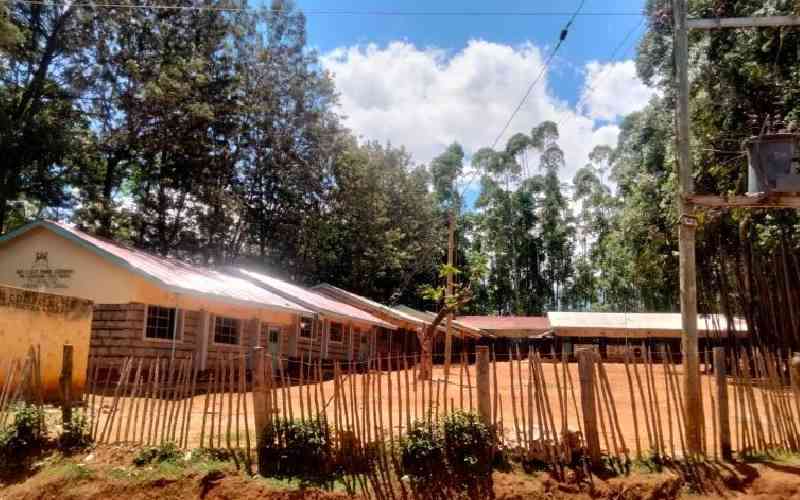 Kiboino Primary School, located in the Kachibora area of Cherang'any constituency, is purportedly the smallest public school in Trans Nzoia County, yet it boasts the highest pupil population relative to its land size.
Situated on a half-acre plot, this educational institution consists of three blocks of classrooms accommodating over 600 pupils, with three dilapidated pit latrines cramped within the compound.
Due to the absence of a playfield, the students face difficulties participating in physical education activities and are often forced to use the congested front space for limited exercises.
According to Daniel Rugut, the former chairperson of the Board of Management, the community initiated the establishment of the school in 2012 after realising their children had to travel great distances to access education.
The only available schools in the vicinity were Barmalel and Tunen, both located over five kilometers away from Kiboino, which is an excessively long distance, particularly for school-going children.
Rugut said community members raised funds to purchase a half-acre plot of land, where they constructed an early childhood education centre. Over the years, they sought support from local leaders, including the councillor and MP, who assisted in raising funds for constructing additional classrooms.
However, due to the increasing population, the school's resources have become strained, with double the number of students enrolled compared to a decade ago, all utilising the same infrastructure.
"We continuously made efforts to seek assistance from our leaders for expanding the school, but our attempts have been in vain, despite neighboring landowners expressing willingness to sell their land to the institution," said Rugut.
Nevertheless, he expressed appreciation for the former area councillor Samuel Ng'eny and MP Joshua Kuttuny, who secured funds of Sh200,000 and Sh600,000 respectively, which were utilised for constructing the classrooms.
Rugut said the initial support also facilitated the school's registration in 2014, following the necessary procedures such as surveying and inspections by public health officials.
The classrooms are insufficient for the large student population, with a single stream accommodating nearly 100 pupils, and the pit latrines become waterlogged during heavy rainfall.
As a result, the latrines pose a health risk, as pupils could contract waterborne diseases such as cholera and bilharzia.
James Barongo, a resident of Kiboino, lamented, "Despite our best efforts to seek support from previous leadership, we were unsuccessful."
Related Topics