If there is one thing JOAN MBUGUA, a model, wishes is for people to stop judging her because of the colour of her skin. She spoke to ESTHER DIANAH about her initial struggles with vitiligo.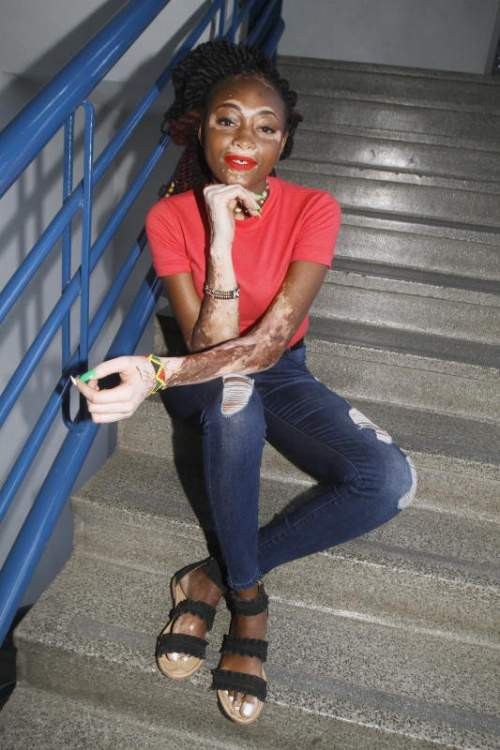 How old were you when you noticed the first spot?
I was 15 years old, in Form Two and I had just joined high school. I noticed tiny whitish spots on my face and lips. The first person I informed was my mum and family. The first reaction was to get a medical opinion and soon, we started visiting hospitals, hoping to get a medical explanation which was not forthcoming.
I have been to about 10 hospitals in search of a permanent solution but so far, nothing seems to work. Even with the medication, sometimes the spots increase which is so frustrating. Now, I've lived with vitiligo for six years. My former classmates or people who knew me before, those we went to primary school with, can barely recognise me.
Are you ever tempted to hide the spots?
I tried to conceal the spots using makeup but it got to a point when I couldn't hide them anymore after they started spreading to visible parts of the body such as my hands. Currently, the pigmentation is all over my body. I am not using any medication and I don't intend to subject my body to that struggle again. I love myself just the way I am. I still wear makeup to slay and not to hide. I love makeup and did cover my face until the Covid-19 pandemic happened and we started masking up, then it didn't make sense to glam the face.
How do people react when you walk into a room?
People living with vitiligo command a lot of attention because we are different. When I walk into a room, everyone stares, others point fingers and make comments such as, "angalieni huyo msichana (look at that girl)." Surprisingly, I don't mind the attention, because this is who I am. It used to bother me back in the day but now I have embraced myself and what people say is the least of my concerns.
Certain people have said very mean things about vitiligo. Some even associate it with witchcraft ...
There are too many myths and misconceptions about vitiligo. Let me put the record straight. First of all, vitiligo is not a painful skin condition; well unless survivors are exposed to long hours in the sun. In that case, the skin is affected, it turns red, pink or it may swell or even peel.
Secondly, vitiligo is not contagious, nor is it a result of witchcraft. And no, it's not a curse. Vitiligo can affect anyone at any time. People living with vitiligo can lead normal lives and do what normal people do including getting tattoos. I don't have one yet, but it is definitely on the bucket list.
Have you ever felt discriminated against because of your skin?
Not directly, but the fact of the matter is people who are like me are treated differently. Take for instance my life as a model, it is difficult to get gigs compared to the rest who are considered normal. When we do shoots, we wear dull outfits and Ankara doesn't go well with vitiligo.
Let's talk about dating for people living with vitiligo...
Honestly speaking, many people struggle to date men or women like me, although my experience has not been that bad. I have dated before. However, my greatest fear is facing rejection and being judged.
What is one of the highlights about opening up about your condition?
I have been a video vixen, notably in Otile Brown's song, 'Just the way you are.' Moreover, I wouldn't get TV interviews, if it wasn't for my Vitiligo.
What does the future hold for Joan Mbugua?
I am so keen on creating awareness about vitiligo but one thing I would like people to know is that no one is immune, anyone can get vitiligo.
Related Topics